In this new BJSM blog series, we ask a range of senior practitioners and researchers in Sport and Exercise medicine about their career, and what advice they would give to students who may find themselves in the same shoes that they were once in. The series is kindly coordinated by Dr Corina Bello.
We start this series with Prof. Dr. Eric Hegedus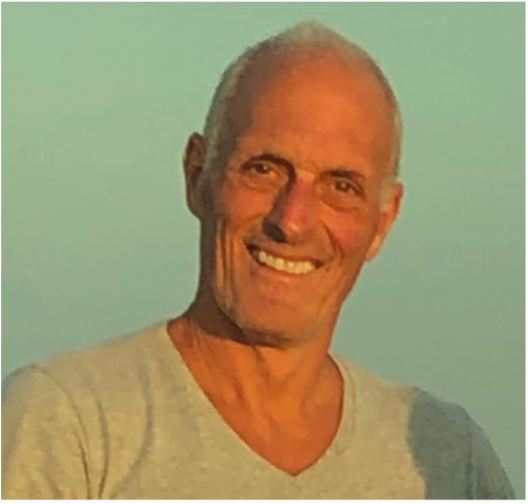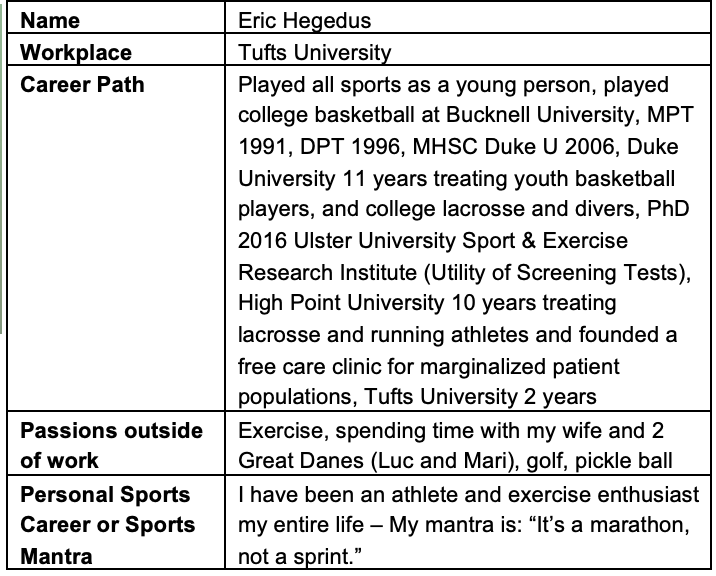 What attracted you to the specialty you now work in?
I see myself as having four roles: First, I am a physical therapist. I've decided to become PT because I wanted to help people, make a difference. Second, I am working with athletes, because I love their mindset. My contribution within the academic work evolved based on my love for learning, teaching, and producing new knowledge that answers clinical questions. Lastly, I am an athlete myself as I enjoy competing and the friendships sports creates.
What was the best decision you ever made?
Marrying Tess, my wife, having my 2 children and becoming a PT.
What was the biggest risk you ever took? How do you feel about it now?
Leaving Duke University to start the DPT (Doctor of Physical Therapy) program at High Point University was a big but really GREAT decision, because I learned so much about developing a start-up program.
What 3 things are you most thankful for in your physical therapy career?
First and most important help is the support of my family. Also, I am very grateful for the many, many patients who have allowed me to be a part of their lives and to learn from our interactions every day. I highly value being part of a profession that has allowed me to do so many interesting things so that I could learn and grow and enjoy developing expertise.
What is your greatest strength?
My Tireless work ethic and the ability to hire great people.
What was the greatest change in the over 30 years you have been practicing?
The whole specialty moved away from the disease model, where treatment was based heavily on a pathological diagnosis and toward a biopsychosocial model where the goal is to treat in partnership with the patient based on their experience and needs.
What advice would you give to a younger version of yourself – say between the age of 25-30 years-old?
I would tell a younger version of myself, that not everyone is interested in your opinion nor do they all appreciate total honesty. I would also advice, to go easy on yourself about non-successes (not "failure"  ).
What tips would you give to students/junior doctors to improve their career prospects?
There are many paths to the top of the mountain and the best one for you depends on your strong personality traits. Some people are very goal and detail focused so they should map out their plan. I am a worker, learner, reflector so for me, hard work and the desire to learn new things have guided my career successfully without setting a single career goal.
Some highlights of Prof. Hegedus' publications:
Hegedus EJ, Hegedus SR, Wright AW, et al. Individualized Exercise Prescription for Athletes Using a Construct‑Based Model. Sports Medicine 2022 (just published)
NF Devine, EJ Hegedus, AD Nguyen, KR Ford, JB Taylor. External Match Load in Women's Collegiate Lacrosse. The Journal of Strength & Conditioning Research 2022 36 (2), 503-507
EJ Hegedus, L Ickes, F Jakobs, KR Ford, JM Smoliga. Comprehensive Return to Competitive Distance Running: A Clinical Commentary Sports Medicine 2021 51 (12), 2507-2523
T Dickson, T Wilkinson, EJ Hegedus, AS Gisselman. Transforming the Patient Experience: Moving Beyond Cultural Competence to Cultural Safety. Physical Therapy 2022
EJ Hegedus, AP Goode, CE Cook, L Michener, CA Myer, DM Myer. Which physical examination tests provide clinicians with the most value when examining the shoulder? Update  of a systematic review with meta analysis of individual tests British journal of sports medicine 2012 46 (14), 964-978
If you would like to hear from someone in particular, please reach out and let us know who!
(Visited 936 times, 2 visits today)