Name of the mobile application: Zwift
Category: Fitness
Platform: iOS 9.0 or later, and Android 7.0 or later.
Cost: 14.99 USD/month (7-day free trial available).
About the app:
Zwift is a virtual training application that enables cyclists or runners to explore a virtual 3D universe via a computer or tablet while training at home. Once Zwift is connected to a smart trainer or treadmill, the user has access to ten different worlds with more than 130 routes. Watopia is the only fictional world on Zwift, and was created on an actual uninhabited island in the Pacific Ocean. The remaining worlds are 3D simulations of real life locations around the world, which allows the users to interact with iconic routes or ascents such as the Alpe d'Huez.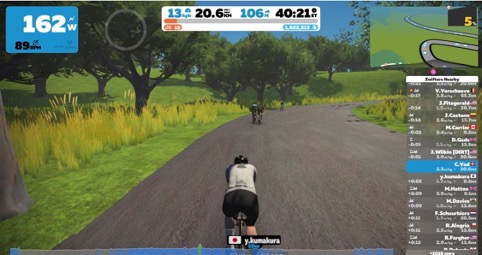 One popular aspect of the Zwift universe is the emphasis to social interaction. Users are able to see their own avatar on screen as well as avatars of every other user online. The chat function enables users to communicate and it is possible to give so called "ride on's" to people passing you on the road. Zwift allows you to follow other users and seetheir activities, and you can arrange meet ups to exercise virtually with your friends in real time.
Another popular feature of Zwift is the integrated gamification aspect. Similar to traditional computer games, continuous use will gain you experience points (XP) to achieve higher levels, which will unlock new routes or equipment. You can also collect 'drops' to be spend in the drop shop to get better equipment for your avatar. When racing, you can gain advantages from 'power ups', e.g. to enhance aerodynamics or get a draft boost.
The minimal equipment needed for Zwift is a smart trainer and a bike for cycling or a treadmill for running, but there is an extensive selection of additional equipment on the market.
Use in clinical practice:
The Zwift app has the potential to increase physical activity levels by facilitate physical activity. Zwift may especially appeal to individuals with a prior interest in the gaming and competition aspects. Besides being used as an off-season supplement to athletes, Zwift has also served as an easy assessable activity during the current COVID-19 pandemic [1]. The concept applies to all types of athletes from recreational to professional, because of the multiple training-options. Workout mode allows users to increase specificity of their training by completing predefined or custom workouts that target specific anaerobic or aerobic zones. Build-in training plans can help maintaining consistency and attaining a gradual increase in intensity over weeks. Users can compete against each other in high intensity races with participants from all over the world. It is also possible to exercise on one of the many routes for fun or recovery or to beat your personal best on the ascents.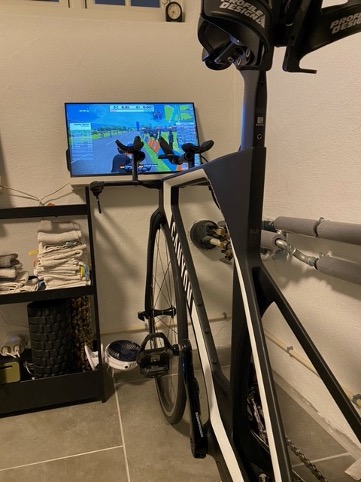 Pros:
High emphasis to social interaction
Competitive motivation
Gamification to make the exercise fun
Applies to a wide audience from beginner/recreational to elite athletes because of the many ways to use it
Connects easily with other platforms, e.g. Strava and Garmin
Cons:
Requires some expensive equipment to get started (at least a smart trainer and road bike for cycling, and treadmill for running)
No ability of analyzing data within the Zwift app – this requires synchronizing with other apps
Paid version available only
References:
Westmattelmann D, Grotenhermen J, Sprenger M, Grotenhermen J, Sprenger M, Schewe G. The show must go on – virtualisation of sport events during the COVID-19 pandemic pandemic. Eur J Inf Syst [Internet]. 2020; Available from: https://doi.org/10.1080/0960085X.2020.1850186
Authors: Sabina Vistrup, Clara Guldhammer Vad, Line Lindberg, Michael Skovdal Rathleff, Christian Lund Straszek
Sabina Vistrup
Center for General Practice at Aalborg University
Fyrkildevej 7
9220 Aalborg East, Denmark
Email: sabinavistrup@dcm.aau.dk
Twitter: @sabinavistrup
(Visited 928 times, 1 visits today)