Schools can be supported to implement compulsory physical activity policies.
Compulsory school physical activity policies exist in China, Denmark, England and several Australian, United States and Canadian jurisdictions.
'Compulsory' doesn't mean policies are adhered to, often they are not. For example, less than half of Canadian, and only 1 in 4 Australian primary schools, adhere to their compulsory physical activity policy.
If children are to be more active and gain the health and learning benefits that physical activity brings, schools need support to implement compulsory school physical activity policies. For example, schools need to support to embed physical activity throughout the school-day in the classroom, physical education and school sport.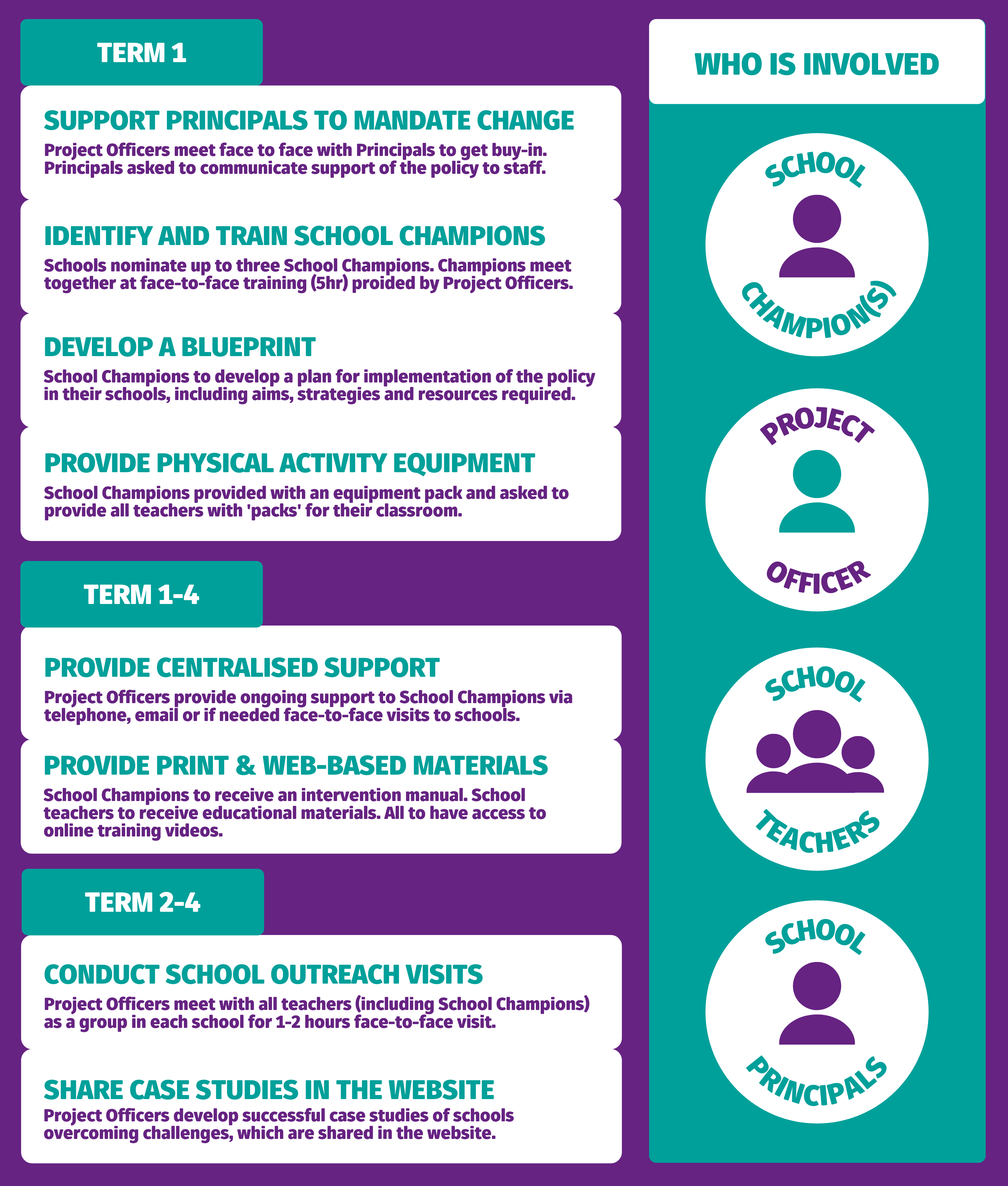 We designed a support package for schools
As the local health service tasked by the government to support school health, we wanted to design a support package to assist schools to adhere to the compulsory physical activity policy of 150 minutes a week of teacher scheduled physical activity. To do this, we partnered with the NSW State's Department of Education and the local Catholic Schools Office. We also consulted with many school teachers and Principals.
We're not going to lie, the 8-component support package we developed is quite extensive. We've summarised the support package, 'PACE', in the infographic below.
As the infographic shows, this is a whole school approach. The support package was targeted at:
School Champions: identified 'champion' teachers were asked to lead the program with their schools. Most schools identified two champions.
All teachers: all teachers in a school were involved, even those who weren't School Champions
School executive: For example Principals and Assistant Principals
The support package was delivered by three main modalities:
Project Officers: via email, phone and face-to-face school visits. Project officers are staff employed by the government local health service who have both PE teaching and health promotion experience.
Website: housing resources and online training videos
Face-to-face training: hosted centrally for School Champions
We measured teachers' physical activity scheduling and policy adherence
After schools received the support for four school terms, adherence to the policy rose from just 1 in 3 teachers (32%) to almost 2 in 3 teachers (62%). Surprisingly, schools adherence in the usual practice control group actually dropped from 31% of teachers to 17% of teaches during the same period.
Teachers from schools receiving the support package implemented almost 10 minutes more physical activity per school day (44 minutes a week). This is compared to schools who didn't receive the support package.
After a school year of support, teachers from schools receiving the support package had eight times the odds of increasing their scheduling to meet the policy requirements than teachers from control schools. Six months after the support package finished, teachers from schools who received the support program were still 4 times more likely increase their scheduling to meet the policy than teachers from control schools.

We asked the teachers what they thought of the support
We asked School Champions and teachers how satisfied they were with each of the components of the support program.
School Champion satisfaction ranged from 84%-100%, indicating excellent satisfaction levels. Teachers were slightly less satisfied, but more than two thirds were satisfied with all components.
Take-homes for school physical activity policies
Author names (Twitter Handles) & affiliations:
Dr Nicole Nathan1-3 (@NicoleKNathan) 1-3.
Mr Matthew McLaughlin (@HealthTepi) 1-3
Dr Alix Hall (@Dr_Alix_Hall)1-3
Ms Nicole McCarthy (NicMcCarthy_HNE) 1-3
Prof Luke Wolfenden (@LukeWolfenden) 1-3
1 School of Medicine and Public Health, The University of Newcastle, Callaghan, New South Wales, Australia.
2 Hunter New England Population Health, Hunter New England Health, Wallsend, New South Wales, Australia.
3 Hunter Medical Research Institute (HMRI), New Lambton, New South Wales, Australia.
(Visited 880 times, 1 visits today)