Rehabilitation of soft tissue injuries can be complex. Over the years, acronyms guiding their management have evolved from ICE to RICE[1], then to PRICE[2] and POLICE[3]. Although widely known, the evidence for these treatments is limited. ICE/RICE/PRICE focus on acute management and ignore sub-acute and chronic stages of tissue healing.
We posit that two new acronyms can optimize recovery. Our acronyms encompass the rehabilitation continuum from immediate care (PEACE) to subsequent management (LOVE). PEACE & LOVE underscores the importance of educating patients and addressing psychosocial factors to enhance recovery. In addition, while anti-inflammatories show benefits on pain and function, our acronyms flag their potentially harmful effects on optimal tissue repair.[4] We suggest that they may not be included in the standard management of soft tissue injuries.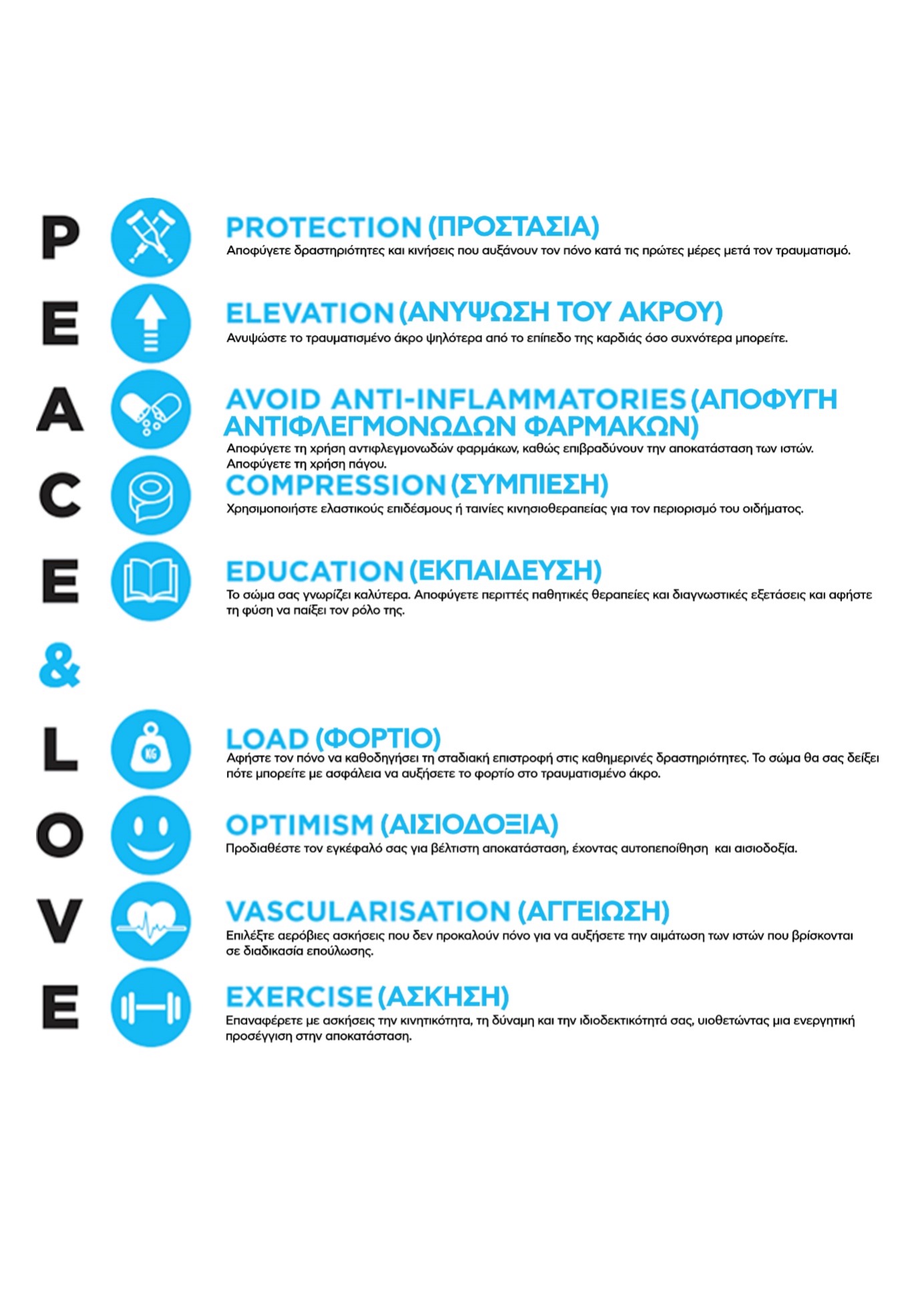 The following is the Greek translation of the title and the text
Η αποκατάσταση των τραυματισμών μαλακών μορίων χρειάζεται PEACE & LOVE
Η αποκατάσταση των τραυματισμών μαλακών μορίων μπορεί να είναι περίπλοκη. Με την πάροδο του χρόνου, τα ακρωνύμια των μεθόδων που χρησιμοποιούνταν για τη διαχείρισή τους έχουν εξελιχθεί από ICE σε RICE [1], στη συνέχεια σε PRICE [2] και τέλος σε POLICE [3]. Αν και ευρέως γνωστά, η επιστημονική τεκμηρίωση  των εν λόγω θεραπευτικών προσεγγίσεων είναι περιορισμένη. Τα πρωτόκολλα ICE/RICE/PRICE επικεντρώνονται στη διαχείριση της οξείας φάσης του τραυματισμού, αγνοώντας το υποξύ και χρόνιο στάδιο της επούλωσης των ιστών.
Θεωρούμε ότι δύο νέα ακρωνύμια μπορούν να βελτιστοποιήσουν την αποθεραπεία. Η έννοια των εν λόγω ακρωνυμίων αφορά τη συνέχεια της διαχείρισης ενός τραυματισμού (LOVE) μετά την εφαρμογή των άμεσων ενεργειών διαχείρισής του (PEACE). Οι προσεγγίσεις PEACE και LOVE (εικόνα 1) τονίζουν τη σημασία της εκπαίδευσης των ασθενών και της αντιμετώπισης των ψυχοκοινωνικών παραγόντων για την βελτιστοποίηση της αποθεραπείας. Επίσης, εάν και τα αντιφλεγμονώδη επιφέρουν κάποια οφέλη στον πόνο και τη λειτουργία, τα ακρωνύμια επισημαίνουν τις πιθανές αρνητικές επιπτώσεις τους στη βέλτιστη ίαση των ιστών [4]. Προτείνουμε να μην συμπεριλαμβάνονται  στη συνήθη διαχείριση των τραυματισμών μαλακών μορίων.
The Authors suggest to add this text below the Greek translation
The authors of the original blog post (Dubois & Esculier, Soft tissue injuries simply need PEACE & LOVE, https://blogs.bmj.com/bjsm/2019/04/26/soft-tissue-injuries-simply-need-peace-love/) and BJSM authorized the translation to Greek. Athanasios Siouras assumes the responsibility for the accuracy of the translation."
This is the Greek version of the infographic
Author:
(Visited 3,085 times, 1 visits today)