A new holistic and inclusive definition of physical activity might help us think differently
Health behaviours have been drastically impacted by the COVID-19 pandemic. Both the increase in sedentary behavior (characterized by low energy expenditure such as sitting time) and the levels of physical inactivity1,2 (people not meeting the recommended level of regular physical activity) are notable around the world, as a result of the state-imposed restrictions.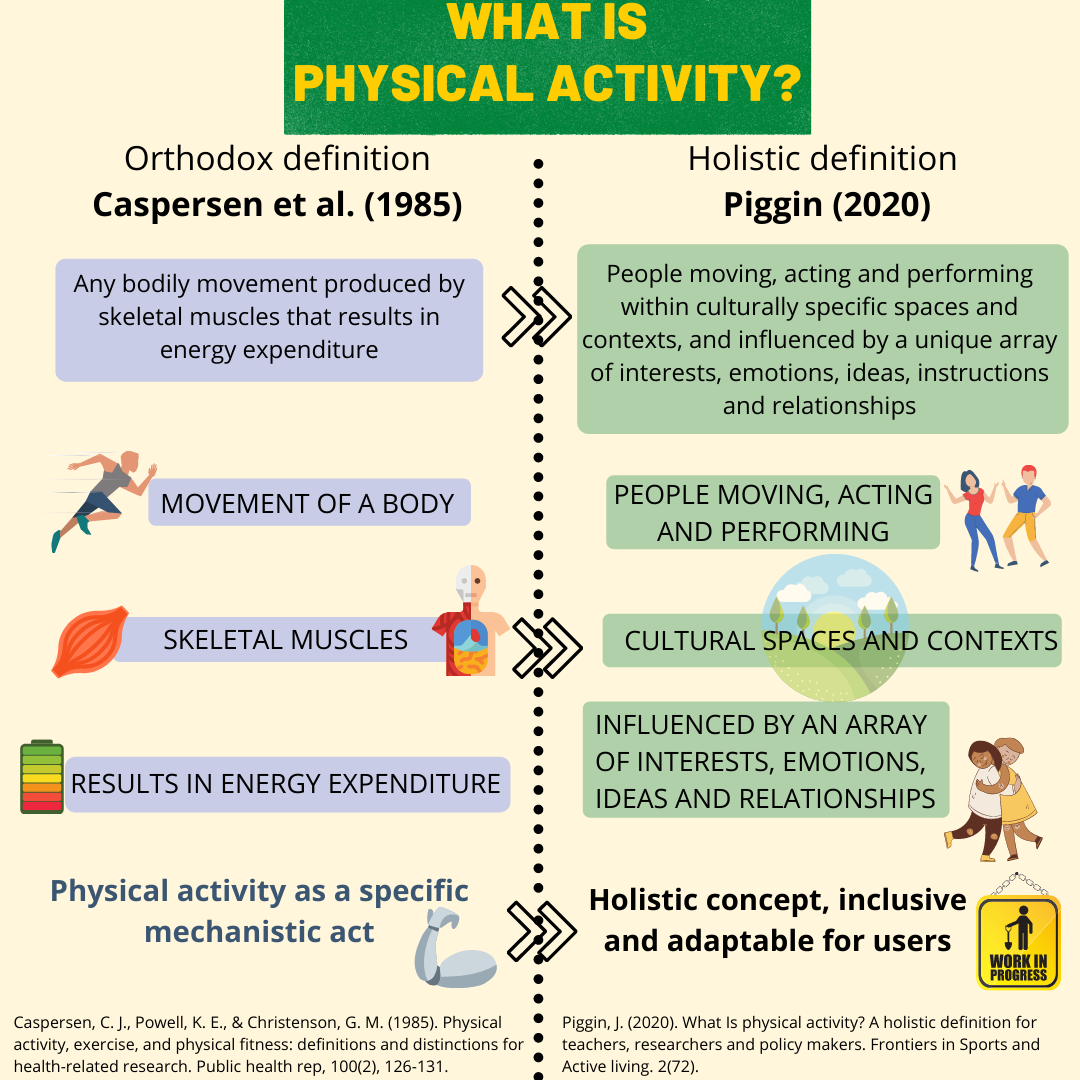 Considering this scenario, it is timely to reflect on traditional (and possibly limited) ways of doing things in physical activity promotion. There is an opportunity to reconsider and improve how we think about physical activity, in a way that accounts for the wide array of different contexts that people inhabit, and barriers and challenges that people face. Using a broader definition of physical activity which includes and appreciates the multitude of meanings, reasons, motivations, emotions, ideas and relationships that influence physical activity will expand its traditional, conservative framing. Making the wide range of inherent aspects of activity more prominent in a definition might subsequently liberate researchers, teachers, students and policy makers to explore possibilities for physical activity promotion in more creative ways.
Whereas traditionally physical activity has been defined by Caspersen et al (1985)3 as "any bodily movement produced by skeletal muscles that results in energy expenditure", there has been a recent alternative articulation. Piggin (2020)4 defines physical activity as "people moving, acting and performing within culturally specific spaces and contexts, and influenced by a unique array of interests, emotions, ideas, instructions and relationships."
A new definition might be an important step towards transformation of various aspects of physical activity. In this sense, here we offer an infographic with a comparison of the predominant, orthodox definition of physical activity (Caspersen et al. 1985) and a proposed new, holistic definition (Piggin, 2020). While infographics are often designed for "the public", this infographic is designed for particular stakeholder groups within the physical activity community, including teachers, researchers and policy makers. While the intended audience is distinct, the logic of the infographic remains the same, to clearly communicate specific ideas about a topic in a relatable, clear and informative way. 
Thinking differently about physical activity allows for a new starting point for making policy, as well as teaching and researching. The particular strength of a broader, more inclusive definition is that it allows for the "specific" and "unique array" of circumstances to be appreciated by users of the definition. This holistic perspective might allow readers to connect more closely with physical activity as a human behaviour with ingrained and inherent values and meanings connected to it.
For teachers and students of sport science, health and physical education, an expanded definition will allow for recognition of the multitude of factors that contribute to a person's, a community's and a country's physical activity. This in turn, may stimulate discussions and critiques of the ways in which people might be compelled to be physical active, potentially at the expense of other liberating, fulfilling ways. This might lead into reflections on which physical activity is thought of as "best" for each student, and critical consideration about the criteria with which these judgements are made.
For researchers, a broader definition might help to inform research goals, the questions that are asked, and the implications for the communities that are studied. This is certainly not to diminish the importance of research that focuses on the study of specific skeletal muscles and / or energy expenditure. Instead, there is space to emphasize the other inherent components of physical activity (such as physical activity being inherently cerebral, social, situated and political). Researchers might be able to more directly connect the physical activity they examine with the emotions, communities, contexts and meanings that are part of it.
For policy makers, a new definition will allow more direct connection between the resources that are available to achieve policy (such as funding, spaces and places, and expert knowledge) and the outcomes which are hoped for (such as healthy, positive, sustainable communities).
The global pandemic necessitates that we all make changes to the way we live. Thinking differently about physical activity might help teachers, researchers and policy makers to connect physical activity (and all that comes with it) more closely with the changes that people are adapting to. Further, the objectives of the WHO Global Action Plan on Physical Activity and Health 2018-2030, includes cutting global physical inactivity by 10% by 2025 and 30% by 20305. Thinking more holistically about physical activity from the starting point of a definition might help this aim.
Authors and Affiliations:
Fábio Hech Dominski1 and Joe Piggin2
Fábio Hech Dominski1 is a Brazilian physical education professor with PhD in human movement sciences. He lives in Florianopolis and works in Joinville. When not studying in the Laboratory of Sport and Exercise Psychology at the Santa Catarina State University, he can be found weightlifting at the gym, or now at home. E-mail: fabio.dominski@udesc.br and Instagram: @fabiodominski
Joe Piggin is a senior lecturer researching sport and physical activity policy at Loughborough University in the United Kingdom. Joe enjoys activities such as running and cycling, sometimes alone, sometimes together.  Email: j.j.piggin@lboro.ac.uk and Twitter: @JoePigginPhD
References
Dunton, G.F., Do, B. & Wang, S.D. (2020) Early effects of the COVID-19 pandemic on physical activity and sedentary behavior in children living in the U.S.. BMC Public Health 20, 1351. https://doi.org/10.1186/s12889-020-09429-3.
Barkley, Jacob E.; Lepp, Andrew; Glickman, Ellen; Farnell, Gregory S.; Beiting, Jake; Wiet, Ryan; and Dowdell, Bryan (2020) "The Acute Effects of the COVID-19 Pandemic on Physical Activity and Sedentary Behavior in University Students and Employees," International Journal of Exercise Science: Vol. 13 : Iss. 5, Pages 1326 – 1339.
Caspersen, C. J., Powell, K. E., & Christenson, G. M. (1985). Physical activity, exercise, and physical fitness: definitions and distinctions for health-related research. Public health rep, 100(2), 126-131.
Piggin, J. (2020). What Is physical activity? A holistic definition for teachers, researchers and policy makers. Frontiers in Sports and Active living. 2(72).
World Health Organisation. (2018). Global action plan on physical activity 2018-2030: More active people for a healthier world. World Health Organization.
(Visited 7,872 times, 3 visits today)