Swiss Junior Doctors and Undergraduate Perspective on Sport and Exercise Medicine Blog Series
By Anne Cornevin @anne_cornevin
Shadowing Sports and Exercise Medicine (SEM) doctors in their daily practice is key for those keen to have a career in SEM. You may ask: why choose to go to the UK when one can find SEM doctors to shadow in Switzerland? In 2018, I had the pleasure to meet Mike Davison, Head of the International Isokinetic Medical group, at the annual Isokinetic Conference hosted in Barcelona (see my previous blog [i]). When I did meet him, I couldn't help but seize the opportunity to ask if I could intern at the London Isokinetic Clinic for a month. My request was met positively.
Compared to Geneva, my home town, London can seem overwhelming and sometimes stressful. It's a city that works a lot and sleeps little. The first day I arrived at the clinic, I had no knowledge of the place, the team, or the organization. Thanks to Mike and the rest of the team, I was warmly welcomed and could quickly adapt to this new environment. The clinic is situated in the centre of London on Harley street and the historical building has five levels. The reception is on the ground floor, alongside the rehabilitation and treatment gym (where the physiotherapists mainly work). The first and second floors are for the doctors and osteopaths. On the third floor is the administration and Mr. Davison's offices, as well as the meeting room. Finally, the basement is where the aquatherapy pool and the changing rooms are. There is also an indoor movement science room called the "green room". I was very impressed by the organization between the physiotherapists, the doctors and also the administration team. It is a very well-functioning multidisciplinary team.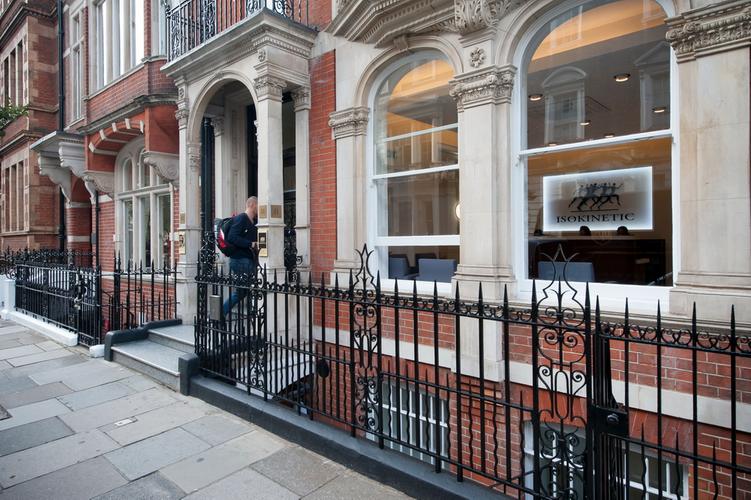 I had the chance to shadow the three physicians at the clinic: Drs. Batty, Stride and Johns. Dr. Phil Batty is a former team doctor for England Rugby (2012 to 2014) and has been involved in SEM for over 22 years. Dr Matthew Stride is a former Chief Medical Officer for Brentford FC and was involved as a team doctor at Commonwealth Games and in Sport Relief challenges. Dr. Chris Johns is the current Chief Medical Officer for Charlton Athletic FC. As you may have noticed, the specialty of this medical group is Football medicine, and so the clinic is recognised as a FIFA medical centre of excellence. Approximately 10% of patients are professional athletes, most of them coming from football teams but also from other sports. The centre has notable connections with the Royal Ballet of London. The remaining 90% are non-professionals that wish to recover from injuries and continue their active lives.
Every day at the clinic was different and very instructive. I usually started my day shadowing doctors' consultations, and then shadowing the physios in the afternoon at the gym, pool or green room, to gain insights into patients' recovery. It was interesting to see how the physicians use two tests to assess patients' recovery rate: the thresholds test and the isokinetic test.
The isokinetic test measures the strength and symmetry of the quadriceps and hamstring muscles. It can provide a good follow up of recovery for knees injuries such as an anterior cruciate ligament injury.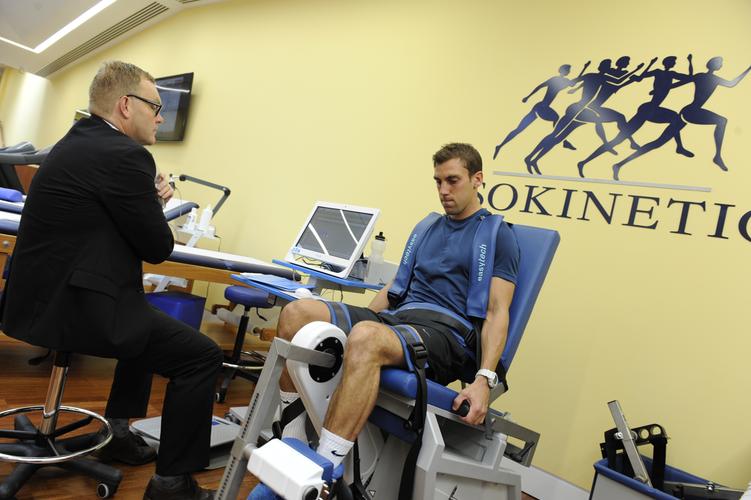 The threshold test assesses the current endurance training status in order to set up an individual, effective and time-saving recovery training program. It is either done by riding an indoor bicycle or running on a treadmill. The doctor measures the lactate concentration from a small drop of blood every three minutes while the athlete increases their effort. This provides the doctor information on patients' energy metabolism [ii]. I had the opportunity to work on threshold tests and audited patients who had done two tests during the last year in order to see if they had improved with the care therapy.
Even though I was given a lot of liberty, I sometimes found it difficult to fit in as a foreign medical student. Nevertheless, my enthusiasm to learn encouraged me, and I was able to follow interesting cases and ask as many questions as needed. I'll also note here that I appreciated that the physicians in this clinic, such as Dr. Batty, weren't just focused on the injury. They cared about the patient as a whole– including their condition and their well-being. In contrast to other SEM clinics, physicians at the Isokinetic Centre go for a conservative approach to treatment and focus primarily on muscular strengthening and pain control, rather than corticosteroid injections or other invasive short-term solutions (even though these treatment pathways are at their disposal).
After a month at the centre, I am happy to report I had a very positive experience. It was very interesting to see that people from all ages and all activities are able to benefit from SEM: from children injured at school, elders wanting to be able to walk stairs again, and to professional footballers with back pain or ACL injuries. SEM is a significant milestone in global health, however, it's scarcely taught at Swiss medical schools [iii]. Therefore, I think it's time to champion SEM and advocate for it to be added to the undergraduate medical curricula in Switzerland.
***
Anne Cornevin (@anne_cornevin) is a 6th year medical student at the University of Geneva (Switzerland) and also a board member of Students and Junior Doctors SSGSM/SSMS. As a sport lover and previous artistic gymnast and alpine skier, she aspires to contribute to the promotion of Sports & Exercise Medicine as a medical specialty. Email: cornevin.anne@gmail.com
If you would like to contribute to the "Swiss Junior Doctors and Undergraduate Perspective on Sport and Exercise Medicine" Blog Series please email justin.carrard@gmail.com for further information.
*Images from the Isokinetic center website: https://www.isokinetic.com/en/foto/londra/18640449/
References
[i] Cornevin.A (2018). "2018 Football Medicine Outcome Conference: Interview with Mike Davison, Managing Director of the Isokinetic Center in London." BJSM Blog. Available from: https://blogs.bmj.com/bjsm/2018/07/24/2018-football-medicine-outcomes-conference-experience-and-auto-criticism-expands-knowledge/
[ii]  Lactate threshold test from Sport clinic Zürich. Available from : https://www.sportclinic.ch/en/660/Services.htm?Bereich=19476&Disziplin=19397
[iii] Carrard, J., et al. (2019). "Should sports and exercise medicine be taught in the Swiss undergraduate medical curricula? A survey among 1764 Swiss medical students." BMJ Open Sport Exerc Med 5(1): e000575.
(Visited 1,804 times, 1 visits today)