By Darragh Mc Gee @DMGPhysio
Time has flown by since starting my job as an 'early career' physiotherapist (physio) in mid-September 2018. Here's the first part to my blog explaining what it's like being newly qualified and my experience transitioning from a student to a qualified physiotherapist.
The transition: my experience
I felt it was a big step up from student to qualified. Especially because my first post was within a musculoskeletal (MSK) outpatient's department in a busy National Health Service (NHS) hospital in the UK.
Emotions can run high; you could go from feeling appreciated, positive and motivated to frustrated, stressed and disappointed all in a day. One thing I was worried about before I began my clinical post rotation was the expectation from other physios and management on newly qualified staff. How good do I need to be? Was the knowledge I know about musculoskeletal physiotherapy enough? Will I be out of my depth here? There were worrying thoughts… But don't let me scare you, starting off this is all absolutely normal! It's likely everyone will experience some of these feelings and thoughts at some stage. It helps develop us as people, professionals and builds our emotional intelligence.1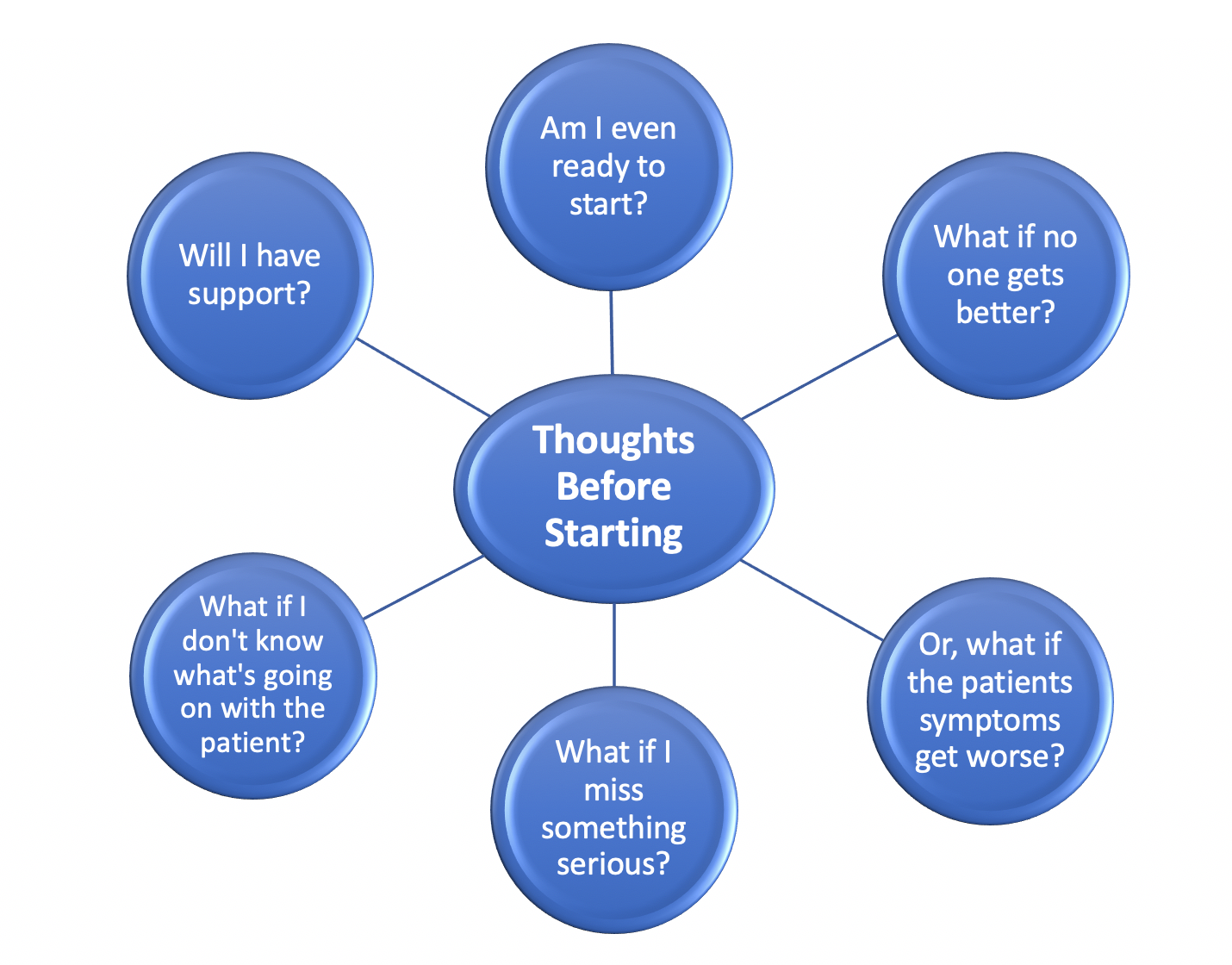 I was lucky enough to be paired up with a great supervisor from the start who helped me develop as physiotherapist on the rotation. He always had time to talk and the Trust (a unit that serves a geographical area within the NHS) I work in allows all newly qualified physios to receive an allotted 30 minutes clinical reasoning session each week so we can go through a topic or discuss a patient we may need a second opinion on. I would love if this supervision was stretched to 60 minutes in an ideal world as clinical reasoning is an essential skill for the development of physiotherapists.2 Senior physiotherapists don't expect us to be the absolute finished professional, but teams do expect us to work professionally at a high level as autonomous practitioners.3
Assessing many patients: the pros and cons
The quantity of patients and presentations seen was something I had to get used to, as there were a lot. This was a pro and a con. The pro being we have an opportunity to learn so much. I feel I have always been an experiential learner and this method of learning has shown to be effective when applied in a clinical setting.4 Therefore, taking a deep dive into the assessment and treatment of these patients and getting to see first-hand if what we are doing is making a difference or if our approach needs to be adjusted – feels great!
The con being, at times it does feel like a conveyor belt of patients coming through to assess. We know it is important to make the time to reflect on what went well and not so well.5 This is not always possible because of the quantity of patients seen and limited time spent with each. Also, with 20 minute follow ups we may only get time to progress or regress one exercise. Is this enough? And what if the patient comes back saying their pain has not changed or even got worse. On reflection and analysis, I don't feel 20 minutes is enough to carry out another full assessment and give advice on appropriate new exercises. This is when healthcare gets complex and slightly frustrating, however, clinical interventions became easier with each rotation, as my time management skills improved.
How did I prepare for my new role as a physio? Twitter, of course!
One of the ways I prepared for my new role was by asking for advice from experienced physios who have been through their rotations. Twitter has been a great tool for helping me progress as a student and newly qualified. I use it only as professional platform and have gained a lot of insight and knowledge from it: whether it be making connections with other health professionals, finding upcoming programmes e.g. Council of Deans of Health (CoDH) Student Leadership Programme and overall keeping me up to date on what is going on in the world of Physiotherapy. So, using Twitter, I asked for advice for newly qualified physios. I got a lot of responses, and some fantastic tips!
Here are some of the top responses:
"Listen. Hear. Get to know the person in front of you, only then can you begin to understand their pain. Help them make sense of their experience through the lens of their own story, then work with them to plot their path forward." -Joletta Belton (@MyCuppaJo)
"Don't be afraid to speak up. Everyone has an opportunity to improve services and quality of care. You never know you could find yourself getting involved in developing something innovative." -Luke Stevens (@LukeStevens_93)
"Don't take it too heart when not everyone gets better; you cannot help everyone and it's completely unrealistic to place such demands on oneself" – Ben Bradford (@BenBradford5)
"Listen, I mean REALLY listen, to your patients. Be humble, be kind and take care of yourself. Use annual leave wisely and don't wait until your exhausted to try and book a break. Stay fresh- practice self care. Be awesome."- Helen Harte (@Hartey_PT)
"Ensure safety is a priority, but expect to make mistakes and learn how to react constructively – seek help, reflect and tweak practice next time" – Victoria Potterton (@vpotterton)
"Make sure to put your mental sanity first before your patients…. we tend to put our patients first and don't give enough attention to ourselves…. it's not about being selfish but about self preservation" – Luciano Pace (@luc022)
"Push yourself to learn something new every day and embrace every opportunity as a learning experience. That's the characteristic that often separates the good physio's from the great ones" – Nick Lane (@BTHTherapies)
There are many more replies that are just as good which can be seen as a pinned tweet on my twitter page @DMGPhysio. I hope they are as useful to you as they have been to me!
In Part 2 of this blog, I'll give some on-board advice and also give answers to my previous 'Thoughts Before Starting'!
***
Darragh Mc Gee MCSP: You can reach out to me via Twitter @DMGPhysio. And here's email: mcgee.darragh@gmail.com.
References:
Read, K. and Nayar, V. (n.d.)Emotional Intelligence and Professional Support.NHS Education England.
Trommelen, R., Karpinski, A. and Chauvin, S. (2017) Impact of Case-Based Learning and Reflection on Clinical Reasoning and Reflection Abilities in Physical Therapist Students. Journal of Physical Therapy Education, 31(1), pp.21-30.
The Chartered Society of Physiotherapy. (2011) Professional Values Code. [online] Available at: https://www.csp.org.uk/system/files/csp_code_of_professional_values_behaviour_full.pdf [Accessed 22 Mar. 2019].
Hill, B. (2017) Research into experiential learning in nurse education. British Journal of Nursing, 26(16), pp.932-938.

McClure, P. (n.d.)

Making Practice-Based Learning Work – Reflection on Practice

. [online] Cw.routledge.com. Available at: http://cw.routledge.com/textbooks/9780415537902/data/learning/8_Reflection%20in%20Practice.pdf [Accessed 28 Mar. 2019].
(Visited 5,075 times, 1 visits today)