By Louise Shaw
 Anterior Cruciate Ligament (ACL) injury, particularly in youths, has been the focus of recent media attention and parental concern in Australia 1 2. This is not surprising given that ACL injury causes significant discomfort and disability, and may also result in reduced levels of physical activity and contribute to obesity 3. ACL injuries also may cause long-term health problems such as an increased risk of arthritis 4. Greater demands being placed on youth athletes through increased training, younger sports specialisation and emphasis on year-round competitive play has led to an increase in the diagnosis of sports-specific knee injuries5.
ACL tears in children and adolescents were previously thought to be rare but as imaging and clinical awareness of injuries in youth athletes has improved, the number of ACL injuries diagnosed in these age groups, has increased. Whilst in part this may be due to improved methods of diagnosis and treatment, research from the USA suggests that there are more ACL injuries 6 7.
This study used routinely collected data to look at the number of hospital-admitted ACL-related injuries in 5-14 year olds between 2005-2015 in Victoria, Australia 8. Data included patient age, sex, type of injury, activity at the time of injury and first listed procedure code.
Between 2005 and 2015, there were 320 hospital-treated ACL injuries, with 10 (3.1%) occurring in 5-9 year olds and 310 (96.9%) occurring in 10-14 year olds. According to gender, 175 (54.7%) of these injuries occurred in boys, with 145 (45.3%) injuries in girls. Sport was known to account for 56.6% of all ACL injuries. Most of these (52.4% for girls and 35.4% for boys) occurred while playing ball sports. The context of the activity at the time of the injury was unknown for 40.3% of cases. Most strikingly, the overall annual rate increase of ACL injuries in this population over 10 years was 147.8% from 2.74 per 100, 000 population in 2005/ 2006 to 6.79 per 100,000 population in 2014/2015.
This study shows a somewhat alarming increasing trend in ACL injury rates in children and adolescents over time. It clearly demonstrates that ACL injuries in children and adolescents are a significant public health burden and this can have long-term effects on performance, participation, as well as physical and cognitive development and health. In the past, ACL injuries were believed to be only a problem for adults participating in competitive sports, but this study highlights such injuries as an emerging issue in children and adolescents too.
To halt these trends, population-wide ACL prevention policies are required. Investigation into the design and implementation of cost-effective exercise training prevention programmes that involve neuromuscular training in schools and junior sports teams is necessary.  Government health agencies, sports medicine authorities, and sporting bodies need to recognise ACL injury in children and adolescents as a priority issue, for both health and sustained participation in sport.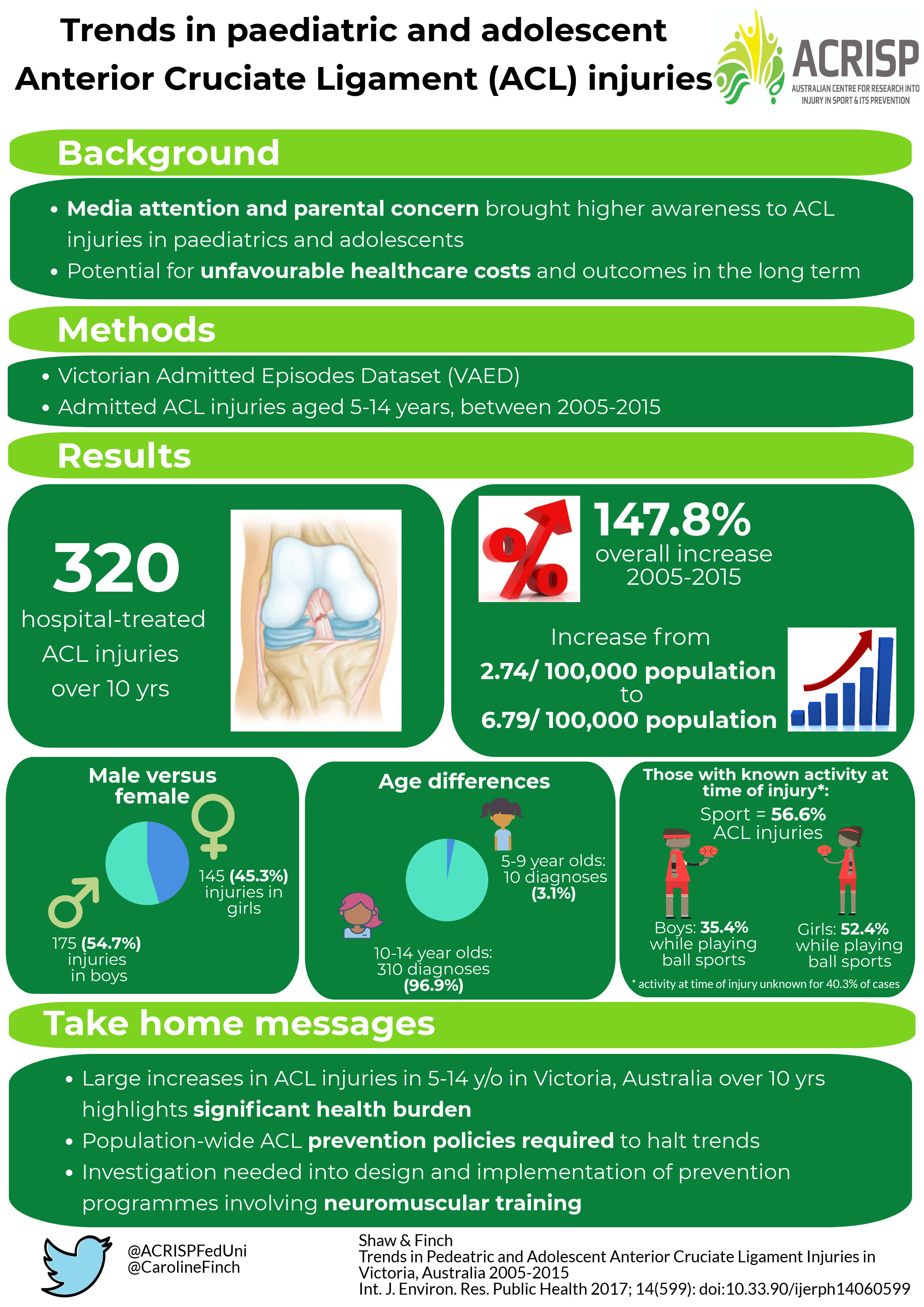 References
Griffiths M. ACL injuries: Growing number of child cases prompts call for national database 2016 [16th Nov 2016]. Available from: http://www.abc.net.au/news/2016-11-16/acl-revelations-spark-call-for-sports-injury-database/8027902 accessed 20th Feb 2017.
Janssen KW, Orchard JW, Driscoll TR, et al. High incidence and costs for Anterior Cruciate Ligament reconstructions performed in Australia from 2003-2004 to 2007-2008: time for an Anterior Cruciate Ligament register by Scandinavian model? Scandinavian journal of medicine & science in sports 2012;22(4):495-501. doi: 10.1111/j.1600-0838.2010.01253.x
Schub D, Saluan P. Anterior Cruciate Ligament injuries in the young athlete: evaluation and treatment. Sports medicine and arthroscopy review 2011;19(1):34-43. doi: 10.1097/JSA.0b013e31820b960d
Caine DJ, Golightly YM. Osteoarthritis as an outcome of paediatric sport: an epidemiological perspective. British journal of sports medicine 2011;45(4):298-303.
Caine D, Purcell L, Maffulli N. The child and adolescent athlete: a review of three potentially serious injuries. BMC Sports Science, Medicine and Rehabilitation 2014;6(1):22. doi: 10.1186/2052-1847-6-22
Shea KG, Grimm NL, Ewing CK, et al. Youth sports Anterior Cruciate Ligament and knee injury epidemiology: who is getting injured? In what sports? When? Clinics in sports medicine 2011;30(4):691-706. doi: 10.1016/j.csm.2011.07.004
Kocher MS, Smith JT, Zoric BJ, et al. Transphyseal anterior cruciate ligament reconstruction in skeletally immature pubescent adolescents. The Journal of bone and joint surgery American volume 2007;89(12):2632-9. doi: 10.2106/JBJS.F.01560
Shaw L, Finch CF. Trends in Pediatric and Adolescent Anterior Cruciate Ligament Injuries in Victoria, Australia 2005-2015. International Journal Of Environmental Research And Public Health 2017;14(6) doi: 10.3390/ijerph14060599
Louise Shaw PhD, MPH, B.Sc (Hons) Physiotherapy. An accomplished and dynamic health professional, with a strong academic background and growing authorship on injury prevention and safety.
(Visited 2,919 times, 1 visits today)