By Nash Anderson @sportmednews, Balraj Ougra @backspace.chiro and Pete Garbutt @Pete_Garbutt
VolleyFest is an annual Australian Beach Volleyball Festival showcasing international Beach Volleyball talent in Manly, Australia. The festival is held for ten days in November or March and is known for its beach-side atmosphere with stunning views, beach volleyball and its all-round entertainment. Originally a national tour competition, it has now become a major international event with its inclusion into the Fédération Internationale de Volleyball (FIVB) Beach Volleyball World Tour.
We had the pleasure to provide the medical support for the FIVB Beach World Tour 2 Star event from 22nd to 26th November 2017. After decades of combined event work this was one of our favourite events to date. Here, we share some of the daily challenges and how we solved them using evidence-based data logging.
The Medical Tent
Our team consisted of three sports chiropractors providing sideline care, musculoskeletal assessments and treatments for athletes and staff and general first aid. It was a privilege to have Pete Garbutt on board, who has provided this event coverage since 1995. In addition to this, we had onsite support from FIVB delegates experienced in dealing with medical related issues.
Injury recording and treatment statistics
The medical team was in charge of looking after 48 male and 43 female teams across 111 games. During the last five days of Volleyfest alone, there were over 180 documented medical treatments, seven medical timeouts during matches, and informed advice given to the return to play ability of the elite athletes.
We used the RecordPro system to track the event, an Australian developed online sports injury analysis software designed by Pete Garbutt, Henry Pollard and Sean Polacsek. The software allows medical teams to track and note take all injuries using the latest OSICS coding system that assists accurate diagnosis and classifies all medical events.
Common complaints
The main reasons for athlete visits included: soft tissue work, spinal and peripheral manipulations, strapping (both rigid and kinesio), biomechanical assessments and first aid & ice. Using the RecordPro system, we were able to track the most common reason for treatment which involved the athlete's dominant shoulder in an overuse scenario. This correlates strongly with other beach volleyball research papers (1,2).
The second most commonly treated areas for athletes included the hip flexors, quads, hamstrings, and calf regions. We hypothesised that this was likely due to the repetitive jumping movements demanding power from an unstable surface such as soft sand and/or generating power to attack or block mid-air.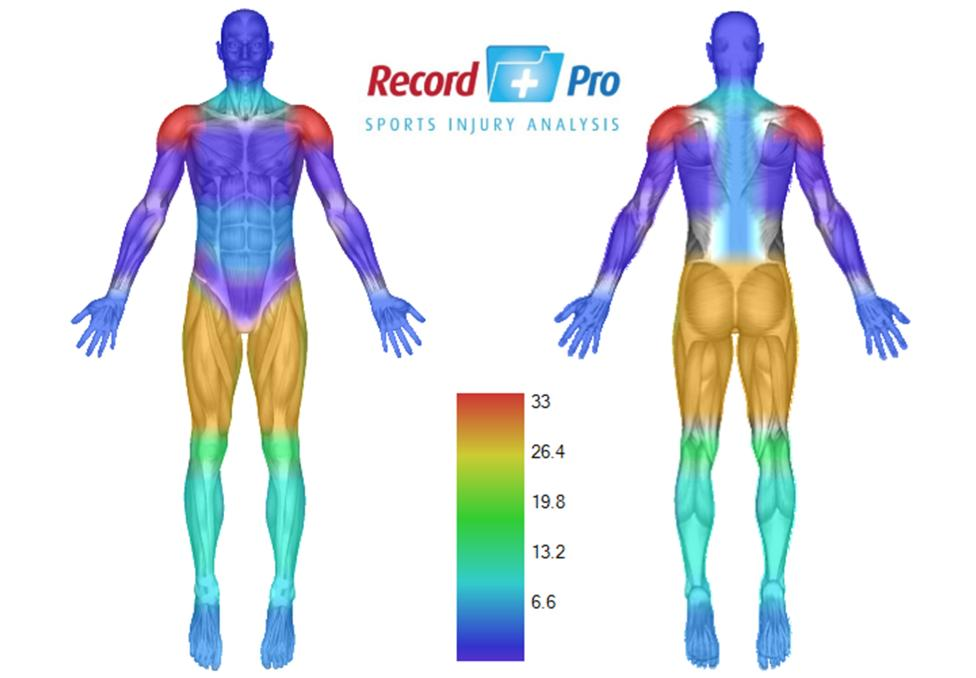 Figure 1. Athlete injury hotspots throughout the tournament, as shown by RecordPro.
Dealing with unforeseen injuries
Early on in the championships, numerous athletes and staff presented with heat-related injuries such as burns on their feet and heat stress. As this event was relatively early in the season (with temperatures 20-25 degrees celsius), we did not anticipate these issues. However, accurate regular data logging with RecordPro identified an injury hotspot amongst the staff. Additionally, we noticed that athletes whose feet were not conditioned for the summer, particularly for athletes that had travelled internationally, were at an increased risk of this occurring. In identifying this hotspot, we were able to communicate with staff organisers and event staff to prevent further injuries by watering the playing court and outside area or by minimising sand contact time by altering staff roles. The weather could have been the variable, as there was no wind during the week, whereas normally, afternoon wind helps to cool down sand. Therefore, despite temperatures lower than 35 degrees, the above processes to prevent injuries were required for staff and less conditioned athletes. It successfully reduced the number of heat-related complaints in the days following.
Figure 2. Staff injury hotspots throughout the tournament, as shown by RecordPro.
Working at these events present an opportunity to rapidly build clinical and injury recording skills as well as observe injury trends in real time. Through regular data logging and utilising some free injury recording software, we are now able to log and respond to unforeseen injury risks.
We'd like to extend our thanks to Volleyball Australia and FIVB Beach Volleyball for organising a fantastic event and for accepting us as part of their medical support team. In addition, thanks to Nat Sharp for organising the support and to the BJSM blog editorial team for sharing our story.
For more information visit on RecordPro of Volleyball Australia visit:
http://www.volleyballaustralia.org.au
**********************
Nash Anderson is a sports chiropractor in private practice at Enhance Healthcare in Canberra and has a special interest in performing sideline care as well as contributing to the SEM community. Nash has created sportmednews.com, an open access health and sports medicine resource for clinicians and the public. He also assists in the management of Social Media for Sports Chiropractic Australia. You can follow him on Twitter/Instagram (@sportmednews).
Balraj Ougra is a Sports Chiropractor in Sydney, Australia. He has been working with the Australian Volleyball League and on the Beach Volleyball World Tour medical team. Balraj has started a sports based clinic, Back Space Chiropractic in Sydney. He has a special interest in sports injuries, sports performance and injury prevention. You can follow him on Instagram @backspace.chir
Pete Garbutt is in private practice at Enhance Healthcare in Canberra, Australia. With over 20 years of working with sports from indoor soccer to beach volleyball, pole dancing to water polo at all levels from local to international, Pete has a wealth of experience with managing sports injury and performance.Pete is the President of the International Sports Chiropractic Federation. In 2015 Pete was awarded a Fellowship with Sports Medicine Australia and Australian Chiropractor of the Year in 2016. You can follow him on Twitter/Instagram (@Pete_Garbutt).
References
Reeser J. Strategies for the prevention of volleyball related injuries. British Journal of Sports Medicine. 2006;40(7):594-600. URL: https://www.ncbi.nlm.nih.gov/pmc/articles/PMC2564299/
Bahr R. No injuries, but plenty of pain? On the methodology for recording overuse symptoms in sports. British Journal of Sports Medicine 2009;43:966-972. URL: http://bjsm.bmj.com/content/43/13/966.info
Other OPEN access Indoor and beach volleyball injury resources:
P M Lund Marathon volleyball: changes after 61 hours play. FREE. British Journal of Sports Medicine Dec 1985, 19 (4) 228-229; DOI: 10.1136/bjsm.19.4.228​…Brit. J. Sports Med.- Vol. 19, No. 4, December 1985,
E A L M Verhagen, A J Van der Beek, L M Bouter, R M Bahr, W Van Mechelen. A one season prospective cohort study of volleyball injuries. FREE. British Journal of Sports Medicine Aug 2004, 38 (4) 477-481; DOI: 10.1136/bjsm.2003.005785
A Kugler, M Krüger-Franke, S Reininger, H H Trouillier, B Rosemeyer. Muscular imbalance and shoulder pain in volleyball attackers.  FREE. British Journal of Sports Medicine Sep 1996, 30 (3) 256-259; DOI: 10.1136/bjsm.30.3.256
Solgård, A B Nielsen, B Møller-Madsen, B W Jacobsen, J Yde, J Jensen. Volleyball injuries presenting in casualty: a prospective study. FREE. British Journal of Sports Medicine Sep 1995, 29 (3) 200-204; DOI: 10.1136/bjsm.29.3.200
J Watkins, B N Green. Volleyball injuries: a survey of injuries of Scottish National League male players.  FREE British Journal of Sports Medicine Jun 1992, 26 (2) 135-137; DOI: 10.1136/bjsm.26.2.135
(Visited 475 times, 1 visits today)