Sport and Exercise Medicine: The UK trainee perspective

 

–A BJSM blog series
By Dr Philippa Turner
If anyone is looking for an introduction to the multi-sport experience, look no further than the School Games! Previous medical team alumni (and athletes, of course) have gone on to World University Games, Commonwealth Games, Olympic and Paralympic Games success.
About the games
Developed and organised by the Youth Sport Trust, Sport England and the Department of Culture, Media and Sport, the School Games creates an inspirational and motivational setting. It provides elite young sports people with the opportunity to perform at the highest level. It also encourages more young people to take part in sport. Over 1,600 young athletes competed across three days this September at Loughborough University, England.
The Games currently includes twelve sports: Fencing, Rugby Sevens, Gymnastics, Hockey, Athletics, Cycling, Judo, Swimming, Table Tennis, Volleyball, Wheelchair Basketball and Wheelchair Tennis; disability athletes compete in seven sports: Athletics, Fencing, Swimming, Table Tennis, Cycling, Wheelchair Basketball and Wheelchair Tennis.
Organisers make the School Games as similar to the Olympics and Paralympics as possible. This includes an Opening and Closing Ceremony to participate in and enjoy, shared flats as accommodation, communal food halls, accreditation procedures, volunteer support staff, and a central medical clinic alongside pitch-side support.
SEM takeaways – 'court-side' lessons learned
This was my first experience of working at the School Games. It made me realise the massive logistical planning which goes into providing medical cover at such an event compared to a single one off fixture. A day of introduction and CPD was put on prior to the competitions' start. This included sessions on safeguarding, anti-doping, dental injuries and venue familiarisation. It also allowed the medical team to get to know each other and practise moulages. This was a great opportunity to learn from both more experienced colleagues in a supervised setting, and other health professionals who work in a wide range of sporting environments.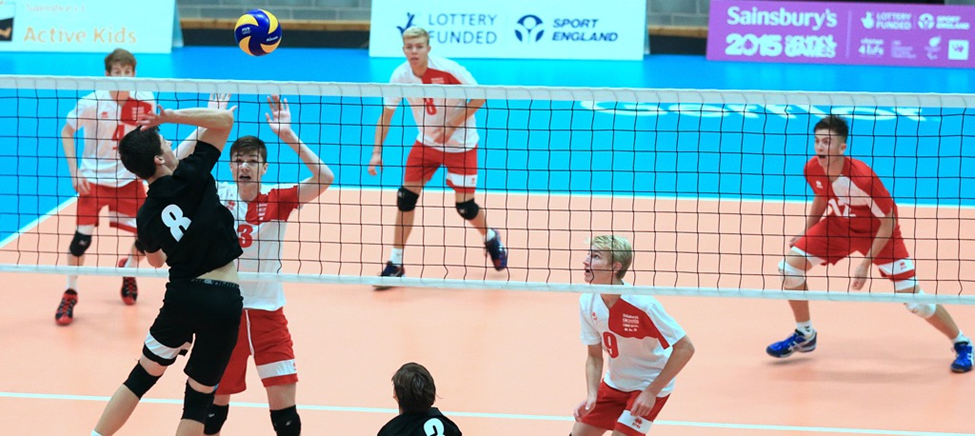 I was placed at Volleyball with three physiotherapists, a paramedic and technician. I had no prior experience of covering Volleyball. It was quickly evident that the crowd was enthusiastic and loud! The competition was tight at the top of the tables in both the girls' and boys' groups. This made for some aggressive warm ups causing bloody noses, but also some great games to watch.
The main issues we saw included shoulder, knee and lower back pain. The athletes' long levers with little muscle bulk to control movement patterns were clearly causing issues. Many of the boys were over 6'5" tall and did not fit on our examination plinths. Many also appeared to rely on K-Tape to get them through matches. So as a medical team, we tried to educate our patients as much as possible about activation and strengthening exercises they could perform in order to improve their performance both in the short and long term.
I also became more aware that, when working with young athletes, their overall wellbeing is paramount. We were not there simply to treat an injury or illness. When the competition started the pressure from coaches, parents and the athletes themselves was also a critical thing to manage. This was further intensified by the fact that this was many of the athletes' first time away from home, and/or their first experience with a team of professional medical support.
A great opportunity
I thoroughly enjoyed getting to know and learning from the medical team.  Working at the School Games lets you see first-hand young athletes gaining invaluable multi-sport experience. They performed at their best even if the results didn't go their way. I would certainly encourage any doctor or physiotherapist who is interested in Sport and Exercise Medicine to look out for the job adverts on the UK Sport website early next year and do their homework before the interviews! You never know – you might look after the next Max Whitlock, Ellie Simmonds or Adam Peaty!
For more information about the 2016 School Games you can visit http://www.2016schoolgames.com
Dr Philippa Turner, ST5 in the East Midlands Deanery. She works as the match day doctor for Aston Villa Ladies Football Team, Team Physician to England Cricket Disability Squads and the Women's Performance Programme. She is also the Trainee Representative on the SEM Speciality Advisory Committee (SAC).
Dr Farrah Jawad is a registrar in London and co-ordinates the BJSM Trainee Perspective blog.
(Visited 944 times, 1 visits today)