BJSM is the only sports clinicians' journal with new content twice-monthly. This helps us to address hot topics while they are fresh. In the Impact Factor ratings, BJSM ranked #1 of 81 in Sports Sciences for 'Immediacy' – papers cited within a year of publication.
Our 19 member societies guide us to hot topics. Did you miss an issue? Here's a quick way to scan this year's archive. Every few months, we'll revisit 4-6 previous issues, and invite you to vote. Yep, BJSM 
Win a prize! Six winning covers move to the final of course (just like a massive sporting event). Voters in the final round will enter a draw to win a prize (TBD), and profiled on the BJSM blog. See last years winners HERE.
These 5 issues feature: (i) Physios in Sport (UK) @physiosinsport Biennial Conference (ii) Return to Sport issue relevant to #RTP2015, November 20/21 conference in Bern (iii) The 2nd Injury Prevention and Health Protection (IPHP) issue of the year – supported by the International Olympic Committee) — Injury & Illness Surveillance in Sochi (iv) The award-winning BJSM App in the issue following up on #Concussion edited by Drs. Jon Patricios and Michael Makdissi (v) Celebration of 20 years of F-MARC's contribution to sports medicine Edited by Professors Jiri Dvořák and Astrid Junge.
You have one week to vote in each round.
Vote Now!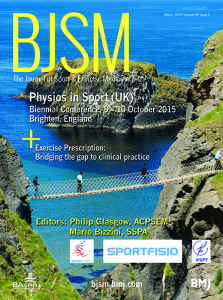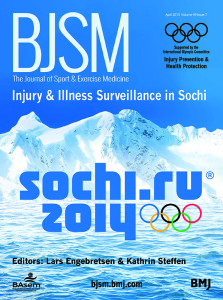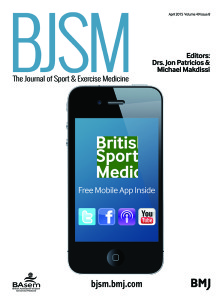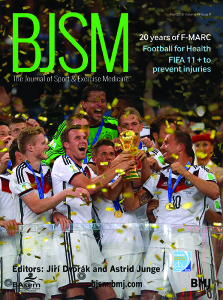 (Visited 229 times, 1 visits today)