The Dutch Association of Sports Medicine theme issue that focused on muscle injuries won the Oscar for BJSM's 2014 cover.  The clear winner broke the The South African Sports Medicine Association's  3-year stranglehold on the coveted trophy; no other nation had captured this ultimate among sports awards. Congratulations to all 17 BJSM member societies and particularly to those who created BJSM's September 2014 issue 18 that focused on muscle injuries.
Canadian sidenote: there are no 'loser' covers at BJSM – excellent quality all-round for 2014.
We shared the good news with Drs Babette Pluim and Robert-Jan de Vos, the issue's Editors, and here's what they said during the crazy all-night celebration in Amsterdam's Vondelpark which was orange-bedecked in anticipation of this announcement.
"We are delighted to win this cover competition with the Dutch Sports Medicine (VSG) special issue. Sports medicine was recognized as a medical specialty in the Netherlands last year, and we are now gaining a permanent position in the Dutch healthcare system. Our partnership with BJSM is a positive stimulus for Dutch sports medicine, and the support for our 2014 issue adds to our momentum."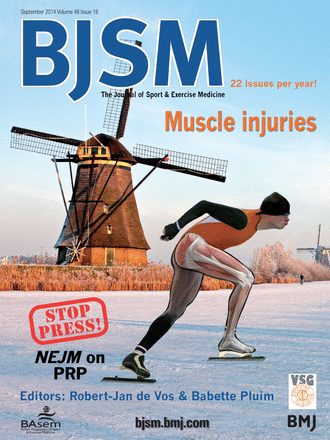 BJSM is grateful for Vicky Earle's cover designs and here the depiction of Dutch great Sven Kramer You can contact Vicky for that special powerpoint slide or paper/book illustration at http://vearlemedicalart.com/
To read articles from this issue, please click HERE. And you can check all BJSM content conveniently via the free BJSM mobile app (Android/AppStore)
The Warm-up (Free) for the issue is called, Knowledge is only rumour until it is in the muscle by Robert-Jan de Vos.
The most downloaded article from the issue is by Noel Pollock and the team from UK athletics: British Athletics Muscle Injury Classification: A injury grading system  This Open Access paper moves us past the historic Grades 1, 2 and 3 muscle strain classification to take more account of the extent of damage that can now be assessed by MRI.
A great complementary piece in that issue (also Open Access, as Editors' Choice) is from the Dutch group (Maarten Moen, Gustaaf Reurink, Adam Weir et al) who found that passive straight leg raise deficit, and the player's own estimate of time to return to play, were both better predictors of ultimate return to sport than MRI appearance at the time of injury! Food for thought. Predicting Return to Play after Hamstring Injuries – click here
On the subject of Return To Play, remember the first World Sports Physical Therapy Congress that will focus on Return To Play – Bern, Switzerland, November 21-22, 2015
Stay tuned to the blog (and your emails) for our announcement of the book prize winners. And share news of the free BJSM mobile app with your friends.

(Visited 191 times, 1 visits today)