Association of Chartered Physiotherapists in Sport and Exercise Medicine (ACPSEM) blog series
By Lorraine Harkness-Tomeldan
Sports coaches often express the need for clear and successful strategies to maximise successful development and subsequent retention of young athletes/ players within a given sport. Despite numerous books and literature focused on growth, development and training of young athletes in the sports industry, too many young sports players, and potentially stars of the future, fail to fulfil their early potential, or even leave sport altogether. Why?
Is there a need to provide a better education, training and information to coaches, parents, athletes and/or anyone involved in the development of a young people with potential and an interest in sport?
Some organisations and individuals provide youth coaches with knowledge of how to teach, support and develop correct movement pattern and technique and attain physical literacy alongside sports specific skills. However, there are too few of them.
WHAT IS PHYSICAL LITERACY?
Physical Literacy is a fundamental and valuable capability that encompasses the motivation, confidence, physical competence, knowledge and understanding that establishes purposeful physical pursuits as an integral part of their lifestyle.
It is the ability to use a range of fundamental movement skills in a competent manner, with the capacity to apply them with confidence in a range of settings that can lead to sustained involvement in sports and physical activity.
Physically literate children/ athletes are able to perform a variety of fundamental movements with confidence, and without pain or fear of movement or injury. Examples of fundamental movements are hopping, climbing or catching at measured levels of agility, balance and coordination.
Fundamental movement skills and sports skills are the basic building blocks of physical literacy.  Any child or individual with poorly patterned movement, limited skills and low fitness will often lose interest in sport and exercise. They may reduce participation time and eventually leave sport and reduce formal and recreational physical activity.  A chain of events could follow: the individual misses the opportunity to learn and achieve physical literacy, leading to an inability to develop fundamental sports skills. In turn, they may be less likely to take up physical activity, and more likely to adopt a more sedentary lifestyle.
WHY IS THERE A NEED FOR PHYSICAL LITERACY?
Increasing childhood obesity: Reports recently indicated that predictions that half the British population will be obese by 2050 "underestimate" the scale of the obesity crisis. According to the National Obesity Forum, the UK is in danger of surpassing predictions of a 2007 report which estimated that 50% of the nation would be obese by 2050
Early onset of environmental disease: Diabetes, Asthma, Stroke and Low Back Pain
Facebook/ X-box generation: Kids as young as 3 spend too much time playing with x-box, PlayStation, iPad and other computer devices.
Increasing general practice injuries and sports injuries in young athletes.
WHY DO KIDS LEAVE ORGANISED SPORTS?
I asked  Dr. Ernst Zwick, a Consultant to sports bodies, coaches and trainers,  why more and more kids leave organised sports for activities like skateboarding, surfing, free ride skiing, downhill mountain biking or sports climbing? His simple explanations are:
Kids are overwhelmed by the world's speed.
The most precious resource kids have is time.
Kids are over-paced in our quite demanding adult world.
Every kid's syllabus is just another form of taking away time.
Individual speeds of picking up knowledge/skills are dishonoured.
They are told what to do, and how to behave as much as ever, but their alternative choices as individuals have increased dramatically.
How can coaches turn this around?
Embed any sports programme into a well-designed long-term framework.
Always honour the biological age on the junior athlete.
Let them pace their progress – YES, there are times for a step back.
Support them as individuals and forget about accomplishments.
Develop the person, then the overall athlete and then the athlete in the sport of her/his choice
Always show them that you care by giving them time as a group and as an individual.
Never pretend, as they are experts in detecting disingenuous behaviour.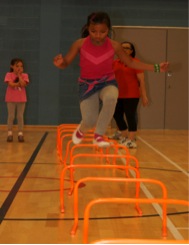 WHAT NOW?
Higher level coach education is essential and is the foundation to any sports programme and athlete's success. This should include:
A multi-disciplinary approach and open communication between coaches, medical and fitness team, the player/athlete and parents
Better understanding of Physical Literacy by both the athlete and the multi-disciplinary team
Thorough medical and physical screening for young athletes/competitors who are engaging in elite competition
Balance focus on competition with developing proper technique and sports specific skills, supported by appropriate physical ability and fitness
Well planned, balanced approaches to training, competition and recovery
Children and teenagers face multiple and ever changing issues in modern life. As clinicians, we must seek correct information to develop and maintain knowledge and skills.
*************************
Lorraine Harkness-Tomeldan is a Chartered Physiotherapist at Sporting Balance Physiotherapy Performance Training, Lightwater, Surrey
(Visited 2,248 times, 1 visits today)