Association of Chartered Physiotherapists in Sport and Exercise Medicine blog series
As a sports physiotherapist, I've worked in some strange places and covered events from High Performance to local charity matches. A recent trip ranks up there as one of the more extreme experiences and as one of the most enjoyable. I also learned a few things along the way.
Richard Parks is an ex-international rugby player who took up mountaineering expeditions after retiring through injury playing days. He asked me to provide physio support on an 11 stage mountain bike race in Nepal.
Richard had just returned from a solo R&D expedition in Antarctica where he was preparing for Project X – a world first, which he is hoping to complete at the end of this year. He had lost 15Kg in body weight after burning 6-8000 calories a day over 36 days on his own on the ice. He was also injured after skiing in a forward lean position whilst pulling an 80Kg polk across snow over difficult terrain, with a prevailing wind driving into his left side for most of those 36 days.
Preparation (and rehabilitation)
With 3 weeks turn around, he was about to embark on a series of challenges leading up to Project X, whilst being filmed for a UK Channel 5 series. The first was the Yak Attack – 400Km of racing with a total altitude gain of 12000m. The race peaked at 5416m and the temperatures ranged from around 35°C to -15°C before wind chill. This was Richard's first ever mountain bike race and the film crew were going to record how he coped……
A week's altitude acclimatization allowed us a little more time to continue rehab and recovery, which given the proximity to the event had to be mainly soft tissue work as there was not enough time to transfer the control work we had started into a functional pattern he could use effectively in this sort of event. I think this brings home the importance of timing of interventions- as physios we have a lot of options in our tool box – the difficult thing is using the right ones at the right time.
Ready, set, go! 
The race started out of Kathmandu and the course led towards the Annapurna circuit. The initial few days were very hot, very dry and very dusty. At this stage we were still managing his injury as well as trying out different recovery strategies in preparation for his future expeditions. Temperatures over the first few days were in the 30's, so recovery had a significant rehydration element.  The film crew was also out in that heat for long periods in the middle of the day as they were covering the race from motorbikes. The combination of necessary protective clothing in the heat as well as the very rough terrain led to inevitable minor injuries, through repeated impact and fatigue. My treatment sessions were extended as more people developed problems. I also ended up treating and/or giving MSK advice to 6 or 7 of the other riders at different points in the race. I've yet to tour anywhere and not end up giving advice to some others that wasn't initially planned.
Most of the days, I was taken from start to finish in a jeep, which was pretty hair-raising on some of the narrow routes with very steep drops. When the trails got too narrow, all support staff had to walk, with porters to carry most of our kit. Over those 3 days I walked approximately 65-70Km and gained 3000m in altitude, reaching the Thorong La Pass at around 5400m. Fortunately, my very thoughtful athlete didn't expect treatment on those days and in fact looked after me more than I did him, as the cyclists finished hours before we did.
Richard was entering his element as we got into the high altitude sections. Having summited the highest peaks on very continent, 5000m was a walk in the park! Despite being the hardest, those were his favorite days and he was one of the very few people on the race who didn't use Diamox during the high stages. By the high altitude days temperatures were more in the region of -15°C, with snow up to mid thighs in places. On the pass day there were 3 cases of snow blindness, 1 frostbitten toe and a few cases of frost nip amongst the riders.
There were two UK based race doctors providing volunteer support. Their main caseload was the typical travel sickness symptoms, with no significant altitude issues, which was impressive considering the speed that we gained height over a few days. They also dealt with one collision injury where the rider was hospitalized briefly.
Treatment reflections from the race
There were a few things I learned whilst reflecting on treatment sessions. The needs analysis for returning to maximum performance in his eventual goal was complex, especially as large portions of it are still a secret. The added challenges for the documentary series throughout the year (a 5 day ultra marathon in Peru and a double Iron Man in North wales) created additional time constraints on specific aspects of rehab because of the varied conditioning and movement skills needed in those activities compared to the endurance skiing that will be needed for the final challenge this year. Having returned from Nepal, we are now working on running form and Cardiff Blues Rugby have kindly given us access to their Alter G treadmill to increase volume and intensity of the running whilst controlling muscle tendon unit load.
Physios always have to adapt techniques based on the environment when working in sport – but there were some pretty extreme environments in the middle of the Himalaya. Keeping your patient warm whilst doing a treatment session on a narrow "bed" in a tea lodge with no heating was pretty challenging at times. I also had to be very selective in what equipment I took with me as for the latter part of the race our kit was carried by porters, so weight was of the essence. Deciding on the bare minimum was a challenge as was needing to create a lighter option than my usual physio bag.
We tried out a few different recovery options for future trips and a very useful combination turned out to be Sigvaris® compression socks used with Firefly® disposable muscle stimulation devices. This significantly reduced the amount of recovery massage needed, with lower than expected muscle soreness, which we recorded daily on a VAS scale. We also recorded daily VAS scales on perceived exertion, and perceived performance during the race, sleep quality and energy level before the race. Further analysis of this data alongside the slightly different recovery and treatment options, will give us a fairly comprehensive picture of the best options to look at for Richard to manage this aspect on solo expeditions.
From a treatment perspective, a complication I hadn't anticipated and perhaps should have, involved needing to treat neck soreness from the camera Richard wore on his crash helmet. Although it was quite small and light, the added lever arm on top of his head when controlling the bike over some very rough terrain took its toll.
I had expected to treat his back because of the initial injury and had prepared by asking a colleague at Cardiff University, Liba Sheeran to help with some alternative techniques to adapt how I could treat Richard more effectively in that environment. We turned that into a small masterclass session with the MSc Sports Physiotherapy group, which I then fed back on my return…… so already this trip has been used to compliment teaching within one of our programmes. That's what is so good about engagement opportunities like this. They can be very hard work but usually fun, yet can bring some elements of teaching to life.
Another aspect that was relatively novel for me was that the purpose of doing this challenge was to make a TV programme. The filming took a very high priority. This occasionally affected how I operated as a physio/support staff. Typically, following a particularly difficult race stage, as a physio, I would let the athlete offload negative issues but would aim to move on from dwelling on the previous event towards a more positive approach for the next day. From a creative perspective, the film crew naturally wanted the drama of mishaps and the resulting reactions, so kept bringing Richard back to talk about how tired or frustrated he felt. The situation was a minor one but I probably had to work much harder at bringing Richard back to where he would usually be during recovery because the needs of the TV programme content took precedence over performance related issues.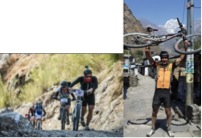 It was physically really challenging at times, especially as I had only had a few weeks notice and I would normally train for a few months before a trek like this but I enjoyed every minute of it. I was with a great bunch of people and got the chance to return to a part of the world that is breathtakingly beautiful. My advice to anyone else is to seize these opportunities when they come your way – you never know where they'll take you!!
For more on this adventure, read Richard's Blog HERE.
*******************************************
Dr Nicola Phillips (@NicolaPhillPT) is a reader at Cardiff University, President of the International Federation of Sports Physiotherapy and Vice President of ACPSEM.
Web: http://www.cardiff.ac.uk/sohcs/contactsandpeople/q-z/phillips-nicki-dr-overview_new.htm
(Visited 267 times, 1 visits today)