Fax! The word brings back memories of black and white television, flares, MacGyver. But don't laugh, that's the medium I am supposed to use to refer a patient in Vancouver, Canada. It's the dominant referral method in Canada's so-called exemplary health care system. So it's not passé for the Wall Street Journal to discuss the pros and cons of email as part of clinical practice.See the catalyst article here.
They open with "Email has been so commonplace for so long that some people consider it nearly obsolete. But in the health-care profession, its use for communications between doctors and their patients is still controversial."
So to see what is happening in physiotherapy, sports medicine, @BJSM_BMJ tweeted for 'success stories'. We love 'success stories' at BJSM – these are key ways to rapid improvements in patient care. For more on that see the Heath Brothers' terrific book 'Switch: How to make change when change is hard'.
First success story came in 5 minutes after the tweet. (A success story in itself?) – Feel free to add your comments. How do you use email in clinical practice? Email karim.khan@ubc.ca or post to the blog if you can wait 24 hours for moderation!
————————
Dear Karim,
We regularly email patients to check on their progress during/following a course of treatment. It is also invaluable in speeding up patient referrals to/from Consultants.
This is just one example of the positive feedback we have received relating to email communication:  "I was very pleasantly surprised by how effective the treatment was. Despite the injuries I was able to keep exercising, which was ideal as I was training for the London Marathon. Jenny was very friendly and helpful – even an email between appointments. The reception staff were very helpful with arranging appointments at short notice." A. G 22/05/2011 http://www.physiotherapy-specialists.co.uk/physiotherapy_canary_wharf_testimonials.htm
Kind regards,
Anne Roebuck
Director
Physiotherapy London
150 Westferry Studios
Milligan St
Canary Wharf
London E14 8AS
T: 020 7093 3499
www.physiotherapy-specialists.co.uk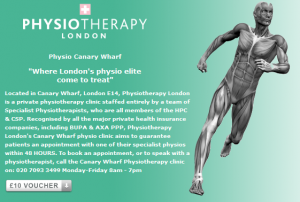 (Visited 126 times, 1 visits today)