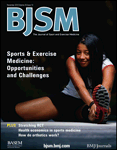 Stretching, or not, has been a controversial issue.
This month's BJSM helps to unravel (or add to) this puzzle.
In an entirely web-based study (that gained awareness through media coverage), 2377 physically active adults were recruited in an effort to determine whether stretching modifies injury risk and soreness.
The verdict? In the short-medium term stretching reduces the risk of soreness and does not reduce the all-injury risk.
For a link to this article and to make up your own mind, see the November  BJSM.
(Visited 131 times, 1 visits today)