We invited Dr. Katja Van Oostveldt to share her perspective on Sport and Exercise Medicine (SEM) in her home country, Belgium.
Tell us more about yourself
I have worked as a sports medicine physician in Belgium since 2017. In addition to my private practice in Ghent, I work 1.5 days per week at the University Hospital of Antwerp, one day per week for the Belgium Hockey Teams and one day per week for the national elite female gymnastics team. Additionally, when physiotherapists have complex cases, I attend their practice to provide perspectives. The breadth of roles makes my job so much more exciting and challenging.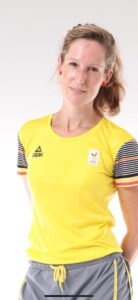 My patient population varies from beginners to Olympians. I am involved in a wide range of sports disciplines, including field hockey, gymnastics, tennis, volleyball, motorsports, dance, skate, football, and winter/water sports. My first assignment as a sports physician was in 2017 as the event doctor for an ATP250 tournament. I've been the event doctor annually ever since. Every time I step into that arena, I feel grateful because it is where it all started!
Following that, I took the challenge of working for a UCI Continental cycling team and in that same year I was appointed as the team doctor of the Belgium National Men's Hockey Team in the lead up to the 2018 world championship in India. This incredible journey has since led to attending the Tokyo Olympics, where the team won gold.
What is the path to become a sport and exercise physician in Belgium, and what are the main hurdles on this path?
Belgium is culturally diverse as it is made of a French-, a Flemish and a German-speaking part. To enter university and study medicine, you need to pass an entrance exam, which is organised at the national level by the Ministry of Education. However, the modalities of the exam and the needed scores vary markedly depending on the speaking region. The general system of medical education in Belgium consists of six years full-time education, which includes a bachelor's and master's degree. Additional residency training in combination with an advanced master's education is compulsory to obtain a medical license to practice.
SEM is accessible as a postgraduate diploma once you have your Master of Medicine. With full-time study, you can finish SEM in one year or you can spread it over several years part-time. At the moment, only a few Belgian universities offer SEM and again… in different modalities. So, you have general practitioners, orthopaedists, radiologists, paediatricians and even gynaecologists and maxillofacial specialists attending. At the University of Leuven, SEM is a 'master's after master's' program; meaning the completion of a master's thesis is required alongside exams to pass.
There is no such thing as a residency in SEM. Once you have received your diploma you need to gain your own experience. Not being a recognised specialty can be considered negative, but I try to see the positive aspects of it. You have to find your own way if you want to be a real sports physician. This means looking for extracurricular activities, foreign educational programs, fellowships, and refresher courses. In the end, you make your own curriculum, and you are not obliged to follow anything unwillingly. Proactivity, time, and patience are needed to become a SEM expert in Belgium, all of which require you to take matters into your own hands.
How developed is collaborative work in SEM in Belgium?
Once you start as a team doctor, you need to make sure you have a good network to rely on for fast referral and quick access to diagnostics and treatment. You are the gatekeeper to the best possible experts in the field and the guardian of athlete health.
As a sports physician in Belgium, you often depend on other specialties such as radiologists, orthopaedists, physiotherapists, cardiologists, pneumologists, dentists, neurologists and even paramedics. Then there are also sports nutritionists, sports psychologists, podiatrist and strength and conditioning coaches. And last but not least… your coaching staff! Whilst all have the athlete and their health as a number one priority, the breadth of specialists involved means that communication is key to providing best practice.
For me, this makes the job even more interesting and challenging. I enjoy the multidisciplinary approach. You can learn a thing or two from one another. As long as all involved complement and respect each other, there is nothing more fulfilling.
Are exercise physiologists/scientists integrated into your healthcare system, and does health insurance cover for their services?
Health care insurance covers only curative medicine. The attention on preventive medicine is fairly limited unfortunately.
What is done in Belgium to promote SEM among students and young professionals regarding research and clinical opportunities?
SEM is not promoted actively at Belgian universities, as there is no specific recognition for SEM. Students do not have SEM residencies or internships in their curriculum unless they take matters into their own hands and actively seek these opportunities.
Finally, if you were Harry Potter, what would you change to SEM in Belgium?
My wish is to have SEM recognised as a specialty with an established residency programme. In Belgium, we already have programmes in place for a better training on top of the one-year postgraduate programme. However, we also need sport-specific training.
A medical doctor should be part of every sport team and be paid in accordance with the responsibility taken and level of expertise. Also, the wage should be equal within the same leagues to attract medical doctors with similar qualifications and avoid unqualified residents just because it is cheaper. I also hope that event organizations become aware of the importance of having well trained doctors at SEM events/tournaments.
Furthermore, I wish there was more interest in the medicolegal aspect of SEM (e.g., medical secrecy struggles). The insurance you have as a general practitioner does not cover working with elite athletes. This means you have to find an insurance agent who is familiar with the job and knows what has to be covered.
Medical confidentiality has to be maintained, but there should be a tool like shared medical confidentiality to allow decision making process with all the involved staff (medical and non-medical). The highest aim is to get a safe trustworthy environment to ensure physical and mental wellbeing for athletes.
From my own experience, SEM experts have to excel in many fields of medicine (see bonus below), which is far from feasible in just one year of training. Thus, I would make the IOC Sports Physician educational programme mandatory for all who wants to practice SEM. I hope one day to have an international code of conduct to help guideline SEM clinicians in offering the best care to the athletes.
Bonus
The following disciplines are the ones which should be mastered by a SEM expert in my opinion:
exercise physiology
sports cardiology
sports pneumology
sports neurology (concussion assessment and guidelines)
sports revalidation (safe and timely return to play with sport specific protocol)
sports gynaecology (female athlete)
sport paediatrics (growth issues)
sports endocrinology (relative energy deficiency in sport)
sports dental health
sports nutrition
sports psychology
anti-doping charter
sports pharmacology
advanced life support training
infection control training
knowing what to take on tour when travelling with a team
knowing what to expect and what to be prepared for when supporting an athlete or team (at home and when travelling)
positioning of the doctor within the team and communication
media training
sports ethics
code of conduct
(Visited 183 times, 1 visits today)