We invited Dr Mandy Zhang to share her perspective on Sport and Exercise Medicine (SEM) in her home country, Singapore.
Tell us more about yourself
I am a Sport and Exercise Medicine (SEM) consultant physician at Changi General Hospital, Singapore. I graduated from the Royal College of Surgeons in Ireland in 2011 and then obtained post-graduate qualifications through membership with the Royal College of Surgeons (Edinburgh), a Masters of Family Medicine (Singapore), a Masters of Sports Medicine (Australia) and certification via American College of Sports Medicine (ACSM) Exercise Physiologist (USA).
Apart from my interest in sports medicine and management of sport injuries, I have special interests in performing arts medicine, especially dance medicine, and exercise prescription in chronic diseases. I currently chair the Performing Arts Medicine Special Interest Group for the Sports Medicine Association of Singapore and hold the position of deputy director for training and education for Exercise Is Medicine Singapore (EIMS).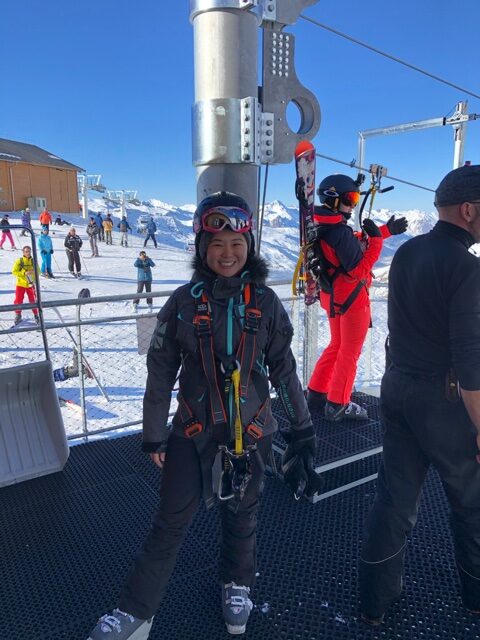 What is the path to become a sport and exercise medicine physician in Singapore and what are the main hurdles on this path?
SEM was accredited as a medical specialty in Singapore in 2011. To be eligible for the sports medicine subspecialty training programme, one must first obtain a base specialty in family medicine, internal medicine, orthopaedic surgery, or emergency medicine.
The sports medicine subspecialty training programme takes three years to complete and comprises various placements at hospitals, national sports associations, and sports science facilities. The training culminates in a final examination. After completing medical school, it takes at least eight years of training before one can fully specialise as a SEM physician in Singapore.
How developed is collaborative work in SEM in Singapore?
SEM functions best in a multi-disciplinary manner and I am fortunate that I get to work closely with sports scientists in the field of exercise physiology, strength and conditioning, sports nutrition, sports biomechanics, and sports psychology. I also work alongside other allied health professionals, such as physiotherapists and podiatrists, which caters to the different needs of patients. That being said, these collaborative works are more established within the Singapore Sports Institute, which supports Team Singapore athletes, as compared to the public healthcare systems.
On a weekly basis, we hold a joint nationwide sports medicine training programme (SMTP) for our SEM trainees. Various hospitals across Singapore take turns hosting sessions throughout the year and speakers from different medical disciplines are invited to share their work, research, and perspectives on sports medicine-related subjects.
Locally, we also have the Sports Medicine Association Singapore (SMAS), which integrates a multidisciplinary approach between physicians, allied health professionals, coaches and athletes. SMAS holds regular talks and encourages education and awareness on a range of topics, including, yet not limited to: sports injuries, sports safety, dietetics, physiotherapy and exercise science.
Are exercise physiologists/scientists integrated into your healthcare system, and does health insurance cover their services?
Services provided by exercise physiologists and exercise scientists are available for our national team and they usually have private health insurance which cover a significant proportion of their healthcare needs. Unfortunately, not all public hospitals have an exercise physiologist or exercise scientist working alongside SEM physicians.
What is done in Singapore to promote SEM among students and young professionals regarding research and clinical opportunities?
SEM teaching is traditionally not part of the medical undergraduate curriculum and students have limited exposure to SEM. Fortunately, there has been an increased focus on SEM over the years and discussions are underway with universities to integrate SEM content into standard undergraduate curriculum.
In 2018, the Graduate Diploma in Sports Medicine (GDSM) programme was developed by Lee Kong Chian School of Medicine in partnership with the Singapore Sport & Exercise Medicine Centre at Changi General Hospital. This programme was curated to cater to medical doctors who were keen to extend their qualifications in sports medicine.
Generally, it is heartening to say that there is an increased demand for sports medicine as a specialty, as sports participation rates continue to increase and there is a greater understanding about the importance of exercise prescriptions for chronic health diseases and that exercise is medicine.
Finally, if you were Harry Potter, what would you change to SEM in Singapore?
If I had a magic wand, first, I would like SEM to be included in the standard curriculum for all undergraduate medical universities locally. This would give SEM greater exposure and hopefully inspire budding SEM physicians early in their career. Second, I would increase the average clinician's appreciation of the following notions: Exercise is Medicine and Physical Activity as Vital Sign. I would encourage them to integrate this into clinical practice and actively prescribe exercise training as a first-line management, before resorting to medications, where appropriate. Finally, I would increase the recognition of SEM and its supporting services, which would include increased funding for research. This would allow the SEM field to spread its wings and facilitate the great work that we do!
(Visited 163 times, 1 visits today)