I'm a physician and an alumna of the University of Nairobi, where I undertook my undergraduate and postgraduate studies (Bachelor of Surgery and Bachelor of Medicine; Masters in Internal Medicine). I currently work for the Ministry of Health in Kenya. My current work station is the National Spinal Injury Referral Hospital, where we provide rehabilitation services for persons living with spinal cord injury.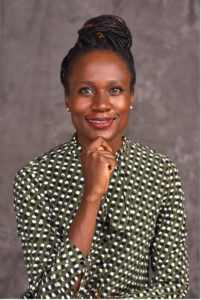 I love being around family, catching up with friends and spending quiet time in church. I also like singing in church and would love to know how to play the guitar (I actually bought one and trying to learn how to).
What is your main area of research / clinical expertise?
I'm a trained physician, so I enjoy working in all areas of Internal Medicine.
I am currently pursuing a diploma in Sports Medicine. My interest in sports has been drawn from my time as a field hockey athlete at both club and national teams.
I am interested in pre-participation screening for elite athletes, injury and illness surveillance programs, medical care for youth athletes and female athletes. I am very intrigued by Sports Cardiology and wouldn't mind practising cardiology in the general public.
I would like to work with elite athletes to set up health care systems for their support, conducting research to support best practices within the Kenya setting and other resource restrained environments.
What is your motivation to be a member of the BOSEM team?
To interact with colleagues from various countries in sports medicine and in the field of research in sports medicine is a rare opportunity for a person from Kenya.
Keeping up with the developed nations while working in a resource restrained environment; delivering success with limited resources.
To be empowered to conduct research and publish as a personal challenge, we have few publications in sports medicine from Kenya.
Provide mentorship to boost the numbers of qualified sports medicine practitioners and sports medicine practice in Kenya.
Get to provide an avenue for sports medicine and sports science practitioners in Kenya to conduct research and publish.
What is a work-related accomplishment that you're really proud of?
Being among the pioneer female doctors working with elite sports teams in Kenya.
My appointment as the Chief Medical Officer for Team Kenya for the Tokyo 2020 Games is the absolute highlight of my career so far. Playing an administrative role in service delivery for an Olympic team; the behind the scenes to support the medical needs of an elite national team locally, during travel and during the Olympic Games. The first time a female doctor has been appointed in this role for an Olympic team, a former athlete has served as a CMO and the youngest doctor to serve in this role.
Managing a sports team during a pandemic. This was a very unique opportunity for me to learn the intricacies of engaging in sports in the time of a pandemic.
Identifying areas of research that can be conducted in the field of sports medicine in Kenya to inform more contextualized practice of sports medicine in the country; identifying potential areas of growth.
Demystifying the notion that athletes are not smart by pursuing a career in medicine as an active athlete, very few medics follow this path in Kenya. There is life after an active career in the field, even in medicine.
Dispelling the notion that women leadership in sports is a myth; women can also achieve, when given the opportunity, the importance of laying down sustainable systems.
Working to improve the rehabilitation process for persons living with spinal cord injury to follow current best practices.
Who has influenced you most regarding how you approach your work?
My late father and my mum.
My dad was also a specialist consultant who went through many adversities to succeed in his field. He taught me the value of hard work, being a team player, being a leader, commitment, resilience, confidence, persistence, patience, humility and being focused. He put it in my mind that I had to be focused on my engagements and not get lost in the hype, standing my ground and remembering at the end of the day I have to be able to cater for my own needs as an adult.
He gave me the impetus to push myself as a medical student and not let go of my sports career such that when an opportunity came in sports medicine, I was able to take it up and run with it.
My mother is a scholar. She is constantly pushing me to be the best version of myself. Taking whatever opportunities come my way to grow, building my experience in various fields, conducting research and publishing my experiences. Her dream is that I also become a professor.
I sometimes get a little impatient and blow my fuse. They both taught me to be calm and level-headed even under challenging situations.
What's your favourite way to unwind after a busy day?
Spending time with family and friends enjoying good company, good food and good music.
Mass/prayer time and singing.
(Visited 104 times, 1 visits today)