Last week, governments of UN member states, academics and the international health community were hosted by WHO and the Ministry of Health of Kazakhstan in Astana to reaffirm their commitment to universal primary health care. This pledge was first pronounced 40 years ago in Almaty on a Declaration that moulded the way primary healthcare works today. Yet, despite the progress made to improve global health outcomes, health inequalities still persist in healthcare systems and new challenges exacerbate them, particularly in low and high-income countries.
The Declaration proclaimed in Astana last week reiterates the world's commitment to promote and provide "primary health care and health services that are high quality, safe, comprehensive, integrated, accessible, available and affordable for everyone and everywhere".
But, how does this translate in practical terms? In other words, where does the future of primary healthcare lie? Here are three points I took back home from Kazakhstan.
Firstly, the future of  primary healthcare lies in systems that are interconnected and integrated through newly available technologies and infrastructures for healthcare professionals and patients alike. One of the most engaging speeches I listened to in Astana was delivered by Jay Walker, an inventor, entrepreneur, curator and Chairman of TED Med. Jay's vision of the future of primary healthcare was provided by taking the audience through a journey of symbols of innovation that have advanced humanity. Remarkably, in this journey, he showed an amused and attentive room the Gutenberg Bible,  the original John Snow's map of the Broad Street cholera outbreak,the very first mobile phone! And all these items were originals! Besides the sense of jealousy I felt for his precious possessions, (as a proud member of the John Snow Society I can only afford a fake version of John Snow's map on the walls of my London flat), the message was loud and clear: the future of primary health care lies in the digital revolution and the use of technology to improve service access and quality. The Declaration of Astana clearly stresses this commitment:

"Through digital and other technologies, we will enable individuals and communities to identify their health needs, participate in the planning and delivery of services and play an active role in maintaining their own health and well-being".
Secondly, a thriving primary healthcare system is one that relies on building partnerships with health professionals, academia, patients, civil society, local and international partners, agencies and funds, faith-based organisations, as well as with the private sector. Back to the concept of integration!  But let me focus on the concept of the private sector.The private sector has been prominent in providing better health care outcomes, from the provision of clinical services, medicines, workforce development and infrastructure. Governments have increasingly turned to the private sector to solve challenges related to political and financial instabilities and strains, changing burdens of disease, conflicts and population displacement. Yet the private sector is a very disparate concept, spanning from private hospitals with state-of-the-art technologies, to informal clinics in remote areas of low and middle-income countries. As a result, the impact on primary healthcare can be both positive and negative. In Uganda (according to their Minister of Health), almost 60% of their healthcare workforce is from the non-state sector, with dual employment being a challenge in the country. This setup forces the government to identify creative solutions to mitigate the negative impacts of the private sector and encourage positive ones.
The future of primary healthcare is in creating systems where private and public sector cooperate to provide a high standard of care. To do so, governments needs to provide incentives to regulate behaviours and createe an enabling environment for private groups, whilst ensuring that, despite ability to pay, primary health care is available to all citizens.
The last lesson I took home is that primary health care systems of the future should meet the needs of different segments of the population. In Astana, we learnt this lesson from the Acting Minister of Health of Ukraine. Dr Ulana Suprun provided compelling examples of how Ukraine's health care reform is helping to achieve health for all, including the displaced people from the Russian occupied Crimea peninsula. Abolishing residency based primary health care services allows displaced people to choose where to get their care; providing healthcare services specifically to teenagers make sure the needs of the new growing young population are met.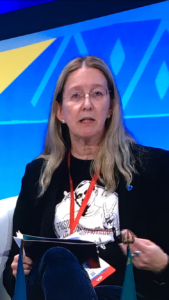 As the Astana Declaration was delivered to the new generation of healthcare professionals and patients, the health community has committed to listening more to the needs of the youths. The presence of young people and people living with disabilities was impressive at the conference, yet little mention was made of them in the new Declaration.
Now, back in London, it is time for us to internalise lessons learnt in Kazakhstan and transform verbal commitments into concrete plans of action, signed off by governments and all actors.
These are indeed exciting times that give us an opportunity to influence change. And  BMJ, a company which blends medical expertise, editorial knowledge and innovative technologies to support clinical practice and learning, can play a pivotal role in building this future.
Note:The views expressed in this article are those of the author and do not represent BMJ's view.
About the author:

Elisa Roma,  is the Programmes and Partnerships manager of the Clinical Decision Support training Initiative, one of BMJ Global Health Flagship programmes. Previously Elisa worked at the London School of Hygiene and Tropical Medicine, in London and at the University of Kwazulu-Natal in South Africa, researching on impacts of community health programmes in various countries in Africa and Asia.
Competing Interests: I have read and understood the BMJ Group Conflicts of Interests Policy and Declare I do not have any conflicts of interests.
(Visited 785 times, 1 visits today)