As last year, and previous years, my selected list of medical anniversaries in 2021, illustrated below, is restricted to multiples of 50 years (i.e. years ending in 21 and 71).
Despite this restriction, in a sort of morphic resonance, many of the anniversaries invoke infectious diseases and plagues. This year's list includes the following topics:
infectious diseases (including bubonic/pneumonic plague, smallpox, poliomyelitis, tuberculosis, and trypanosomiasis);

pharmacology and toxicology (including opium, suramin, insulin, and adrenaline);

psychiatry and psychology (melancholy and Rorschach blots);

new institutions (the Roosevelt Hospital in New York and the National Institute for Industrial Psychology in London).
There are in fact more infectious anniversaries than those illustrated below. For example, in 1870–1 the Peruvian town of Oroya suffered an epidemic of an acute infectious disease that caused a febrile haemolytic anaemia, Oroya fever. Then in 1885 Daniel Alcides Carrión, a medical student, had himself inoculated with an extract from a Peruvian wart (verruga peruana) and died from Oroya fever, since then also called Carrion's disease (enfermedad de Carrión). This suggested that the two diseases are caused by the same organism, which was described by Alberto L Barton in 1909, and therefore called Bartonella bacilliformis. Transmitted by sandflies, it is endemic in Peru, Colombia, and Ecuador.
Sometimes the two main anniversary themes, infections and pharmacology, coincide, as in the discovery, in 1871, of suramin as a treatment for trypanosomiasis. "Risus sardonicus", another example, entered English in 1621 in Microcosmus. A little description of the great world 1621, by Peter Heylyn (Figure 1), later enlarged as Cosmographie in foure bookes, containing the chorographie and historie of the whole world 1652 (1674). Heylyn quoted a Sardinian report that facial convulsions and death occurred after eating a poisonous herb. The Greek word for Sardinian was Σαρδόνικος. We now associate risus sardonicus with tetanus.
Figure 1. The title page of Peter Heylyn's Cosmography
Vaccination, much in the news, also has an anniversary in 2021. In 1721, during smallpox epidemics in London and Boston, Massachusetts, Lady Mary Wortley Montagu, having observed inoculation with material from lesions of smallpox in Turkey, had her daughter, Mary Wortley, inoculated by Charles Maitland with blister fluid taken from a young girl with smallpox, in the presence of three physicians nominated by the Royal College of Physicians. Maitland had previously inoculated her son in 1718. King George I later had members of his family inoculated, but only after having first had it tried out on 11 children in charity schools and six men in Newgate prison, whose death sentences were commuted in return. Because the smallpox virus was known as Variola, a diminutive of the Latin word varus, an inflamed spot on the skin, the inoculation procedure later became known as variolation or variolization. Then, in 1796, when Edward Jenner introduced inoculation with cowpox, also known as vaccine disease (Latin vacca, a cow), having heard of its protective effect in dairymaids, the process became known as vaccination. A vaccine then became the substance used to produce vaccination, and about a century later the word came to be used to describe the material used to prevent infections with organisms other than smallpox virus. Today it is also being applied to treatments for cancers.
Oculus in Latin meant not only an eye but also any point on a plant from which a bud might develop. Hence, inoculare was to graft by budding, and that's what inoculation originally meant in English. However, at the start of the 18th century it came to be used to mean the introduction of infected smallpox material by a process that resembled engrafting.
Of course, neither "vaccination" nor "inoculation" necessarily implies immunization.
2021 is a very special integer, as shown in the box below. We can only hope that, with new vaccines available, 2021 will also be a very special year.

Some medical anniversaries in 2021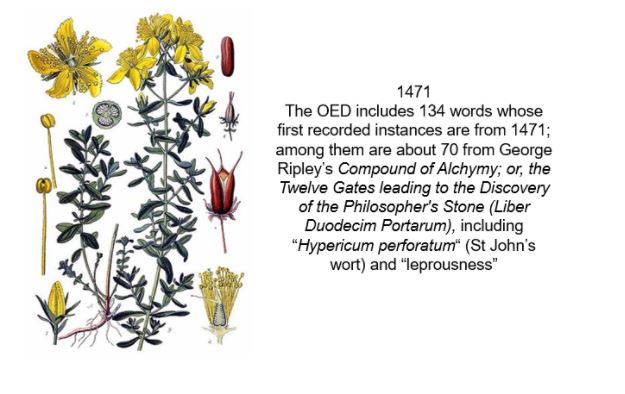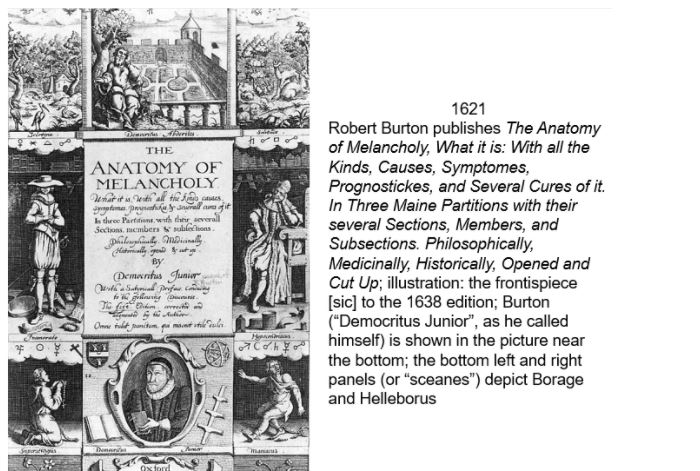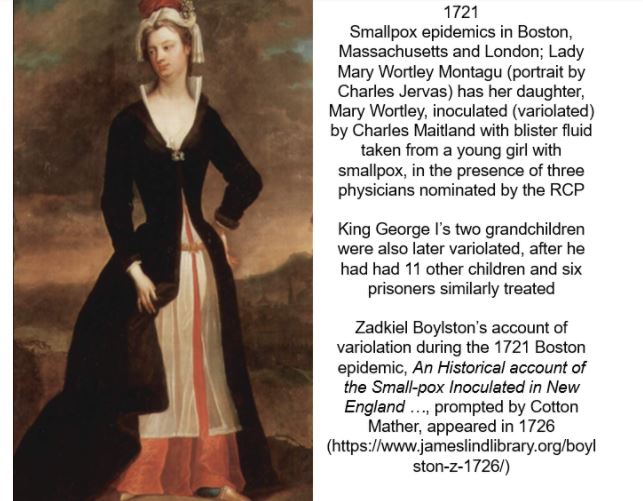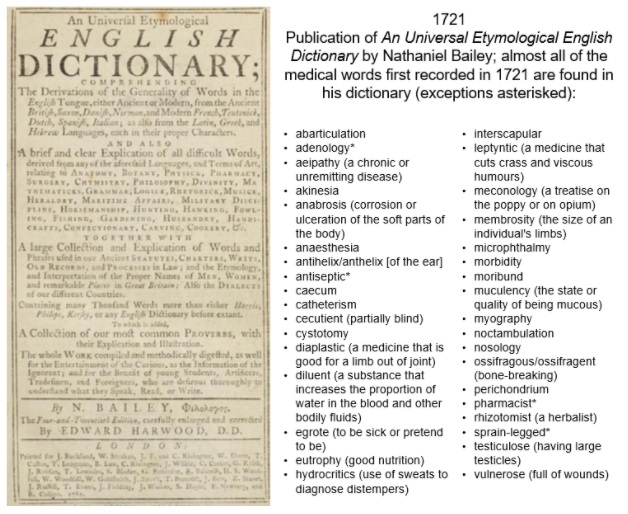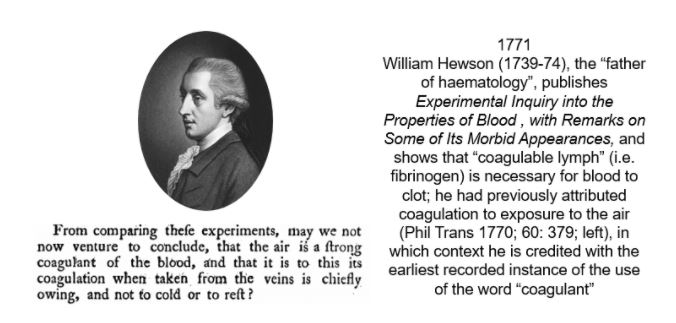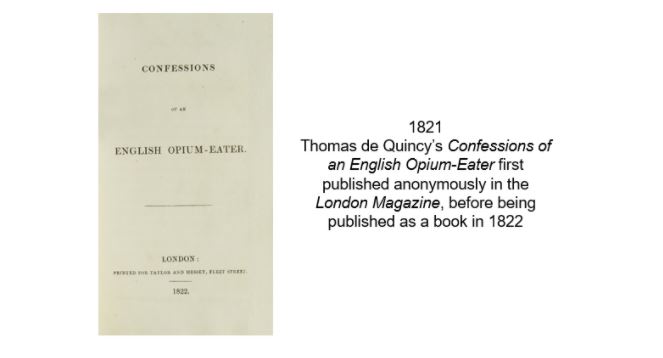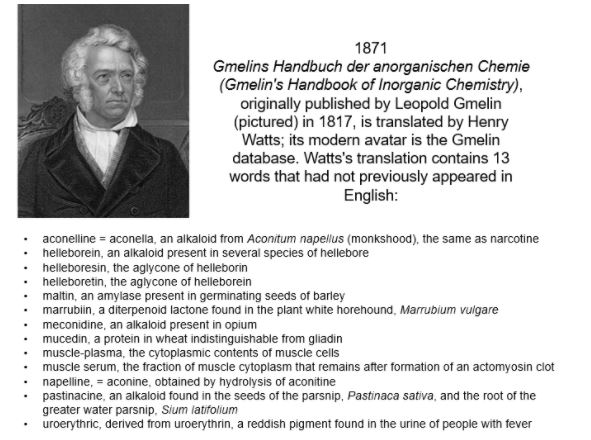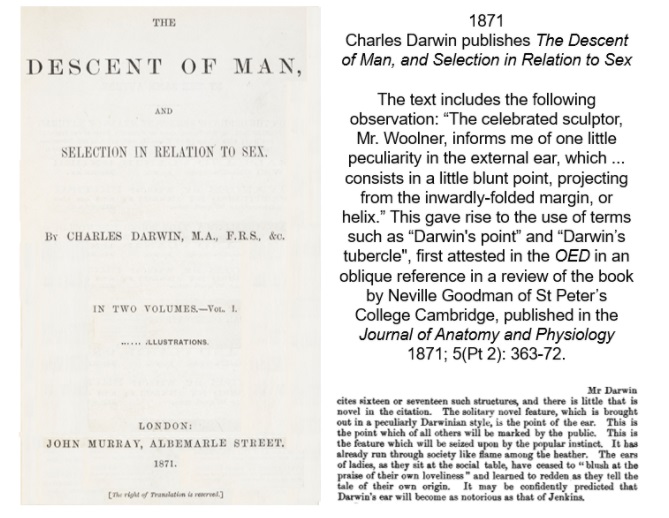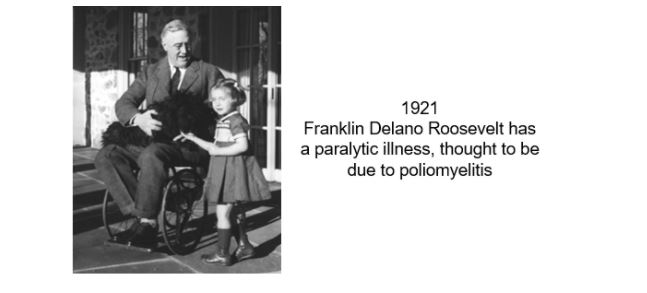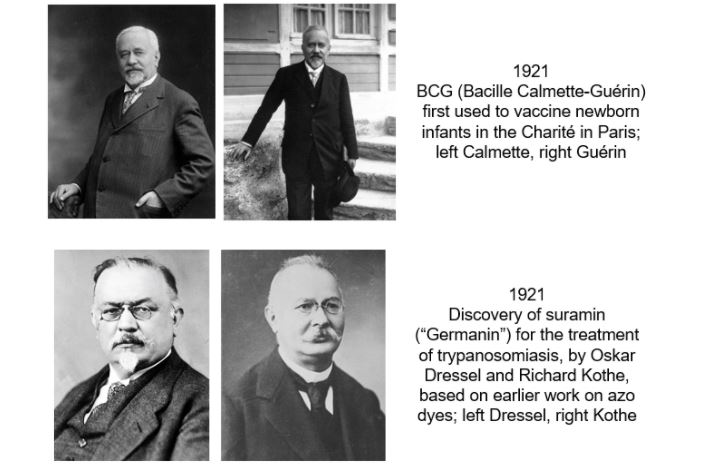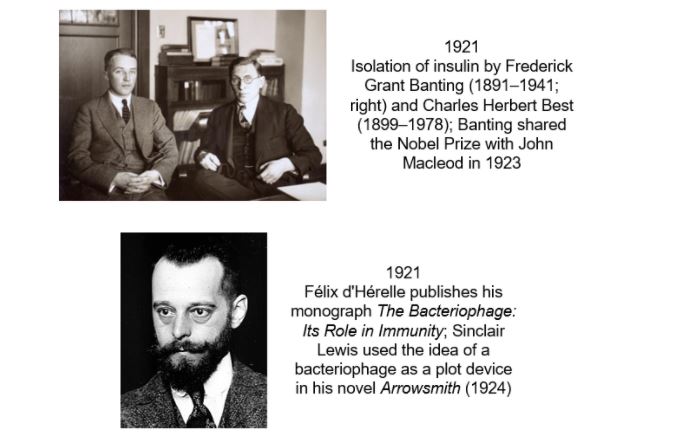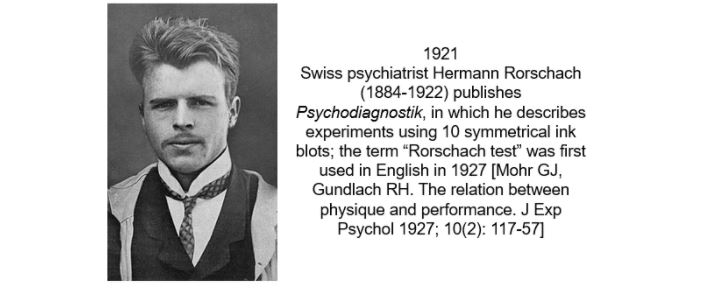 Medical lexicographic anniversaries in 2021
Medically related words listed in the Oxford English Dictionary (OED) as having first appeared in the years shown (parentheses—total numbers of such words and antedatings)
1771 (260)
cellulo- (membranous, fibrous, vascular, etc)
miliaria:  Originally any disease characterized by the presence of a miliary rash; later any of several types of rash resulting from superficial obstruction or disruption of sweat glands
peritonitis
rubeola (measles)
scarlatina
Sterculia
urticaria
varicella
1821 (693)
acupunctuation = acupuncture
anencephalic
buphthalmos
carunculated
ganglial = ganglionic
heartbeat
hyoscyamia = hyoscyamine
lesioned
melanosis
narcotin
necrosed
niopo
nosographic
parangi = yaws
pharmaceutical chemist
phrenologic
pneumopericardium
pneumothorax
psychograph
retinitis
sabadilla
superorbital
toxication
1871 (740)
adeno-
agoraphobia
anticonvellent = anticonvulsive
astroblast
athetosis
autophagia
bilirubin
bioplastic
conchinine = quinidine
contusion (v.)
cystoid (1840)
Darwin's [ear, point, tubercle]
deoxycodeine
enchondrosis
epipharyngeal
episkeletal (1869)
fluorescein/fluorescin
gluconic acid
glutamic acid
hectoid
helleborein
helleboresin
helleboretin
hypergranulation
infectivity
laudanine
laudanosine
meconidine
Ménière's disease
mucedin = gliadin
muscle-plasma
muscle serum
neoplasia (1867)
neoplastic
parotiditis (1843)
perineuritis (1867)
phthinoplasm (granulomatous caseation) 
piperidia = piperidine
plastid
polygonic [acid]
retroclusion (a method of controlling bleeding)
rhineurynter (an inflatable catheter to stop a nosebleed)
rhinophyma
statuvolic (self-hypnotizing)
stypium (oakum for surgical dressings)
Thebesian (foramina, veins, valves) (1850)
trophism
uroerythric
variolization = variolation
1921 (489)
achiral
Allonal (brand name, a barbiturate + amidopyrin)
bacteriophage
biomedical
biotechnology
chylomicron (1920)
cytomegaly
disome
encephalitogenic
ergotamine (1910)
giardia
glutathione
haploidy
hapten
hemizygous
Holmgren [canals] (1911)
Kolmer [method, test]
malnourishment = malnutrition
melioidosis
methylcellulose
monogenic
psychobiologic
pyknolepsy
sadomasochistic
thrombocytopenia
trisome
trisomic
tryparsamide
tularaemia
1971 (359)
See here
Jeffrey Aronson is a clinical pharmacologist, working in the Centre for Evidence Based Medicine in Oxford's Nuffield Department of Primary Care Health Sciences. He is also president emeritus of the British Pharmacological Society.
Competing interests: None declared.