We are currently facing the greatest challenge in the recent history of the NHS. None of us has lived through a global pandemic such as covid-19: it is hard to predict what the experience will be, but we anticipate that the pressures will be immense. We are already witnessing the detrimental impact on healthcare professionals across the world. Italian healthcare workers have described their situation as  "relentless", with many potentially sacrificing their own health and that of their loved ones to serve on the frontline. Without a doubt, effects on mental health and wellbeing are only just beginning to unfold.
We are working in exceptional times, but providing and protecting staff wellbeing initiatives should be universal, not exceptional. In the UK, there are approximately one million full-time equivalent staff working as NHS employees in hospital and community services. Recent years have seen greater emphasis on staff wellbeing, including from national bodies such as the General Medical Council, the Royal Colleges and the British Medical Association. Last year, Health Education England published the Mental Wellbeing (Pearson) report, whilst the BMA's Fatigue and Facilities Charter outlines simple steps that can be taken to improve workplace facilities and reduce fatigue. We must continue responding to the current challenge and putting patients at the heart of everything we do. However, we are also human beings, susceptible to stress, burnout and fatigue. The current pandemic calls for an even greater focus on initiatives to protect wellbeing.
The benefits of peer support are well known. We are a group of health professionals currently on a mission to spread support and kindness across the country. We are doing this by asking healthcare colleagues to take two minutes to talk and to ask their co-workers one question: #HowYouDoing? This question is underpinned by commitments to:
Ask twice to give them space to be honest;

Actively listen to their answer;

Be kind and approachable.
We have chosen a simple message of #HowYouDoing that everyone can aspire to achieve during busy times. However, we recognise that even this may be difficult and need to understand that we are only human, working under conditions of stress and fatigue. 
We are promoting the #HowYouDoing initiative through local networks, bespoke badges and social media including Twitter, Facebook and Instagram. We focus on promoting only positive messages and stories of support, kindness and civility, whilst also signposting healthcare professionals to evidence-led wellbeing resources.  The following are some of the messages of support from our social media channels:
Things are tough for us all in healthcare right now. Really tough. But we can, and we must, help each other.
Take a moment today to ask a colleague #HowYouDoing, and check if they are OK. Together we can face anything.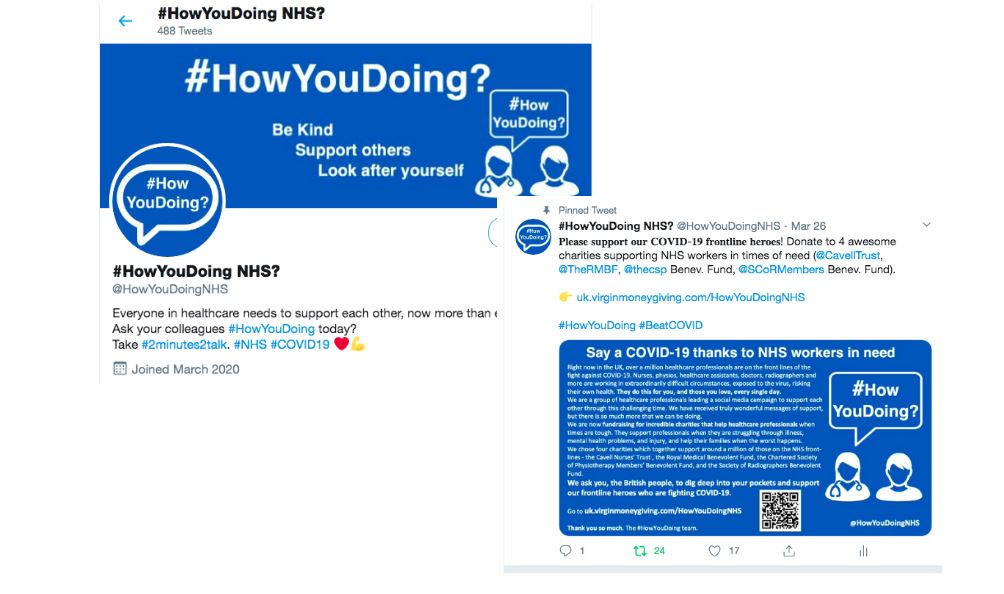 We are aware of many other fantastic wellbeing initiatives taking place locally, regionally and nationally to support doctors and healthcare professionals at this time. For example, the Intensive Care Society has produced excellent wellbeing resources with advice for individuals and organisations. Writing for The BMJ, Farquhar and Unadkat emphasise the importance of prioritising the basics, in particular sleep, to protect both our physical and mental wellbeing. Many trusts are working in partnership with local organisations to provide free accommodation, food and caffeine for their staff, whilst others are mobilising their psychological therapists to help frontline staff manage at this time. 
Take two minutes today to ask your friends and colleagues #HowYouDoing? Every one of us can make the change in our organisations to promote positive culture and wellbeing. We are all in this together. Be Kind. Be Supportive. Be a team. 
The #HowYouDoing team is a group of healthcare professionals currently working in frontline healthcare settings across the country. We initiated this grassroots social media and fundraising campaign to support our colleagues across health and social care through this unprecedented and challenging time.
Competing interest: none declared 
Twitter: @HowYouDoingNHS