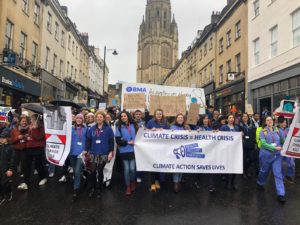 "Dad, are we really going to see Greta today?" my 11 year old daughter Poppy asked me on the train up to Bristol. This was shortly followed by "Look—all those fields are flooded!" I didn't draw any parallels for her. 
As 30,000 people began to mass on College Green to hear Greta speak, Abbie Festa, a final year medical student, was leading over 200 students and healthcare professionals down Park Street to meet her. Their message was simple. The "Climate Crisis is a Health Crisis"—it is time for all our acute trusts, clinical commissioning groups (CCGs), sustainability and transformation plans (STPs), GP practices, and all other healthcare providers to declare a climate emergency. 
We have recently seen strong leadership from the CEO of NHS England, Simon Stevens in launching the "For a Greener NHS" plan which builds on the work of the Sustainable Development Unit, Centre For Sustainable Healthcare, and the UK Health Alliance on Climate Change. This is welcomed, but will it be enough? Will we continue to pay lip service to the defining health issue of our time or will we make it a central part of our "business as usual"? Educating our undergraduates on these issues, adopting Sustainable Quality Improvement methodology, developing and funding Green Plans, having all our GP practices part of the Green Impact for Health scheme, and growing the NHS forest, should be a central part of our day to day work but as yet isn't. [1-4] This is just a start, but let's at least use what is currently available and begin to make some changes. We need to see NICE consider the wider environmental impacts of medicines and technologies in their appraisals and perhaps appropriate targets could be included in the Quality and Outcomes Framework. Healthcare contributes about 5% of UK emissions and has a huge ecological impact. It is time to tackle this. The main barriers to change as I see it are a lack of direction and accountable targets from the top, minimal resource to implement any changes, and a sense it isn't considered a health issue.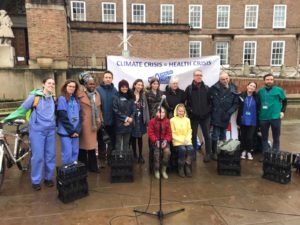 The evidence is now overwhelming that the climate emergency, loss of biodiversity, and pollution are the greatest public health threats we have ever faced. What is less appreciated is that they are also our greatest opportunity. There are huge health co-benefits from moving to a truly sustainable way of living. This is not just about reducing air pollution, but also changing our relationship with the natural world. We have become so disconnected from it both physically and mentally that we have forgotten what it is. Connected communities that have access to vibrant diverse natural environments are happier, and healthier, and less expensive to the system. As healthcare professionals we need to be strong advocates for the legislative changes that will help bring this about. 
The day in Bristol was incredibly inspiring. Seeing our young people speak so clearly, passionately, and with an impressive depth of knowledge will stay with me for a long time. After the march it was a privilege to take part in a panel discussion on eco anxiety and activism led by Caroline Hickman. "Eco-anxiety is not a diagnosis—it is an appropriate response to the climate emergency." This kind of common sense analysis is sadly lacking in our conversations on climate change. We had a wide ranging discussion with a strong sense that empowering people to take action can help alleviate these natural concerns. 
Perhaps the next few months could be the turning point. Is this the time when the healthcare sector recognises that the climate and ecological emergency is our problem? Will we commit to making sustainability our core business, to resource it appropriately, and to have the courage to tell the rest of the word to do the same?
On Friday Greta asked us "so what did you do during this crucial time?" I will leave you to answer. 
With a special thanks to Abbie Festa, Chris Newman, Alan Kellas and of course Greta Thunberg. 
James Szymankiewicz, GP North Devon, Director Strategy, Centre for Sustainable Healthcare, Chair, Devon Nature Partnership. @Drjamesszy
References: