The last two UK General Elections were landmark moments for mental health, demonstrating its meteoric rise up the political agenda. In 2015, for the first time, it was mentioned in every party's manifesto. In 2017, it was included more times than any other health condition in any election since 1945. It's been an encouraging few years, with parties of every hue seemingly listening carefully to what people with mental health problems have to say. 
This election, the mood is a little different. The promises of the last few years haven't yet translated into meaningful change. With so much parliamentary and media time absorbed by Brexit, there's been growing impatience as pressing issues related to mental health are put on pause. People continue to wait too long for the support they need and become more unwell in the process, often leading to greater pressure on crisis services. Urgent problems—from plummeting care standards to long-overdue reform of the Mental Health Act—have received little attention. 
This time, mental health still features, if not with the same prominence across the board that it once had. Each of the main parties' manifestos include some positive proposals: renewed commitments to treating mental health with the same importance as physical health; pots of money for NHS services; and reducing inequalities for BAME and LGBT+ groups. 
But every party is missing the bigger picture. Whoever forms our next government looks set to continue tackling one problem at a time, but it's clear that greater ambition is needed. A radical approach is the only hope for real change—we must see a robust plan for mental health that covers all policy areas. Because mental health is deeply intertwined with every aspect of life—from employment to housing, the benefits system to poverty, and isolation to domestic abuse. If we want to stop the tidal wave of people seeking support from NHS services that can't cope with the demand, all of these issues must be looked at through the same lens. And for those that will still need the NHS even when these issues are addressed, we must see greater investment in buildings and workforce so that their care is up to scratch. 
A cross-government strategy is the only way to truly put people at the heart of policy-making, and take into account that just as life is complex, none of these issues exists in isolation. There is little point having targets for NHS talking therapies while there is a benefits system in place that drives people to suicide, or public health campaigns on mental wellbeing when people don't feel safe and secure in their own homes. At the very least, it is the responsibility of government not to make people's mental health worse. We can't afford to tinker around the edges of mental health and hope for the best—it needs to be front and centre of any government's agenda.  
Whoever steps into Downing Street next week must, as a matter of urgency, be clear about how their plans will transform the lives of people with mental health problems. We will not accept any more failure to deliver on promises.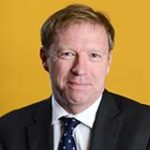 Paul Farmer is chief executive of the mental health charity Mind and independent chair of the NHS Taskforce on Mental Health.
Competing interests: None declared