A public health approach is needed to defeat the undead in the literature
I didn't believe in zombies until I read a report in the The New York Times. Now I see them everywhere. 
Zombies shuffle through the doors of The BMJ's editorial meetings, their dead weight makes editors moan and sigh. The truth is that the academic literature has been overrun and the contagion is spreading. 
Youth is no protection. Zombies creep into academia early, draining the life from researchers' work before their careers take flight.
Unclear and waffling writing are the undead in the literature. Meandering, jargon-filled sentences grasp at us from the page, sap our energy, and slow our progress.
Take this example that could comfortably lurk in many articles:
"WHO has reinforced its call for cross-cutting approaches to the achievement of the health targets and sees the 'main game' of the SDGs for health played out beyond the constraints of the health sector in a highly dynamic manner. This requires governance approaches which build alliances around 'implementation packages' that enable co-production and co-benefits, for example in recognizing the interface of health with goals that address climate action."
Oh, the horror! What can be done? Can we kill zombie writing or is it an essential inconvenience stalking academic thought? Recognising the crisis, the UK government offers some blunt but reassuring advice:
"Government experts often say that because they're writing technical or complex content for a specialist audience, they do not need to use plain English. This is wrong."
The UK's new Chief Medical Officer, the government's most senior advisor on health (including zombie contagion), has offered further reassurance stating that it is possible to write simply while being rigorous. 
So it's safe to remove these lurking hulks from our writing and we have tacit government approval to form a vigilante force. But how can we kill our zombies?
Thankfully, it's possible to decapitate our zombies. How-to guides on where best to deliver a hacking blow can be found in a number of good books and in freely available journal articles.
There's also a resistance force of unsung heros teaching good academic writing in schools and universities. Foremost among them is Helen Sword whose book "Stylish Academic Writing" is essential reading for any would-be academic zombie hunter. 
Sword's analysis of 100 style guides shows some recommendations are nearly universal: Write with clarity, coherence and concision; use short or mixed-length sentences; write using plain English; be precise; use active verbs; and tell a story. Simple advice, but unless we're vigilant in our undertaking zombies will rise again. Sword's book and others offer plenty of techniques to keep them at bay. 
Of course, any serious zombie scholar knows that we need to take a public health approach to counter a zombie apocalypse. Quarantine and treatment are insufficient, the only viable strategy is to hit hard and often to achieve eradication. Only frequent attacks, with increasing force, will eliminate a zombie horde. 
Time is short, Halloween is already upon us. Every academic writer must wake up to the undead in the literature. We must take up arms and hack and hack and hack at our zombies!
But we are already surrounded and I fear we may have left it too late.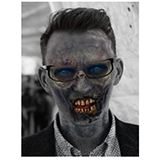 Paul J. Simpson is a Zombie Hunter and the BMJ's International Editor. 
Competing Interests: I bought Helen Sword's book with my own money and think it's essential reading for any academic writer. I don't have any connection with the author or the book's publisher. It's not uncommon for zombies to lurk in my own writing, we must be forever vigilant.