Emma Kinloch and Robert Metcalf describe how they collaborated to set up a new charity to promote partnership in research and drive better care and support for patients with a rare cancer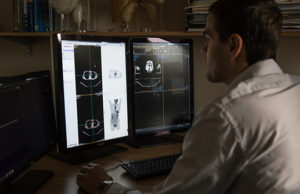 The patient perspective: Emma Kinloch
I was diagnosed with a rare salivary gland cancer called adenoid cystic carcinoma in the summer of 2012.  I didn't see much of the Olympics in London that year. 
I quickly realised that my cancer presented many challenges. Little was known about its biology, there were no targeted drug therapies available, and there is limited research into the condition. The patient community was small, with no specific support group for adenoid cystic carcinoma in the UK. These factors, combined with the challenge of having to go through a lengthy recovery from surgery during which I had to "re-learn" how to eat and speak made the journey through treatment a lonely one. And it was compounded by the fact that I also had to conquer a reticence to appear in public due to the visible signs of treatment on my face.
As treatment progressed, I found out that adenoid cystic carcinomas can be hard to diagnose. There are no clearly associated risk factors and no links with gender, age, ethnicity, or lifestyle. Because diagnosis is often late, surgical treatment can be extensive, outcomes poor, and patients often develop metastases which they can live with for many years, as it is generally a slow growing cancer.
After my treatment, I worked with a clinical nurse specialist to set up a head and neck cancer patient support group in the hospital in which I was treated. I felt that this patient group, myself included, had many specific challenges that patients benefit from sharing with others who truly understand them. General cancer patient support is of little help for site specific challenges, such as difficulties with speech or coping with facial disfigurement.
Having a rare, poorly understood disease led me to foster links nationally and internationally with people or organisations focussed on support or research into head and neck cancer, adenoid cystic carcinoma, salivary gland cancers or rare cancers. My oncologist suggested that I consider getting involved with the UK National Cancer Research Institute (NCRI) and in 2015, I joined their Head and Neck Clinical Studies Groups. Imagine my amazement when one day in 2017, while on a conference call, Robert Metcalf a medical oncologist from The Christie proposed mounting a clinical trial for patients with adenoid cystic carcinoma in the UK.  He was also interested in setting up a UK patient group. If I could have, I would have reached down the phone to shake his hand.
When I met met him he explained how he would like to focus his career on research into adenoid cystic carcinoma and other salivary gland cancers. I had to restrain myself from hugging him. I outlined my links with the patient community both in the UK and internationally and it quickly became clear that a partnership between us could potentially be highly productive.
The oncologist's perspective: Robert Metcalf
After completing clinical and research training in medical oncology, I was initially heading for a career in lung cancer. But I then decided to focus on head and neck cancer which relatively few oncologists specialise in.
Within head and neck cancers, salivary gland cancers are an important subgroup. There are many different sub-types of it and the most urgent need for better treatments within this "mixed-bag" is for patients with adenoid cystic carcinoma. 
Adenoid cystic carcinoma affects around 5 in every million people in the UK.  Median 5 year overall survival rates are 13 years from diagnosis. If patients develop metastasis, median survival is between 3 to 5 years. It generally grows slowly, along nerves, but is relentless. Patients can often find they have metastatic disease many years (often over 10 years) after treatment of their primary tumour. Surgery with or without radiotherapy is the main treatment for localised disease. Currently chemotherapy regimens have very limited efficacy for recurrent or metastatic disease. When you develop an interest in a rare sub-type of a rare disease, clinicians and researchers who share this interest are very willing to collaborate. I soon fostered links to other specialists within and outside the UK and our exchange made it clear that the experience Emma describes is typical. Through this outreach we have rapidly been able to establish a UK clinical and patient advocacy network. The network now runs regular face to face meetings which attract around  40 to 50 patients and carers, clinicians, and researchers. We have also built links with the UK National Cancer Research Institute, the International Rare Cancers Initiative and the European Reference Network for Rare Adult Solid Cancers. 
Raising revenue, finding time, and getting to grips with new processes
We applied to "The National Lottery Awards for All" and were provided with some seed money. We used the money to fund two patient and carer meetings, (with travel bursaries for those needing financial assistance to attend), set up a basic website, and sought some administrative support.  
Setting up the website, and thinking about how to frame and develop the initiative, was hard work for we were breaking new ground. We were clear, however, that what we wanted to do was provide reliable information for all parties, the opportunity to join a network, and enable patients and clinicians to work together to further research. To help get it right, we invited our patient group to tell us what they needed and what they would like to see on the website.
We also decided early on that we wanted to establish a charity. This is a relatively straightforward process with respect to application as the Charities Commission provide excellent guidance. More challenging was the need to determine the constitution and who the trustees should be. In addition there are a number of other time consuming tasks to fulfill. Some simple and straightforward, others not so. You need a bank account, email addresses, someone to manage your network, and someone to host your website and fix it if it goes down. In addition you have to decide which social media tools to use and which postal address to register with Her Majesty's Revenue and Customs so you can set up Gift Aid (a UK tax payer benefit that enhances your donations). You also need to draft a privacy policy and set up a your key constitutional documents and procedures. With both of us working full time this took a year to complete. 
Future directions for the charity 
We are in the process of building a scientific committee and a patient/carer committee. Both will work together to determine the strategy, priorities, direction, and delivery of the charity's aims  We want to ensure that all initiatives and our research are focused, practical, and of maximum benefit to the patients. For patients, their involvement, not least as partners in research, promotes empowerment and the satisfaction of knowing that they are doing something to help themselves and other patients like them. One of our overarching research aims is to better understand the biology of ACC and other rare salivary gland cancers, and work towards developing new treatments for them. We want to do this through supporting and fundraising for clinical, translational, and laboratory research.
A second key aim is to facilitate clinician and patient engagement. We provide information and support for both patients and clinicians through the website and the opportunity to join face to face meetings with other patients, researchers, and oncologists.  
Having established a specialist hub at The Christie NHS Foundation Trust in Manchester, we are now seeing patients with salivary gland cancers from all over the UK and further afield and building up a  database of bio-banked samples. This resource is feeding into efforts to establish a research laboratory focused on salivary gland cancers which with appropriate consent and ethical agreements, can be shared with researchers internationally. 
The patient network is also enabling us to set up clinical trials of new treatments. The bio-repository is providing a resource for new studies into the biology of this rare and poorly understood disease. 
Setting up Salivary Gland Cancer UK as a unique collaboration for anyone affected by Salivary Gland Cancer, or treating or conducting research into those affected by these rare cancers, has been exciting, challenging and hard work. We look forward to extending this community to include patients and researchers world wide. 
Further information is available via www.salivaryglandcancer.uk.
Emma Kinloch is a patient who was diagnosed with a rare salivary gland cancer.
Robert Metcalf is a consultant medical oncologist.
Competing interests: None declared
Photo credit: The Christie