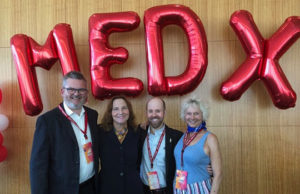 What is Stanford Medicine X or MedX? Is it just another conference? A movement? A programme? A new way of doing health research? Or just another cynical ploy by an institution to make itself appear patient-centred? All these questions and more raced through our minds as we made our way to Stanford, where we were invited to share various keynotes, presentations, or workshops. 
The main stage of Medicine X looks more like the set of X-Factor or Pop Idol than your typical conference set-up. Think of Ted Talks and you've got it. No podium to hide behind. Too many PPT slides are frowned upon (too right!). A stage on which you are asked to walk out on and stand in the spotlight. Most presentations are 5-20 minutes maximum in length and grouped in relevant themes. This makes for an event with real momentum. Speakers are encouraged to take the stage, tell their story and let it take hold of the room. 
Simon expressed how we all felt: "Once I'd shed my initial reserve at such boldness, I found myself intoxicated and enthralled by the format, but more by the courage of Engaged patients (epatients) who stood before us and told their story". 
Michael Mittelman made history as one of the first American ABO incompatible kidney donor recipients. His mom, Debby, wanted to donate her kidney to him 17 years before, but science was not ready. Michael was a young adult in college before science and medicine caught up. He and his mom joined a clinical trial, and she fulfilled her hope to donate her kidney. A year later, she was diagnosed with stage IV ovarian cancer. She battled the disease for slightly over three years, but she lost the fight. Her kidney lives on in Michael.
Michael notes "It felt amazing to tell the story of why I became a more public advocate. For me, this has been a lifelong journey of hope, of trust, of pushing on the system, of learning, of sickness, of health, of triumph". " At times in my life, I felt "locked" in rare disease, kidney disease, dialysis, or transplant communities. Stanford Medicine X and Leadership training introduced me to advocates that are unlike me, and unlike each other, and they cope, fail and succeed at things I have never had to even think about"
Adam Hayden, a philosopher and an epatient with brain cancer, spoke about how "Cure has become the top-end of medicine. Biomedicine and its pursuit of cure means we have lost sight of the pursuit of care." Emily Parks from the Oley Foundation defined patient-centred care as "being seen as a person before I got the medical information I needed." The excellent "Open Notes" where doctors and patients learn together as they collaborate on building the medical record was discussed by Liz Salmi and Catherine Desroches. Harlan Krumholz, a physician, editor, researcher and policy leader spoke about data agency at MedX and urged us all to "never delegate understanding" about our health and social care and encouraged us to insist on agency concerning our own data  
Simon says that: "It was nerve-wracking but at the same time refreshing to present 'the story". I talked about @hearingbirdsong and my story in the journey of co-production. Medicine X seems to have cultivated a culture of utter respect for 'the story' as an essential contribution to developing better health care."
There was a lack of zealotry about language – you said 'engagement when you meant involvement' which is often prevalent in the UK. This meant people focus more on people and on what they do and the outcome rather than on the process and whether things meet a strict definition or not. I found this very liberating.
Without wishing to culturally stereotype Medicine X, there was a sense of the Wild West about it—lots of pioneering and inspiring stuff. Above all, they are a growing community with Initiative, to be Everyone Included."
What does Medicine X say about Public Involvement around the world?
Medicine X has been clearly held its own in the growing debate Stateside and globally about the partnership with patients to do better research and care. The degree to which its philosophy and approach has yet to pervade the mechanics of state and federal research and care systems and organizations is not always clear, but there are signs that the influence is increasing and has massive potential.
We found it bolder and more convincing than PCORI, which in spite of its vast amounts of money seems constrained by its own rules and regulations and its lack of courage in ultimately delegating control to patients. PCORI is bound very much by the conventions of scientific rigour. Medicine X seems intent on maintaining scientific validity while challenging the outdated traditions that prevent patients from being full partners in research and healthcare.
Amy appreciated the inclusivity and breadth of Everyone included with the emphasis on redesign in healthcare rather than policing what goes wrong. She especially liked the encouragement to be curious, where our deliverables are to build a stage where the most difficult stories can be told.
Medicine X is more than an event; it is an organization and approach too. For instance, the initiative of joining up pre-med students with patients as mentors trained in leadership at Stanford MedicineX is paying dividends in terms of the development of these students and will undoubtedly be important in producing a cadre of physicians from one of the world's top medical schools that will be influential with their peers worldwide. 
When we asked Larry Chu the executive director of Stanford MedicineX, "Where does Medicine X go next?" He said "We want to take it where the community tells us." This feeling was echoed by a quote from the  Open Notes team, who said: "How do you know whether something is a movement. Because it is moving on its own." For a movement to reach this point, it first needs to be driven by small groups and initiatives until they reach a tipping point. Medicine X is an essential driver of the movement. But, like almost everywhere in the world, we all have some way to go before we reach the tipping point and the community is driving it.
Michael Mittelman is the Co-Founder and Chairman, American Living Organ Donor Fund and a Stanford MedicineX 2019 epatient Scholar Alumni 
Michael Mittelman has no COIs to declare
Simon Denegri is the former NIHR National Director for Patients, Carers, and the Public.
Competing interests: See full disclosure here
Amy Price is The BMJ Patient Editor for Research and Evaluation and a Senior Research Advisor for Stanford Medicine X. 
Competing interests: See full disclosure here