The situation for asylum seekers in Northern France is dire, their health is suffering badly and governments must respond to protect them, says Martina Villa
Arriving in Dunkirk on a late summer evening is quite deceiving. There is no more "Jungle" next to the ferry terminal in Calais, just a few miles away, and the last tourists walking on the promenade at sunset make Dunkirk look like any other town in northern France. However, just a few miles from the city centre, every night children, young men, and families spend sleepless nights in the forest with no privacy or shelter, afraid of being harassed by the police.  
There are currently around 900 asylum seekers in the area of Dunkirk. Most of them lived in the official camp of Grand-Synthe, which was evacuated last Tuesday. Riot police arrived early in the morning, cordoning the camp and took people on buses, without informing them about where they were headed. Through the fence, I could see a child playing football in the middle of the eviction, meters away from an armed policeman. I was there with the Doctors of the World team to witness the eviction and provide support to those who needed it. At the buses, the police established whether people were children based on facial recognition—more than 20 unaccompanied children were put on buses with adults. 
While the eviction was ongoing, teams of cleaners arrived on site to remove tents and personal belongings people had to leave behind. The displacement of the camp in Grand-Synthe, which is a daily occurrence for those in unofficial settlements around Calais, is incredibly traumatic for the people living there. Many of the health issues we see are also related to it. Anne, a volunteer doctor, said that many of the health problems she treats, such as skin rashes, chest infections, flu, fever and pains, are related to sleeping outside without shelter for prolonged periods. Patients often have deep cuts from barbed and razor wire fencing, fractures from falling off walls and lorries, cuts and pains in their feet from having walked many miles across Europe.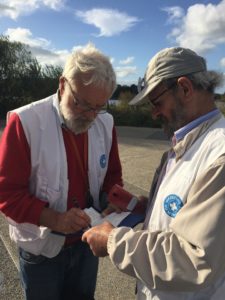 As we were visiting the settlements in Calais that afternoon, we were approached by a man in his 50s. He kept pointing at his heart and repeating "propranolol". He has high blood pressure and palpitations but didn't know where to find his medicines. This is a common problem: people with diabetes, high blood pressure, and other chronic conditions might find themselves without medicines for long periods. Our outreach team informs them about how to access the hospital, where they will be prescribed treatment for free, and about our clinic, where they can see a doctor. 
A day after the eviction of Grand-Synthe, we met five young Kurdish boys who had been taken on one of the buses to Lille. Once arrived there, they had turned around and found their way back to Dunkirk during the night. They settled back in their original spot, but this time with no tents, no food, or water. The informal camps around Dunkirk had also been evicted—police had surrounded their tents in the morning, thrown people's food and water on the fire, and taken their tents.  
People were exhausted and a feeling of hopelessness pervaded the air when we went to visit them after the eviction. I spoke to a man who was fleeing from Afghanistan. He was worried. We had met the day before, when he helped me convince a young boy to be brought to a shelter for children. That day, he was shocked about the eviction, and told me in a worried voice that he had witnessed the police being violent and making arrests. The day after, I met him again. He was exhausted and distressed. He had to spend the night in the woods without a tent. He developed a skin rash and hurt his back, which had already been injured during an attempted crossing. He hadn't been able to eat since the previous day and that morning the police had been harassing people.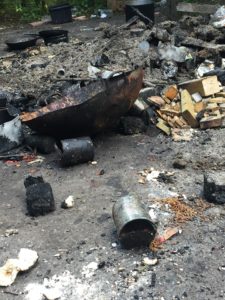 The constant displacement and harassment have a terrible impact on people's mental health. In the last year, we have seen episodes of self harm and attempted suicides. People are struggling to cope in Dunkirk and Calais. They have no safe place in which to rest, little hope for the future, and often suffer from PTSD and trauma due to the situation in their home countries and their journey. All this creates an unbearable situation. 
We're working to provide people with primary care support, help them visit a hospital, and access psychosocial activities. There are beacons of hope in the camps: a few men making bread on the fire in the forest, a man helping translate for a friend, people attempting to clean their tents and clothes. However, the humanitarian needs of the people in Dunkirk and Calais must be put at the heart of our governments' response and we need to make sure people's human rights and health are protected.
Martina Villa is a communication executive at Doctors of the World UK 
Competing interests: None declared