One of the most pressing needs for doctors is to rediscover the joy of practising medicine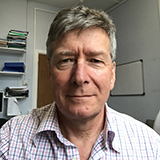 Radiology these days is a global affair. There are Australian radiologists sitting in central London reporting overnight studies from back home and UK radiologists bravely enduring life in Sydney to provide a similar service to some NHS hospitals. The benefits to the patient of having their emergency night time CT scan reported by a wide awake radiologist are obvious, the benefits to the radiologist even more so. There are a few potential disadvantages for the patient—communication between radiologist and clinician is inevitably impaired if they are on different sides of the world, the level of background information available to the radiologist is likely to be reduced, and we are always vulnerable to a computer catastrophe—but on the whole it looks like a good arrangement. What about the radiologist? Is there any downside?
When you ask radiologists what they enjoy about the job, most mention the problem-solving aspects—we are a tribe of puzzlers. Many refer to the breadth and variety afforded by a career in radiology, the constant innovation and of course the sheer beauty and fascination of the images themselves. Interventional radiologists point to the immediate rewards of being able to arrest life-threatening haemorrhage or prevent the development of a devastating stroke.
For me, I've come to realize that a significant part of the professional reward that I derive from my job has to do with providing a service to my local community. Living in a fairly remote part of the UK where the locals are instinctively suspicious of "incomers", my position as a local radiologist gives me not only a good reason for living in this beautiful part of the country, but the means to add demonstrable value to my presence in the community.
Colleagues who work in an urban environment find it hard to believe that when I sit down to report a batch of radiographs or scans I frequently recognise some of the names. Early in my career as a Sunday morning "soccer Dad" I lost all credibility with the other parents on the touchline when I assured them that there was nothing seriously wrong with our star midfielder when he was carried off injured… only to find myself reporting on his fractured tibia and fibula the next morning.  
So that's what I would lose if my job was confined to providing services to a remote population. When I read about the growth of online GP services, I think how much more this must apply in primary care. Without getting too sentimental, one of the most pressing needs for doctors is to rediscover the joy of practising medicine and to re-connect with the associated professional rewards.  
Unravelling the mysteries contained in a set of medical images is intrinsically fascinating, at least to those of us who do it for a living. But how much more meaningful is it when the images belong to someone who shops at the same supermarket, whose house you might have run or cycled past at the weekend and whose children might attend the same school as your own? Localism can bring additional rewards. Even for a radiologist.
Giles Maskell is a radiologist in Truro. He is past president of the Royal College of Radiologists.
Competing interests: None declared.