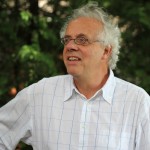 I live in a well-to-do street in Clapham, making me and my neighbours a perfect target for those trying to promote immediate access to care and potentially, whether they mean it or not, undermining the NHS. Well, let me not resort to euphemism: we may not be as wealthy as people in Chelsea or Mayfair (many of whom are not there anyway), but we are rich. A house in this street costs over £2m, and most new purchasers start by gutting the houses they buy and completely refurbishing them for six months before they move in. Plus the street is full of writers and opinion leaders: one resident has even written a bestselling novel televised on the BBC based on the street. We are the quintessence of the chattering classes.
So I wasn't surprised when not one but two leaflets promoting immediate access to healthcare came through our letter box yesterday. The first came from the Lister Hospital, which is about a mile and half away over the river in Chelsea. "Just walk in, be seen quickly . . . Instant access to private care in CHELSEA . . . No appointment is needed . . . 80% of our patients are seen within 15 minutes." The leaflet also advertises care in four other sites.
The middle classes in this street know full well that if they go urgently to St Thomas's or St George's they are likely to find themselves in a zoo and wait four hours to see an inexperienced junior doctor. Many of the residents are "Bollinger Bolsheviks" with loyalty to the NHS, but waiting four hours to be seen by a junior doctor is no fun, especially if it's your precious child. You can have cuisine from every country in the world delivered to your door in less than an hour, why should you have to wait four hours for an experience likely to be unsatisfactory? The leaflet doesn't mention price, but people here could easily pay £200: we do that regularly for a meal out.
The other leaflet is subtler, offering NHS care via an app made by a private company. Babylon GP at hand promises "Get well soon [with the soon crossed out] now . . . Free NHS GP appointments on mobile 24/7, and at our clinics in London . . . Every session is free no matter how long . . . Prescriptions delivered to the pharmacy of your choice within an hour . . . Face to face appointments available across five London locations," one of which is 15 minutes' drive from our street. Very small print explains that you need to switch from your current GP. Some 35 000 people have done so.
Babylon argues with some justification that it is not about destroying the NHS but about reforming it—albeit through disruption. Probably at least 40% of consultations (and probably many more) can be comfortably managed online, and if you add in apps to measure blood pressure and the like it'll be more. A few GPs have been using phone consultation for years, but a combination of financial arrangements and "that's not how we do things" mean that most do not offer online or phone consultations. The appearance of Babylon and changes in payment are likely to encourage them to do so with benefits to both patients and practices.
The great criticism of Babylon is that they cream off younger, tech savvy, mostly well people, leaving the old and multiply sick to existing services. Sensitive to this, Babylon's leaflet emphasises that it takes patients with "complex health needs."
Everybody in this street, where we don't have many (if any) frail older people with multiple conditions, is comfortable online—doing their tax returns, travel booking, finances, and shopping. They will welcome the chance to consult online.
As I said in an editorial I wrote nearly 20 years ago and posted in a blog recently, the NHS will crumble away if the middle classes desert. Ironically—with their sharp elbows and felicity with words and bureaucracy—the middle classes benefit more from the NHS than the disadvantaged, who get lost in the complexities of the NHS. But the middle classes will be unwilling to pay for an ever more expensive NHS if access and quality decline too far.
So far it's access not quality that is the problem, particularly access to general practice, and the Lister Hospital and Babylon see a business opportunity—hence the leaflets through our swanky doors.
Richard Smith was the editor of The BMJ until 2004.
Competing interest: RS is the unpaid chair of the board of Patients Know Best, a software company that sucks together patients' records from hospitals and general practice and puts them under the control of the patient. The system can be used to consult online. Patients Knows Best has many contracts with the NHS, and, although RS is unpaid, he does have equity in the company. RS does not have private health insurance, but he has paid out-of-pocket to have two wisdom teeth removed and a vasectomy (£50 well spent 30 years ago).