Almost one year ago, on 14 February 2018, a former student of Marjory Stoneman Douglas High School in Parkland, Florida entered the school armed with an array of semi-automatic weapons and opened fire, randomly killing 17 students and staff members and injuring another 17. It was among the deadliest and most notorious school shootings since Columbine, Colorado in 1999, and Sandy Hook Elementary in 2012.
According to the Gun Violence Archive, which maintains reliable real-time data on gun violence in the US, there were 345 incidents of mass shooting in the United States in 2018. And that is only the tip of the iceberg. The Centers for Disease Control and Prevention reported that gun violence led to almost 40,000 deaths in 2017—an average 109 deaths per day—largely from suicide, domestic disputes, and community violence, and a dramatic increase from the average of 96 deaths per day in the previous year.
Available data is limited in scope and detail, but we know that firearms are the second leading cause of death for children and adolescents, though they continue to receive the least amount of funding for research and prevention. We also know that firearm-related violence costs the US economy billions of dollars each year, and exacts long-term health and economic consequences on individuals and communities across the country.
From a public health vantage point, firearm related death and injury is an epidemic.
Doctors of the World is in the process of launching a programme in the New York City area to address the epidemic of community-based gun violence. The programme seeks to support the field of gun violence prevention and build upon current innovative and proven prevention models. One of these is a community-based model, called Cure Violence, created by Gary Slutkin, based in Chicago.  
Because the incidence and spread of gun violence exhibits attributes similar to disease epidemics by clustering within communities, the Cure Violence model takes an epidemiological approach to controlling and preventing the spread of firearm related homicides. The approach is focused on detection and interruption, followed by modifying behavior in at-risk populations through conflict mediation, public education, and community mobilization.  
Hospital based models are another successful public health intervention. Hospital based violence intervention programmes support victims of violence when they enter the hospital and seek to reach them in the critical moment of care referred to as the "golden window," a time when they might be more willing to engage in services that will lead to the prevention of future violence and overall improved outcomes for the individual. Hospital based violence intervention programmes have been shown to be an effective response to reduce re-injury and reduce the costs related to gun violence.
The gun violence crisis we now face in urban communities is a man made disaster, linked to an underlying set of social determinants much as we have seen in other epidemics. Long term public disinvestment in education, housing, job training, and the social safety net, persistent structural racism and discrimination, lack of economic opportunity, poverty, and a legal framework that both eases the availability of firearms and has increased the lethality of those weapons drive the gun violence epidemic.
Doctors of the World USA, the US delegation of the international health and humanitarian organization Médecins du Monde, was founded by Jonathan Mann, the visionary founding director of the World Health Organization's Global Programme on AIDS in the early years of the AIDS epidemic. He is widely revered as the founder of a movement to link health issues with human rights, a core principle that also informed the founding of Médecins du Monde when it broke away from Médecins sans Frontières in 1980.
Doctors of the World maintains Mann's legacy by advocating for better health outcomes for the most vulnerable by recognizing that access to health is linked with social justice and policy issues that can eliminate barriers to that access. We are positioned to bring expertise to the epidemic of gun violence given our long experience providing healthcare in conflict and post-conflict settings, our long-term commitment to building and strengthening health systems within the communities we serve, and our uniqueness as one of the only international humanitarian organizations with programmes in the countries where we have chapter headquarters.  
Public health systems are uniquely positioned to develop a robust evidence base to test and scale effective models of prevention, and inform better public policy. Ending the epidemic of gun violence must involve an evidence based approach that includes the public health tools traditionally deployed to contain the spread of disease, working in tandem with steps to correct related social and economic inequities.
As Jonathan Mann said, the way we define an epidemic determines how we end it. The problem we face is no larger and complex than our capacity and the will to overcome it.
Doctors of the World's volunteers need your support: please give generously
£135 buys a medical backpack for a mobile medic working across Europe

£240 can help 300 mothers in Yemen test their children for malnutrition

£325 could pay for five vulnerable people to see a volunteer doctor at a UK clinic
Donate online: www.doctorsoftheworld.org.uk/BMJ
Donate by phone: 020 7167 5789
Registered charity number 1067406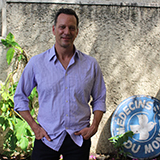 Fraser Mooney is executive director of Doctors of the World USA.
Competing interests: None declared.