Anna Schumann, a German junior doctor based in the UK, reflects on how Brexit has affected her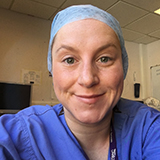 While talking to my French consultant in the coffee room last week, it turned out neither of us slept well the previous night. Why? We were worried about Brexit. Specialty training applications are open, and it is a time for many young doctors to reflect on what to do next. The plans that I made when I came to the UK 10 years ago are now redundant.
If I do leave, even with the intention to return, I may not be allowed to come back for my training. I may have two UK degrees, but if I leave now to gain more experience elsewhere, I may not be eligible to apply to "settle."
If I continue my training in the UK, I may get a qualification that is no longer recognised in my own country when I'm fully qualified and want to go back home to be close to my family. If I want certainty, what choice do I have but to pack my bags?
Shortly after the fall of the Berlin wall, I was born to GDR parents just months before the German reunification. I was brought up learning the significance of borders and to greatly appreciate the privilege of their absence. This year, Germany marks 28 years as a reunified nation, yet certain borders still remain. While the obvious ones may be socioeconomic and financial, the subtle but significant and lasting effects of separation continue to exist in many people's minds. Brexit won't build a physical wall, but regardless of the outcome of negotiations, the boundaries it will create will be of huge significance and won't be undone easily. Why don't we learn?
While sharing my thoughts with my colleagues, I look around the room to find my French consultant, two Portuguese operating department practitioners, a Polish surgeon, a Bulgarian registrar, and an Italian scrub nurse listening to me with sad faces. Of course not everyone present is from the EU: my Nigerian theatre coordinator and 3 Filipino scrub nurses have also joined us. There are no Brits in the room.
37% of UK doctors gained their medical qualification outside the UK. 10% of all hospital doctors and 7% of nurses are EU nationals and every single one of them has their own Brexit story, many more worrying than mine. Two years after the referendum, none of us have answers and we are left with the right to remain anxious and uncertain about our future.
With a German passport and a UK medical degree I did not expect that one day I may be facing employment restrictions across Europe. Now all that could change. But why would I stay in rainy Britain when I could train in Germany, close to my loved ones and real bread? Why would I chose looking at adverts about iron supplements on the Northern line over a commute featuring Swiss Alpine vistas? Why would I choose the NHS over Sweden's progressive social care system and excellent quality of life? For me, the UK's unique selling point has always been its welcoming international vibe and open multicultural identity. When I leave, I won't be missing the Royal Family, Coronation Street and Yorkshire tea, but the sounds of people speaking Lithuanian in the corridor at work, my nursing friends arguing over the rota in Spanish, and the fact that whatever language my new patient speaks, rarely will I not know a colleague who can translate.
There has been plenty of coverage about the Brexit referendum and the devastation of many young British voters, many of them close friends. So far I did not know what I could add. I am aware our problems are of a luxurious nature compared to people seeking refuge from war, or living in poverty; but today it really has struck me that the outcome of this referendum is nothing short of a tragedy.
Anna Schumann is an FY2 in Anaesthetics at Darent Valley Hospital
Competing interests: None declared