From doctor to inpatient—Ricky Frazer discovered some key lessons for healthcare professionals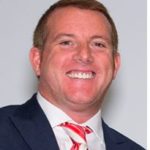 I have been working in clinical practice for almost ten years and recently took a year out as a leadership fellow to learn more about patient centred care and empowering patients to be partners in decision making. Within less than a month of finishing the fellowship I found myself as an inpatient, unable to walk, and struggling to breath, and talk due to a diagnosis of Guillain Barré. My experience has given me new insights into my own clinical practice.
Patients need access to many sources of information
As an oncology trainee I spend much time advising patients about "good" sources of information and the risks of "googling" their diagnosis and treatment. But as a patient myself I spent many an hour on google. One of the advantages of oncology is that many cancer areas have a specialist nurse working with the team who you can speak to afterwards and there are many support groups online that you can join. For many neurological conditions, these support networks and specialist nurses are just not in the same abundance and so seemingly your best friend becomes google. Even with prior medical knowledge, interpreting the value of such an abundance of information to my individual symptoms, signs, and experience was bewildering. So this is not a suggestion that google should be recommended rather that the information provided needs to be more comprehensive than a single summary sheet on the medical condition.     
The day doesn't start with the doctor's ward round
Of course, for doctors this is the case, but we need to remember that for inpatients the days in hospital are long. The day doesn't start at 8am with the surgical ward round, or even 9am with the medical ward round, rather it starts at 7am when nurses' changeover, or even earlier when the water jug is changed. For patients, everyday morning routines can feel like a military operation. I know that as a doctor I have been guilty from time to time on my ward round seeing that the patient wasn't at the bed and thinking "well it's 9.30 and it's not exactly a surprise that I am doing a ward round." The reality is though that there are normally a couple of showers on the ward and many more patients who need to get ready. This is not a recommendation for doctors to start earlier, actually those couple of hours at the start of the day are essential to perform drug rounds, showers, and have breakfast. It is a reminder to be mindful of the competing tasks that health professionals and patients have aside from waiting patiently to be seen by their doctor and team.
Importance of knowing the "routine" results
I have spent many days, particularly as a junior doctor, spending the last hour of my day checking the routine bloods of that day, praying that they are all ok, and adding them to patient's notes. A very positive result in my eyes would be that the routine bloods would all be within a normal range and I could get the job done and go home. However when you're the patient those routine bloods matter. Even though I knew the full blood count was routine, when I wasn't given the result I started to wonder was it normal. Many of my fellow in-patients, knowing that I am a doctor, would ask me if I had been told my results because they hadn't. It may take just a minute to tell your patients that the results are ok or even just communicate this to the nursing staff to inform the patient. If this is not done, the unnecessary anxiety that the patient may experience waiting and wondering can be significant.
Patients know their journey
Having spent time in the high dependency unit during my admission I got used to the nursing handover and watching as they discussed my case. What I came to realise is that handovers often occur at a distance from the patient and in hushed tones. Indeed, even when you are on a main ward, you will hear the junior quickly summarise your case before they get to the bed. Yet patients are often not involved in these discussions. It would make sense to say to the patient "if you hear something that is incorrect just say." I knew the exact day and time that I had become unwell, and how the condition had evolved, yet it was left to a junior doctor to fill the consultant in (along with the other 18 patients he or she had to try and remember the pertinent details of). I'm not saying every patient knows exactly what's happened to them, but if we are talking about empowering patients then let's be as open and honest in front of them as we possibly can be.
Don't forget the work you don't see
Suddenly going from being completely independent to totally dependent is terrifying. The vulnerability I felt on the first day that I had lost the power in my arms and legs, and needed to be steadied to get to the bathroom, to be undressed and washed, is something I will never be able to articulate. One of the most striking things you see as a patient is the truly amazing work that the healthcare assistants do. They are able to bring dignity to that most undignified process by showing kindness and compassion. A simple gesture like them offering to give you a shave when you feel physically low can be such a pick me up.
Excellent opportunity to teach medical students
If you ever find yourself in a hospital bed don't forget how valuable your clinical signs are to medical students. Watching students wandering around looking to find people to take a history from or examine brought back that feeling that I had as a medical student, the "I'm in the way" feeling and "I don't really add anything." Of course, that is clearly not the case, students add  a lot to the team they are with. They are the future and they need to learn. But just remember when you're on your ward round or darting off to clinic a few moments teaching the students or finding them people to examine can make all the difference to their learning opportunities.
Acknowledgments: I would like to thank Anne Cleves for all her help and support in writing and editing this article.
Ricky Frazer is a final year medical oncology trainee working at Velindre Cancer Centre in Wales. In August 2016 he worked as a Welsh Clinical Leadership Training Fellow (WCLTF) with the Wales Deanery in a 1 year out of programme (OOP) experience.
Competing interests: None declared.