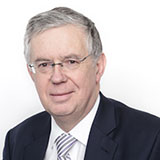 You have probably seen the advertisements in the papers advertising private healthcare services and encouraging people to bypass NHS services in order to be seen more quickly.
This comes at a time when the public's satisfaction with the NHS has fallen to a new low, according to a recent survey.  
Putting these two stories together reveals a deeply worrying trend. Whatever the underlying causes of falling satisfaction rates, the lure of private healthcare is being offered as a solution. This could easily become the thin end of a very wide and very challenging wedge. Once the articulate and the demanding see the solution to their perception of falling standards of care is to go privately, there is a real risk that public pressure on policy makers and funders will become diluted—and diluted pressure gets you nowhere slowly.
So, what is to be done?
One key principle for the NHS is that it must continue to aspire to excellence. NICE's name has included the word since the day we were formed, and yet increasingly frequently clinicians say to me, "Get real, David. Don't you realise what it's like out there?" I understand the challenge, but we should resist it for two very important reasons.
Firstly, the ethical dimension. Imagine it was you seeking care, either for yourself or for a member of your family. Just how reassured and comforted would you be to be greeted by a clinician who aspires to mediocrity? We all crave excellence in those who care for us. How can we morally expect others to be accepting of less? We should judge any society by how it looks after those least able to look after themselves, not by how it looks after those with the greatest financial resources behind them.
And the other critical reason is the very continuation of the NHS itself. Should it ever simply be seen as a poor service for poor people, then one of the greatest global achievements of human endeavour might as well shut up shop and go home.
Excellence matters. Times may be tough in healthcare, but we have to keep aspiring to excellence—even if we sometimes struggle to reach it. As we approach the NHS's 70 birthday, this is no time to consider lowering our standards or to forget the centrality of quality. We can all be proud that so many of the NHS's remarkable staff know and deliver this every day. Long may that last.
David Haslam, chair of NICE, past president and chairman of the RCGP, and a former president of the BMA. He was a GP in Cambridgeshire.

Competing interests: I am chair of NICE, and receive payment for this work.