The National Institute for Health Research (NIHR) is highlighting seven research legends whose work has shaped the NHS, as part of its celebrations for the NHS's 70th birthday and the NIHR's I Am Research campaign. First up is a look at the work of Sir Richard Doll, who showed that cigarette smoking caused lung cancer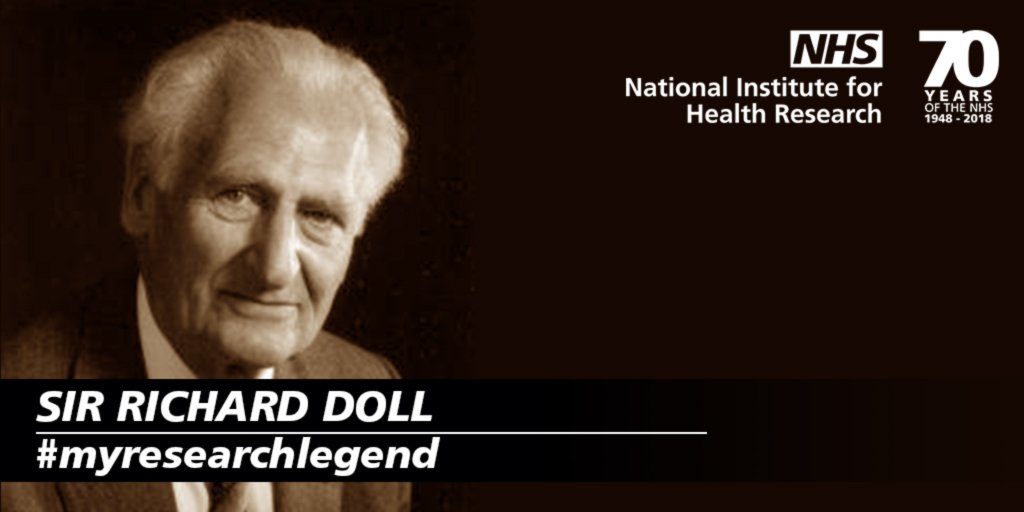 Sir Richard Doll had an illustrious career. Through his efforts, the world learnt much about the causes of cancer and the dangers of asbestos, radiation, and (of course) smoking. After his research into smoking and lung cancer during the 1950s, the realisation dawned that tobacco use was the public health problem of the era and not a harmless pastime. We all know what's happened since. How many other 20th century epidemiologists have had such a transformative impact on people's understanding of the determinants of disease?  
To what extent do I consider Sir Richard Doll to be a research "legend"? I'm not sure I've earned the right to bestow that honour, so I've taken advice. The Cambridge English Dictionary says a "legend" is "someone very famous and admired, usually because of their ability in a particular area." Just considering the one area of Doll's work emphasised above, this is a no brainer; the "legend" threshold is clearly surpassed. Don't take my word for this, though, Google "Richard Doll" and see if you can find reason to disagree.  
Am I hasty in allocating Doll this status? He certainly changed the world's knowledge of many illnesses. But shouldn't an NIHR research legend demonstrate clear impact in the NHS too? Fortunately, Doll's influence here doesn't disappoint, even if one again only considers smoking. I am a GP. How would my work be different if Sir Richard had never lived? Firstly, I'd probably smoke. A pipe would give me more gravitas than cigarettes and I'd have to either smoke in my consulting room, like some doctors did, or schedule regular "pipe breaks" into my day. I would be blissfully ignorant about the harms of smoking and more likely to offer my patients cigarettes than help with stopping—even if they developed lung cancer or heart disease.
Thankfully, Sir Richard did exist. Although I tried smoking as a teenager, a friend's mum made me think again and I didn't ever fully adopt the habit. Immature, teenage me was saved from smoking because Doll had shown how harmful smoking is. Fast forward to my GP work in 2018 and—again, because of Doll—I fully realise that smoking kills my patients and wrecks their lives. Also, due to research that was only possible because of his early work, I can offer smokers numerous types of cessation support. It's even possible to refer them on to Stop Smoking Services (SSS) for specialist help, although a major cloud on the horizon is that these vital services are no longer universal—they are endangered.
Before Doll and Austin Bradford Hill demonstrated that smoking causes lung cancer through their work at the Medical Research Council, smoking was ubiquitous across social classes and many doctors smoked. By 1954, the government accepted the link and the middle classes started quitting in droves.
When he died in 2005, Doll would very likely have been delighted that UK smoking rates were falling fast. However, improvements were chiefly among the better off, so smoking had become disproportionately concentrated among society's poorest people. Given his well documented non-conformist views, my bet is that Doll would have been saddened that those with most to gain benefited least from such a massive social change. Nevertheless, he might have been heartened by the government's national and vigorous action against smoking. Back then, although SSS were a very new NHS entity, it was mandatory for primary care trusts to deliver them and the performance of SSS was closely managed by the then Department of Health. Any smoker could access the services' evidenced based support to increase their chances of permanent cessation. 
Worldwide, legions of researchers, including me, have followed Doll by trying to find ways of treating or preventing smoking. Few epidemiologists have caused such a seismic shift in the international research agenda. Take a look at the thousands of randomised controlled trials (RCTs) reviewed in the tobacco section of the Cochrane Library. All of these studies test interventions against smoking. This necessary work continues today and the NIHR is a leading supporter, funding, for example, the largest ever RCTs of nicotine replacement therapy used in pregnancy* or for "preloading."
As the NHS turns 70 this year, celebrating research legends is a great idea, but it's important that we remember what they did and why they are lauded. It took almost half a century after Doll and Hill's landmark paper for the NHS to implement national treatment services for smokers, and sadly less than 20 years later these have become an optional extra with patchy coverage across the country. Smoking is less prevalent now than in the past, but there are still millions of UK citizens who want to stop and can't manage this alone. Smoking is still a national problem and requires a national NHS response. A crucial component of this response should be to help those wanting to quit by giving them the very best support.  
Sir Richard's work has had a great impact—as all research should. The demise of SSS suggests we risk forgetting this when instead we should continue to build on Doll's significant achievements.
*More information on the trial: Double blind, randomised, placebo controlled trial of nicotine replacement therapy (NRT) in pregnancy – SNAP is available in the NIHR Journals Library.
Tim Coleman is a professor of primary care in the Faculty of Medicine and Health Sciences at the University of Nottingham. He is a senior investigator for the NIHR, a senior editor for Addiction, an associate editor for Thorax, and a Cochrane Tobacco Addiction Group editor. 
Competing interests: Most of Tim's research is into smoking cessation. His employer, the University of Nottingham, has received payment of numerous research grants to fund this work.The views and opinions expressed in this blog are those of the author and do not necessarily reflect those of the NIHR, NHS, or the Department of Health and Social Care.
Professor Coleman's article was originally published on the NIHR website.