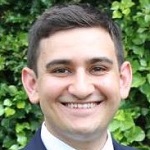 When revising for medical school finals I used lists. Lists and lists of conditions, many of them rare, and many of which I hadn't seen in practice yet. 
One such condition was Churg-Strauss syndrome, also known as eosinophilic granulomatosis with polyangiitis (EGPA).
Four years on from finals my memory only stretches as far as remembering that EGPA is a rheumatological condition that has something to do with anti neutrophil cytoplasmic antibodies (ANCA). But that all changed recently when a man in his late 20s presented with a curious collection of symptoms, including severe leg pain. His past medical history revealed that he was known to the ENT surgeons for chronic nasal blockage, the dermatologists for a rash, and the respiratory physicians for asthma. An astute acute medicine physician had joined the dots and ordered a range of rheumatological blood tests which confirmed the diagnosis as EGPA. The patient was then transferred to my general medical ward. 
During his admission I watched as different groups of medical students traipsed up to the ward to see the patient and I wondered about the usefulness of this experience for these students. Is it enough to see a patient with a clinical sign or a rare diagnosis once during a bedside teaching session? Will it help to consolidate their late night library revision? Will it help them to retain their learning?
Or perhaps it takes more than this to create a framework of experience on which to build meaningful understanding. Perhaps, it is also necessary to review old clinic letters, or order a high-resolution CT scan, or refer to rheumatology. Beyond this, perhaps there is value in conversations with the patient himself–about his symptoms, about what EGPA is and the mechanism by which it is causing his symptoms, about his physically-demanding job and whether he can expect to return to it.
To learn effectively and comprehensively, perhaps it is active involvement in the medical and psychosocial journey of the patient that really provides the opportunity.
A learning point for me as a junior doctor was that we should do more with the medical students who come to our wards. Rather than purely observing them taking histories, or performing examinations, we should actively engage them in the care of the patients.
Patient consent obtained.
Sebastian Walsh is a junior doctor in Shropshire between foundation and specialty training.
Competing interests: none declared