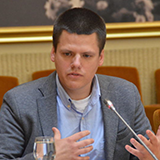 The medical specialties are often glorified. Values such as empathy, kindness, dedication, and devotion are attributed to us. But one other thing that distinguishes doctors is a huge sense of "ego". Being someone that others come to in need of help often makes up a substantial part of a physician's psyche.
It's more than three years now that I've been working as a resident physician in the A&E of a large university hospital in Lithuania. Emergency medicine has definitely changed and enriched me, but not in the way I expected at first. During the medical studies, you imagine doctors as being almost "godlike" in dealing with illnesses after acquiring the necessary skills. What the books fail to tell us is that knowing which drug to prescribe or how to insert a catheter might not always save our patients. In fact, regardless of how much you know, dealing with all the illness and suffering which happens in A&E can leave you overwhelmed. Advanced or incurable illnesses, unsolvable social problems, the 3:00 AM rush hour of lonely older patients with "sudden headaches and increases in blood pressure," often makes me feel helpless. I have started to realise that technical skills might be useless in helping my patients, because the root cause of their ill health lies outside of the emergency department. Even outside of the reach of what classically would be defined as medical competence.
I often remember one my professors saying "You can stay in A&E for as long as you want, the patients will just keep coming in. If you don't step out of the hospital (i.e. your comfort zone), nothing will change". She is one of the key people who is responsible for improving neonatal and obstetric health services in Lithuania. And she didn't do it while wearing a white coat. Of course, clinical experience and expertise was absolutely necessary, but the hard work was done while negotiating and persuading politicians and different stakeholders into making the important decisions. Law, politics, economics—these were never on my mind when I entered medicine.
The ability to live healthily should be the basis of any medical system. Health is the basis of life. Without it you cannot conduct any other activity effectively, be it economics arts, sports and so on. Building super-smart CT scan machines or hospitals filled with state of the art technology is useless if we cannot provide health. And official data shows that we are failing badly at this. The rates and burden of most chronic diseases are increasing.
If we really want to change this, the culture of health has to become the basis our activities. If we keep health inside the borders of hospitals or GP offices, nothing will change. Implementing this will not be easy and it will require the cooperation of business, politics, NGOs, the health industry, and social and education sectors. The culture of health has to be brought into school canteens, public parks, gas station snack racks, workplaces—everywhere.
We have some promising examples. Lithuanians are the heaviest drinkers in the EU, with a heavy burden of disease and premature death statistics. Recently our Ministry of Health initiated long awaited major changes in alcohol policy. From 2018 the age when alcohol can be purchased will be increased from 18 to 20 years. This will be followed by a complete ban of alcohol advertising and a reduction in alcohol selling times.
Previous alcohol control measures were withdrawn on the grounds of cost and due to the influence of and lobbying by the alcohol industry. Our current health minister, who is a physician, was determined to change the situation (even if it was considered political suicide). He and other physicians who are currently in the parliament (i.e. practising out of hospital setting), persuaded the ruling coalition to vote in favour of the new alcohol control law.
The Lithuanian Association of Junior Doctors (JGA) and Lithuanian Medical Students Association (LiMSA) were among the few organisations who publicly endorsed the evidence based changes in alcohol policy. If not for the will of physicians in the government and NGO sector, such changes would be much harder to implement.
This where publicly active doctors play a key role in creating a sustainable future healthcare. Organizations like JGA and LiMSA are enabling and empowering junior doctors to stand up and make a difference. Or simply put—we are bringing more doctors out of their comfort zones.
Martynas Gedminas is a senior emergency medicine resident physician from Lithuanian University of Health Sciences. He is the president of Lithuanian Association of Junior Doctors. 
Competing interests: MG is the president of Lithuanian Association of Junior Doctors. The association receives support from pharmaceutical industry to organise various events, conferences and to delegate our members to different qualification; professional courses.