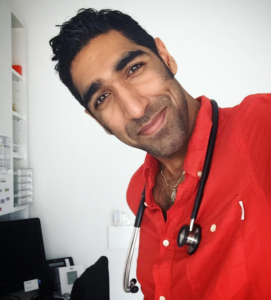 I am a GP working in the west London area. My clinic is less than 800 metres from Grenfell Tower and several of our patients were residents there.
Wednesday was a tragic day for many and a very atypical day in our surgery. We spent it trying to compile a list of our patients who had been dispossessed. We made comfort calls to those affected (especially the vulnerable ones), offered walk-in appointments for those who found themselves without medication, and tried to offer some comfort. It is difficult though; what do you say to someone who has just lost their home and every possession they own? "I am so sorry for what has happened to you, here is your insulin prescription."
I went down to help at the rescue centres. Walking past the tower was eerie. It looked like something from an apocalypse film. There were workers in white biohazard suits, police officers, and exhausted firefighters. The building was still smoking. I was fearful of what state the rescue centres would be in. I took a big breath and entered.
I struggle to describe what I saw without getting emotional. I didn't see or feel any despair or terror. The overwhelming feeling was of love, unity, and solidarity. Every corner of St Clements Church and Rugby Portobello Trust was taken over by agencies there to help: a makeshift housing office, a lost relatives bureau, the Red Cross, and a doctor and nurse station to name a few. There were emergency service workers circulating the floor. I have never seen so many priests in one place (which is saying something considering I went to a church school!)—even the bishop was there.
The most beautiful observation for me was the conduct of the local residents. People arrived one after the other with food, clothes, and toiletries. People quickly sorted the items and displayed them and helped the affected pack what supplies they needed into bags. A group of young black Muslim boys, who were fasting themselves, walked around with jumbo pizzas offering everyone slices. A group of ladies arrived to offer face painting for the children.
As a doctor I felt slightly redundant. The centres were very well staffed as so many doctors and nurses had volunteered. I sat down on the floor and played with some children. I didn't use my stethoscope those hours I was at the centre, but I still feel I was a doctor. I think that sometimes empathy and witnessing someone's grief are as important a part of our role as procedures or prescribing.
It was striking how all of the usual prejudices or divisions, which so frequently surface, were all suspended. People from all walks of life were empathetic and loving to each other. For a period at least people stopped being black, white, Muslim etc and were just "human." If this type of unity is possible in times of tragedy, I think it is realistic to aim for it all the time.
Note: Ahmed Kazmi's next comedy shows will raise funds for those affected by the fire; for tickets go to www.doctorahmed.net and to donate please go to www.justgiving.com/doctorahmed
Ahmed Kazmi is a GP in west London, originally from Warwickshire. He has worked in the UK and Australia and his main special interests are dermatology and mental health. He is also a stand-up comedian. Twitter: @drahmedkazmi
Competing interests: None declared.