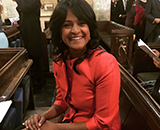 A year ago junior doctors in England went on strike for the first time in four decades. Jeremy Hunt, health secretary for England, used statistics on the so called "weekend effect" to justify a new contract for junior doctors. This was despite warnings from the medical director of NHS England that it would be "rash and misleading" to suggest that causation could be attributed to seemingly more deaths over the weekend. Yet this misuse of statistics persisted throughout the very protracted dispute between the medical profession and the government. 
A year later, we see the same health secretary and the prime minister, Theresa May, continuing to peddle misleading figures of "record spending" in the NHS. The old record keeps spinning with the same song— "We have given the NHS more than they asked for" suggesting that the government is not culpable and more funding is not the answer. But the £10 billion figure used by the government to say that the NHS has record levels of spending, has been widely disputed. In reality spending is less than half of that. Last week NHS England's chief executive, Simon Stevens, appeared before the House of Commons Committee of Public Accounts saying it would be "stretching it" to say that the NHS is getting more money than it asked for, and that there are "very real pressures" in the system, with funding expected to be even more constrained from 2018-19 onward, as a consequence of austerity after the worldwide recession in 2008.
This weekend, Theresa May sought to blame GPs for the current NHS crisis saying that their restricted opening hours and potential inflexibility of appointments was forcing patients to seek emergency care. She threatened funding cuts to practices if they cannot offer appointments from 8am to 8pm, 7 days a week. She neglected to understand that many GP practices already offer care around the clock by providing out of hours services. Yet as we saw with the junior doctor's contract dispute last year, when there's a crisis, the government's solution is to find a scapegoat and attack the profession providing the front line service. General practice is already overstretched and suffering from a workforce crisis with one in three GP practices understaffed. Over social media, many thousands of GPs could not help but feel insulted and demeaned by these comments.
But away from all the rhetoric, what's really happening on the front line? Well, trolley waits in accident and emergency departments are back, reminiscent of the 1990s, and urgent elective care is being pushed back multiple times to ease pressure on beds, which is having a knock on impact on waiting lists (which are rising for the first time in many years). The current situation is untenable, unsafe, and in the 21st century, in one of the richest economies in the world, this is unacceptable.
Our current crisis is focusing on the front door of the NHS—getting people into beds. The real problem is the back door—getting people out and back home or to a care facility that provides the care required. This is where focus needs to shift. The real answer is how do we prevent patients from entering into costly hospital care—we need a more stringent primary care and social care system which works in partnership with secondary care. We need to find methods and strategies to prevent patients reaching "extremis" and then arriving in accident and emergency. We need to fund the primary and social care systems better and share the savings that are made from reduced hospital attendances across the whole system—including secondary care. The very thing we do not need is threatening to cut funding from primary care which will only deepen the problems we are seeing.
Reena Aggarwal is a specialist registrar in Obstetrics and Gynaecology and a research fellow at Ariadne Labs in Boston. Twitter @drraggarwal
Competing interests: None declared.