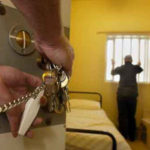 2016 will be remembered for many reasons. I will remember it as the worst year on record for the number of prisoners who have taken their own lives in prisons in England and Wales.
More than 100 people have died by suicide in prison since the beginning of 2016. There are five weeks remaining yet already this is the highest death toll since current recording practices began in 1978.
The number of self-inflicted deaths in prisons has reached epidemic proportions. On average a prisoner dies by suicide every three days. A family is affected by the death of a loved one in prison every three days. Prison staff are dealing with the trauma of a suicide every three days.
The rise in prison suicides has coincided with cuts to the number of staff working in prisons and a rise in the number of people in prison, resulting in chronic overcrowding. Violence has increased and safety has deteriorated.
Many prisoners are spending up to 23 hours a day locked in their cells. Languishing in a cell for hours on end with nothing to do is stressful. It creates tension. It is not healthy and is affecting the mental wellbeing of prisoners, making them far more vulnerable to suicide.
The daily regime in prisons has become far more punitive and prisoners are being deprived of valuable coping mechanisms. Newly convicted prisoners have limits placed on the amount of contact with their family, physical activity, and their own spending money and possessions. Arrival in prison is a high risk time for suicide. Restricting their access to coping mechanisms at this crucial time is dangerous.
The Howard League for Penal Reform and another charity, Centre for Mental Health, are working together on a joint programme aimed at saving lives in prison. Our report, Preventing prison suicides, recommends that urgent action is taken immediately to reduce the risk of suicide.
Prisons must become healthier, safer places if they are to prevent people dying by suicide. A healthy prison is not just a prison with a healthcare department in it. It is a place where all staff, not just medical practitioners, work towards ensuring that the regime promotes the physical and mental health of prisoners.
In a healthy prison, the daily regime must be built around a normal life. Prisoners should be able to get up, have a shower, go to work or education, socialise with others and be physically active, preferably outdoors. They should be able to speak to their loved ones regularly. Prison life has become divorced from normal everyday life with many prisoners and staff living and working in overcrowded, squalid, and unhealthy conditions.
In a healthy prison, all staff recognise that when a prisoner is challenging, it may be because they are under immense stress. Yet prisoners with mental health problems or known to be at risk of suicide continue to be put on the basic regime or placed in solitary confinement, sometimes for weeks, months and even years. Medical practitioners can and should challenge the prolonged use of segregation when it is clearly damaging to mental wellbeing.
Healthcare staff have an important role to play in supporting vulnerable prisoners but they cannot do this alone. All those who work in prisons need time to be able to build positive relationships with prisoners, to recognise when they are in distress and to take action to keep them safe. Simple actions, such as sitting down with a prisoner for a cup of tea and a chat could help to save a life. When a prisoner needs help, no-one should be too busy to stop and listen.
Lorraine Atkinson, Senior Policy Officer, The Howard League for Penal Reform.
Competing interests: None declared.