Donald Trump's election as the 45th President of the United States (US) has left many in the global health community startled. What lies ahead for the future of global health and sustainable development, especially for millions of vulnerable people largely dependent on US assistance for health?
When Donald Trump famously announced: "I am not running to be President of the World. I'm running to be President of the United States," he was probably not considering the fact that as the new US President, he would have tremendous influence on global health. [1] His responsibilities as President will include, among others, appointing the heads of the US Agency for International Development (USAID), Department of Health and Human Services (HHS), Centers for Disease Control and Prevention (CDC), and National Institutes of Health (NIH). Collectively, these organizations account for a large proportion the US Government's $10 billion overseas assistance for health each year. [2]
As a newly elected President, Trump will undoubtedly have a view on who becomes the next WHO Director General. Indeed, it is unlikely that any of the candidates for the WHO Director General position could be elected without US support. In recent years, the WHO has pushed for policies in member states that largely run contrary to views in the Republican-dominated US Congress, including taxes on sugary drinks, universal health coverage including for refugees, and abortion services. Whilst we must wait and see whom Trump and his administration will support as the new WHO Director General, it is likely that politics will be played at the highest level, and individual candidates' views on important global health issues will not go unnoticed.
At this critical juncture, we highlight three areas of global health that are likely to be strongly influenced by the new US leadership and call for closer collaboration and engagement by international institutions with the new president's administration in global health affairs, as it begins its tenure.
Abortion and Reproductive Health Rights

In 2015, overseas development assistance by the US for family planning helped to prevent more than two million unsafe abortions and 11,000 maternal deaths globally. [3]
There is a real possibility that President Trump's administration could bring back the "Mexico City Policy" or the "Global Gag rule," to stop any US funded abortions. [4] Named after the city where Ronald Reagan first announced it in 1984, the policy withheld USAID funds from non-governmental associations around the world that engaged in abortion-related activities. The policy has been rescinded and reinstituted by successive Democrat and Republican Presidents ever since. The US's current position as one of the largest bilateral donors for reproductive health and family planning, with current funding at $608m, is unlikely to still stand in 2017; more likely the $35m allocated to the United Nations Population fund will also be withdrawn, as was the case under the last Republican administration. [5,6]
PEPFAR
One area which seems likely to continue receiving funding is the President's Emergency Plan for AIDS Relief (PEPFAR) which was started in 2003 by President George W Bush. [7] Responding to calls to double the number of people receiving AIDS treatment to 30 million by 2020, Trump announced last year that he would support the program and that the US would "lead the way" on AIDS. [8] As the leading programme on AIDS ever initiated by a single country, many recipient countries and donor agencies will be looking to see whether Trump will keep his promise to increase PEPFAR's budget of $6.8 billion spent in 2016, amidst Republicans calls to tighten the federal budget. [9] As PEPFAR is a major funder of the Global Fund to Fight Aids, Tuberculosis, and Malaria, sustained PEPFAR funding for the Global Fund has implications far beyond AIDS—including on tuberculosis, malaria, health systems, and maternal and child health.
Global Climate Change
Perhaps the most critical of all global health security issues and survival of human kind is man-made climate change. Climate change causes unacceptable sea level rises that places millions of homes at risk, spreads diseases, triggers disastrous heat-waves, and causes extreme weather events, threatening global security. [10,11] The US withdrawal from the Paris agreement places the integrity of the global deal, to keep global temperature rises to 2 degrees Celsius, at risk. It is now signed by 193 nations and ratified by 113 nations including China and even oil-rich Saudi Arabia. [12] A withdrawal by the US could be disastrous for the deal and the planet, leaving many reluctant countries such as Poland and India to also withdraw. Trump has repeatedly called climate change "a hoax" and promised to cut all federal climate spending and all payments to U.N climate change programs, although he has recently hinted a softening in stance. [13,14] The Donald Trump President-elect website also promises to scrap Obama's landmark 'Climate Action Plan' and Clean Power Plans, saving at least "$5 trillion" dollars which would have been spent on clean energy development and aid to countries at risk from climate change. [15] In tasking Myron Ebell, a climate change skeptic, to lead the transition team of the Environmental Protection Agency, the President-elect looks serious about following through on at least some, if not all, of his threats.
Way Forwards? Engage, Listen, and Speak

One of the leading and largest scientific societies in the US, the American Association for the Advancement of Science (AAAS) has brought together leading scientists from across the US to urge Trump to take account of the existing evidence to mitigate climate change. AAAS's chief executive, Dr. Rush Holt, has argued that Trump may be swayed more by the "arguments of dollars and cents" than the science of removing the US from the Paris agreement or abandoning efforts to cut emissions. [16]
This is not the time to "watch and wait," as some commentators suggest. [17] We call for active and intensive engagement to listen and speak with President Trump's administration. Outside the US, our own political, scientific, and global health institutions have a responsibility to work together and come up with a coherent strategy. One thing is for sure: one must not have fixed ideas or stereotypes about President Trump and his policies. Trump, ever the businessman, has shown flexibility in accommodating his rivals in the past two weeks. After his meeting with President Obama, he suggested that he may not repeal the ACA fully after all, has signalled Mitt Romney—a fierce critic whom he previously described as choking "like a dog" in the last Presidential election—as a leading contender for Secretary of State, and even suggested a softening in stance on climate change. [18,19,20] Donald Trump prides himself in making the right deals. The global health community, by playing our cards right, can create the openings to engage and negotiate the best deal for the future of humankind and the world in which we live.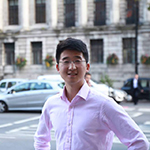 John J Park is Kennedy Scholar at Harvard University. He has worked for UNICEF, WHO, British Government and Scottish Government in health policy and global health.
Rifat Atun is Professor of Global Health Systems at Harvard University, and the Director of Global Health Systems Cluster at Harvard T.H. Chan School of Public Health. In 2008-12 he served as a member of the Executive Management Team of The Global Fund to Fight AIDS, Tuberculosis and Malaria as the Director of Strategy, Performance and Evaluation Cluster.
References:
1. Donald J Trump for President, Inc. Trump to Ohio: I will campaign for every vote. September 14 2016. Accessed on 23 November 2016. https://www.donaldjtrump.com/press-releases/trump-to-ohio-i-will-campaign-for-every-vote
2. The Henry J. Kaiser Family Foundation. The US Government and Global Health. June 2016. Fact Sheet. Accessed on 23 November 2016. http://files.kff.org/attachment/fact-sheet-The-US-Government-and-Global-Health
3. Just the Numbers: The Impact of US International Family Planning Assistance. Guttmacher Institute. May 2016. Policy Analysis. Accessed on 24 November 2016. https://www.guttmacher.org/article/2016/05/just-numbers-impact-us-international-family-planning-assistance
4. Barot S and Cohen S. The Global Gag Rule and Fights over Funding UNFPA: The Issues That Won't Go Away. Guttmacher Institute. Spring 2015. 18 (2). Accessed on 24 November 2016. https://www.guttmacher.org/about/gpr/2015/06/global-gag-rule-and-fights-over-funding-unfpa-issues-wont-go-away
5. The Henry J. Kaiser Family Foundation. US Funding for International Family Planning & Reproductive Health. Accessed on 23 November 2016. http://kff.org/global-health-policy/issue-brief/u-s-funding-for-international-family-planning-reproductive-health/
6. Barot S and Cohen S. The Global Gag Rule and Fights over Funding UNFPA: The Issues That Won't Go Away. Guttmacher Institute. Spring 2015. 18 (2). Accessed on 24 November 2016. https://www.guttmacher.org/about/gpr/2015/06/global-gag-rule-and-fights-over-funding-unfpa-issues-wont-go-away
7. The Henry J. Kaiser Family Foundation. The US President's Emergency Plan for AIDS Relief (PEPFAR). Global Health Policy. 2016. Accessed on 24 November 2016. http://kff.org/global-health-policy/fact-sheet/the-u-s-presidents-emergency-plan-for/
8. Trump's PEPFAR Commitment. Clip of Presidential Candidate Donald Trump at No Labels Convention. October 12, 2015. C-Span. Accessed on 23 November 2016. https://www.c-span.org/video/?c4555530/trumps-pepfar-commitment
9. The United States President's Emergency Plan for AIDS Relief. Budget Information. Accessed on 23 November 2016. http://www.pepfar.gov/funding/budget/
10. U.S. Global Change Research Program. Climate and Health Assessment. Accessed on 23 November 2016. https://health2016.globalchange.gov/
11. World Health Organization. Climate Change and Health. Fact Sheet. June 2016. Accessed on 23 November 2016. http://www.who.int/mediacentre/factsheets/fs266/en/
12. United Nations. Framework Convention on Climate Change. Paris Agreement – Status of Ratification. Accessed on 23 November 2016. http://unfccc.int/paris_agreement/items/9444.php
13.Donald J Trump for President, Inc. Donald Trump's Contract with the American Voter. Accessed on 23 November 2016. https://www.donaldjtrump.com/contract/
14. Shear MD and Davis JH. "Trump, in Interview, Moderates Views but Defies Conventions." New York Times, November 22 2016. Accessed on 23 November 2016. http://www.nytimes.com/2016/11/22/us/politics/donald-trump-visit.html
15. President Elect Donald J. Trump. Energy Independence. Accessed on 23 November 2016. https://www.greatagain.gov/policy/energy-independence.html
16. Johnston I, Watts J and Cowburn A. "Environmentalists launch 'emergency' campaign to persuade Trump climate change is real amid fears of 'planetary disaster'." Friday 11 November 2016. Independent. Accessed on 23 November 2016. http://www.independent.co.uk/news/world/americas/us-elections/climate-change-donald-trump-emergency-campaign-global-warming-is-real-a7412361.html
17. Besheer M. "At United Nations, It's Watch, Wait on Trump.' Voice of America. November 10 2016. Accessed on 23 November 2016. http://www.voanews.com/a/united-nations-trump-paris-climate-accord-obama/3591824.html
18. Langley, Monica and Baker, Gerard. "Donald Trump, in Exclusive Interview, Tells WSJ He Is Willing to Keep Parts of Obama Health Law." Wall Street Journal. November 11 2016. Accessed on 23 November 2016. http://www.wsj.com/articles/donald-trump-willing-to-keep-parts-of-health-law-1478895339
19. Bender MC and Timiraos N. "Mitt Romney Under 'Active and Serious Consideration' as Secretary of State." November 20 2016. The Wall Street Journal. Accessed on 23 November 2016. http://www.wsj.com/articles/mitt-romney-is-under-active-consideration-to-be-secretary-of-state-1479654129
20. Shear MD and Davis JH. "Trump, in Interview, Moderates Views but Defies Conventions." New York Times, November 22 2016. Accessed on 23 November 2016. http://www.nytimes.com/2016/11/22/us/politics/donald-trump-visit.html