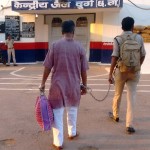 Last month police in India arrested Saibal Jana, a doctor with 35 years' experience caring for patients from indigenous and other marginalised rural communities. The arrest was made on the grounds that he absconded by not attending hearings for a court case filed 24 years ago. The case involved 52 people implicated in an agitation for workers' rights during which the police had opened fire, killing 18 people. Jana's wife described the allegation as "ridiculous" when contacted by The Hindu newspaper as she and her husband "hardly went out of Dalli Rajhara" [a city and a municipality in Balod district in the state of Chhattisgarh], in the past two decades.
At the time Jana was tending to the injured as a doctor at the Shaheed (martyrs) Hospital. The hospital was planned, constructed, and run by the progressive workers' union, and it was this union that led the fateful struggle that left 18 people dead.

Dr Jana joined this hospital in 1981 soon after leaving medical school, and over the past 35 years has provided healthcare to people who live in central Indian villages and forests.
As if truly replicating what German physician and public health pioneer Rudolph Virchow had said about physicians being the natural attorneys of the poor, Jana is associated with the people's health movement at both provincial and national level. He was advising the state of Chhattisgarh regularly on different health policy matters, such as Plasmodium falciparum malaria control, maternal health, tuberculosis, providing essential drugs and diagnostics for all, etc.
Over the years he taught himself the skills of a surgeon, obstetrician, neonatologist, ultrasonologist, and a clinical pathologist.
He is a friend, mentor, and guide to several physicians (including me) who work in rural central India.
There has been a sense of disbelief and shock among the small tribe of rural physicians in India on hearing of this arrest. The fact that the police handcuffed him to transport him to the jail added to the anger, as handcuffing harmless people without adequate written justification by the police is now illegal in India. More than the fear that it could happen to any one of them, the small band of voluntary rural physicians worry whether this is part of an effort to effectively silence constructive (or critical) thoughts or action, or any potential dissent.
My worry is that there are only a handful of doctors who have ventured out to work in rural areas or in low resource situations in India in the past 30 years. If I were asked to count, I would not be able to count up to even 20 names in this huge country.
Saibal Jana has been a role model for all young doctors who are considering alternatives to the predominant corporate-city-specialist career pathway in medicine. His arrest is likely to suppress any desire by young doctors considering alternative pathways in their career choices, given the humiliation their role model has been subjected to.
More than the insult and humiliation of Dr Jana, and the neglect of his immediate patients who he has not been able to see during these days in jail, I fear that the future of poor people's health has been hurt by this arrest since there will be fewer doctors wanting to venture into low resource areas due to the ripple effect caused by this arrest.
I condemn this arrest in the strongest words. And I urge all health professionals to condemn it too.
Postscript:  Dr Jana was released on bail on 26 March.  While this is certainly a cause for relief, it does not alleviate the doubts and anxieties about the case as it progresses, and what the verdict will be.  It also does not reverse the damage to the confidence of selfless physicians who choose to tread the path trodden by Dr Saibal Jana.
Yogesh Jain is a rural doctor and a public health physician working at Jan Swasthya Sahyog People's Health Support Group, a non profit health organization in rural central India.
Competing interests: None declared.