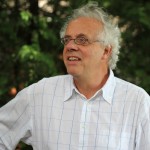 The recent discovery of gravitational waves allows a whole new way of seeing the Universe. With some similarities the recognition that the world is much more complicated and unpredictable than researchers thought opens up the possibility of an effective response to the global pandemic of obesity. That's what Boyd Swinburn, professor of population nutrition and global health at the University of Auckland, told a seminar at C3 Collaborating for Health last week.
Leaders around the world, including Michelle Obama, the First Lady in the US, are trying to do something about obesity, but, said Swinburn, "nobody's got the answer." The traditional answer is to design an intervention, test it in a randomised trial, and if it works try to apply it widely. Usually the effect is small, and the whole programme fizzles out when funding ends. Academics have the credit from their published papers, but the population is still obese.
Swinburn described projects he'd worked on to build community capacity to counter obesity in Australia. The thinking was that increased community capacity would lead to greater knowledge would lead to changed behaviour would lead to reductions in obesity—in other words a linear model. The project did achieve some reduction on obesity, but the same programme failed in Tonga and Fiji and among Pacific Islanders in New Zealand. Sociocultural differences in food and attitudes to body size and physical activity contributed to the failure.
When the researchers examined the Australian programmes, they realised, firstly, that the process had been "a complete mess" and, secondly, that other areas not in the project had done as well as those included. The "obesity prevention virus" had spread, and the "complete mess" may have been an important component of the success in that it led to thinking and unrecognised change. The researchers came to recognise the importance of "the system" and "systems thinking."
Once you start to think systems you see them everywhere, said Swinburn. You see them everywhere because they are everywhere. The publishing of science, for example, is a system, and food supply and transport are systems that might bring people a wide choice of foods and move them effectively from A to B but unintentionally lead to obesity. Swinburn projected the famous figure from a British government report that showed the system that leads to obesity: it looks like multicoloured spaghetti thrown against a wall with multiple nodes and interconnections.
Systems thinking means thinking about the whole as well as the parts and recognising connections, networks, feedback loops, complexity, and patterns. Systems are self-organising and relatively stable. Engineers and other disciplines have long recognised the centrality of systems, but health researchers have only recently recognised their importance.
A relatively simple intervention from a group not recognising the complexity of the system might achieve benefits, but they are likely to be sustained only if they change the system. A programme that begins by mapping the system and then intervenes intelligently in the existing system is more likely to be sustainable and achieve scale. A report from McKinsey on obesity mapped a system with 44 possible points for intervention.
Systems thinking is no panacea, emphasised Swinburn, and we are still learning about how to use it effectively. One way to develop it with a community is to get people to prepare a mind map of the system. People are encouraged to think of everything that might be important in leading to and preventing obesity. They then draw connections between the factors, arrive at a systems map, and then discuss where to intervene. For example, consumption of sugary drinks might be high because the water tastes awful: improving the water supply might contribute to reducing obesity. It may well be, said Swinburn, that the process of drawing the systems map is more important than the result.
Systems thinking presents a challenge for evaluation, and yet evaluation is crucial for success. Interventions are complex and progress is slow. Traditional randomised trials are not a good method of evaluation, and use of routine monitoring and existing surveillance systems may be better. Swinburn acknowledged that other disciplines have developed evaluation methods unfamiliar to health researchers, and it is not necessary to reinvent the wheel.
We still don't know how best to respond to the obesity pandemic, but Swinburn is convinced that working with the system rather than with single interventions is more likely to succeed in the long term. You just have to be willing, he concluded, "to climb into the mess and accept a bronze model."
Richard Smith was the editor of The BMJ until 2004. 
Competing interest: RS was an unpaid trustee of C3 Collaborating for Health but stepped down in December 2015.