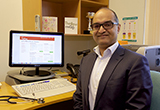 "Please don't forget the patient." So said Clare Reynolds—one of the many delegates who came along to the Long Term Conditions (LTC) conference. The welcome letter claimed it will "seek to identify the greatest challenges facing those living with LTCs."
The conference started off well with the keynote speech from Jacquie White, deputy director for Long Term Conditions NHS England, quoting William Osler from the 1800s: "The good physician treats the disease; the great physician treats the patient who has the disease." We were reminded that there are 16 million people in this country with an LTC, 10 million people with two or more LTCs, 70% of the health budget is spent on LTCs, 33% of GP consultations are with people with LTCs and on average patients spend only 0.01% of their time with a healthcare professional. We learned from Graham Prestwich, Lay Member for NHS Leeds North CCG about Alistair Brewis, a respiratory consultant who, 30 years ago, took time to write and sketch out on paper an individual's plan in the patient's presence. This is a more effective way of educating each one about his or her particular condition.
It's obvious, isn't it ? If we are to tackle LTCs then we are going to have to do this with patients and not to them. And in 2016, you would think we would be more interested in understanding how we can do this together. We need to learn much more about what helps or hinders patients when they are trying to manage their LTC during the 99.99% of the time when they are "home alone." We need to know more about what healthcare professionals and organisations can do with the 0.01% of time that we do have with patients to ensure we get a shared understanding of an individual's agreed approach to their treatment, a personalised care plan, the shared responsibility for it and how we can meet their goals or even surpass them. We need to learn about how people can live with their condition and continue to feel safe and be part of a service that is centred around delivering high quality care that is person-centred. We need to build a service that recognises that 80% of the population now has access to broadband and where 61% of those on the internet are now using smartphones to connect to it. And 72% are using social media to connect and interact with the rest of the world. As more of our data becomes accessible online, getting explicit consent right with patients will be key. Simply asking to view records in A&E or urgent care centres will not be enough. We will need to understand what this means and how we can manage our care together supported by those we trust and have confidence in. Patients and carers can then read, understand, and potentially contribute to what they have agreed with their clinician. It's this #PartnershipOfTrust we have between patient and clinician and the information we share between each other that is key.
Anya de longh has written a blog challenging the GovNet Advisory Board saying to think again. All sessions should include patients. We must work with patients and people with #LivedExperience to help co-produce a healthcare system which supports the needs of people with LTCs. Conference organisers will need to consider this in a rapidly changing environment. We will then begin to overcome the greatest challenges facing those with LTCs – acceptance of their role in shaping the future together.
Amir Hannan is a General Practitioner at Haughton Thornley Medical Centres, a Board member of Tameside & Glossop CCG, leading on Long Term Conditions, Information Management & Technology and Patient Engagement/Empowerment, co-chair of the Greater Manchester NHS Values Group, a Member of the Equality Diversity Council, NHS England, vice-Chair West Pennine Local Medical Committee, and Chairman of World Health Innovation Summit. He speaks here in his personal capacity. You can follow him on @amirhannan.
Declaration of interests: My role in the CCG is to promote information sharing between organisations as well as for patients and the public. I have presented at numerous conferences about patient access to records and understanding, self care and the role of patients and staff in the management of long term conditions and the importance of consent and shared decision making. I have been paid by pharmaceutical companies including Pfizer as a speaker.