• Walking the walk?
Drug and device manufacturers have been keen to publicise their rhetoric to share clinical trial data, but is it happening in practice? Mayo-Wilson and colleagues found out by asking Astra Zeneca for data from trials about quetiapine. After 9 months of correspondence their request was declined. Is this a typical scenario? We want to hear your experience of the process.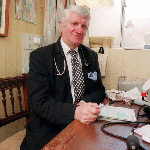 • Corporal punishment in Ireland
Cyril Daly's obituary describes his remarkable battle with the Catholic Church and the Irish government to ban corporal punishment in Irish schools. His fight began in 1967 when his 8 year old son came home upset from his Catholic school in Dublin after witnessing boys being beaten with a leather strap by a teacher. Daly spent 15 years relentlessly writing letters, placing advertisements in local newspapers, and participating in TV debates. In one TV interview broadcast across the US he described Ireland as "a nation of savages." His tenacity paid off and in 1982 corporal punishment in Irish schools was finally banned.
• Scientific misconduct should be a criminal offence
So says Richard Smith in his blog, drawing parallels with the Volkswagen staff who face criminal charges for manipulating emission tests. He describes several cases of misconduct where scientists have been imprisoned. The most recent was Dong-Pyou Han, a researcher from Iowa State University who was sentenced to 57 months in prison for altering rabbit blood samples to improve the results of an experiment with an HIV vaccine. However, Smith says, such convictions are rare or non-existent outside of the US despite the many "equally egregious cases where criminal charges would have been the right response."
Giselle Jones is specialist reviews editor, The BMJ.