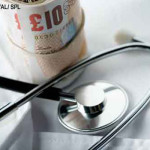 • David Oliver: What should senior doctors be paid?
In a column David Oliver hits out at politicians trying to "whip up outrage" at the pay of senior doctors, arguing that while substantial, they receive "the going rate for senior, experienced, salaried public servants" such as police superintendents and senior civil servants.
• Chelsea team doctor acted with "integrity and professionalism," says medical body
The Football Medical Association has backed Chelsea team doctor Eva Carneiro and physiotherapist Jon Fear, as Nigel Hawkes reports in a news story. This was after they tended to the injured Eden Hazard in the dying minutes of their team's draw against Swansea, against the wishes of manager Jose Mourihno. Chief executive Eamonn Salmon said: "Factors extraneous to the immediate medical needs of the patient (such as the stage and state of the game) cannot be part of their consideration at that time."
• Letter from doctors urging Wellcome Trust to divest from fossil fuels nears 1000 signatories
Nearly 1000 health professionals have called for health charity the Wellcome Trust to end investment in fossil fuel companies, in a letter to The BMJ. The open letter claims that a health charity should not profit from an industry that "threatens human and planetary health," suggesting it goes against the medical ethical obligation to "do no harm."
Joe Knight is an undergraduate, Wadham College, Oxford.