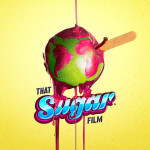 Australian actor, writer and director Damon Gameau was about to become a father. With a little one on the way and the aim of teaching his future child how to lead a healthy lifestyle, Damon embarked on a 60-day experiment to unravel the truth about sugar. However unlike other films on sugar, which have focused on obvious high sugar content items such as soda and desserts, That Sugar Film focuses on foods that are perceived to be healthy. These include for example smoothies, low fat yogurts, cereals and granola bars.
After revealing a shocking statistic that the average western diet contains about 40 teaspoons of sugar a day, almost all of it being hidden, it doesn't take long for Damon to surpass the 40 teaspoon mark in his new daily diet. Damon worked with a team of medical staff who monitored his health throughout the two months, measuring his weight, blood pressure, and other health metrics.
Despite continuing his regular exercise routine during the experiment, Damon gained 10 cm of fat around his waist, developed mood swings and found it difficult to exercise as the days passed.
These negative health effects of his increase sugar intake come as no surprise. In March of this year the World Health Organization WHO call to reduce sugar intake among adults and children. The new guideline recommends adults and children to reduce their daily free sugar intake to less than 10% of their total energy intake. A reduction to below 5% or roughly 6 teaspoons (25g) a day would provide additional health benefits. The WHO recommendation is based on the analysis of the latest research studies, which have shown that adults who consume less sugar have lower body weight and increasing the amount of sugars in the diet is associated with weight gain.
The new guideline is part of WHO's continued efforts to prevent NCDs such as Type 2 diabetes worldwide. Furthermore, countries can use the recommendations to formulate their own country specific dietary guidelines and implement public health interventions to reduce sugar consumption.
Unfortunately, the new sugar intake guidelines and recommendations may never fully impact those who are at highest risk. Thus, using film as a tool for health promotion can greatly benefit those who consume more than the daily-recommended amount. That Sugar Film can play a monumental role by informing viewers to make better choices and inspiring them to lead a healthier lifestyle. The film is an eye opener and challenges the notion that the current obesity epidemic is a result of lack of exercise and consumption of fast foods.
If you haven't seen That Sugar Film yet, we invite everyone to join the screening and discussion at the 2015 Global Health Film Festival taking place from October 30-31 2015 in London
Competing interests: None.

Lalitha Bhagavatheeswaran is head of Global Health at the Royal Society of Medicine.

Joseph Fitchett is director of the Global Health Film initiative.