Farewell to dietary cholesterol
The US Dietary Guidelines Advisory Committee has released its recommendations for the next edition of Dietary Guidelines for Americans. In an editorial on thebmj.com, Daan Kromhout writes that the committee's recommendation that dietary cholesterol should no longer be a "nutrient of concern", has been cause for much discussion. As has the omission of a recommendation on total fat consumption.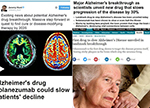 The landmark announcement that wasn't
In this week's No Holds Barred column, Margaret McCartney discusses the media's recent coverage of solanezumab, the so called "landmark drug to stop Alzheimer's disease." Looking at the facts of the case she concludes, "This is no breakthrough. How did this paper score such extraordinary publicity?"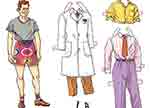 What not to wear
Choosing what to wear to work is difficult at the best of times, but it can be a particular minefield for doctors. Kathy Oxtoby writes in BMJ Careers that the demise of the white coat has made life much harder for doctors, who saw it as a badge of office that they could be proud of. "When we wore white coats we looked quite smart, and like doctors," one consultant says, "Now the average doctor looks like a building labourer."
Let me take a selfie
Arunava Ray and colleagues argue that within clinical medicine, the selfie – a photograph taken of oneself with either a smartphone or a webcam – "should be celebrated and its full potential unlocked." They have encouraged patients in their own department to take their own clinical photographs or "medical selfies" to track their progress or record particular concerns. And the benefits have been far reaching, they say, empowering the patient and allowing them a degree of control over their condition.
Abi Rimmer is deputy editor, BMJ Careers.