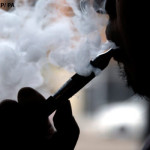 • Jonathan Gornall's feature, "Why e-cigarettes are dividing the public health community," is continuing to generate interest this week. Gornall's piece examining how the tobacco industry's move into e-cigarettes and harm reduction has seen some experts shift their views has already attracted responses online. Join the debate here.
• Today, Susan Mayor reports on some concerning figures from Public Health England, which show a major increase in the number of people with syphilis and gonorrhoea—particularly in men who have sex with men (MSM). The figures show that the number of syphilis diagnoses increased by nearly half and gonorrhoea cases increased by one third in 2013-14.
• Also in news, Jacqui Wise reports on the findings of a new survey from the BMA, which shows that seven in 10 doctors never have rest time after a busy night on call. The survey of 847 consultants in England and Northern Ireland found that 88% reported being on an on-call rota and that just under half were called to attend hospital during the week, on one to six occasions. The BMA warned such working patterns were compromising patient safety and putting doctors at risk of chronic fatigue and burnout.
Gareth Iacobucci is news reporter for The BMJ.