• According a news story, standing and light activity for two hours per day during work hours is recommended for those in roles which are for the most part sedentary. The advice comes from a guide published in the British Journal of Sports Medicine.
• Another must read is this editorial on the Union Government of India's recently released national health policy draft. The authors provide a balanced assessment of the draft policy, highlighting areas of potential progression as well as areas of the policy which they fear will fall short of providing lasting positive healthcare changes within the Indian healthcare system. Echoing the goals of the 2002 policy, this draft policy aims "to increase government spending on healthcare from 1% to 2.5% of GDP" which is of great importance, given the negative effect the current out of pocket expenses have on many of India's poor population.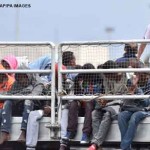 • Australia's treatment of migrants has been in the news a lot recently, after the country turned away a boat full of migrants who were later rescued by Indonesian fishermen. We have received many rapid responses to an editorial calling for moral leadership from the West.
• In a news story, we highlighted the current position of Australian doctors who now face two years imprisonment for speaking out on the treatment of asylum seekers within Australian run detention centres. The non disclosure laws have sparked alarm amongst many medical and human rights groups with Australian Medical Association delegates voting unanimously last week to call on the Australian parliament to amend the law allowing for an exemption from prosecution for medical practitioners.
• A population based cohort study carried out in New York has found that the use of surgical mesh for pelvic organ prolapsed surgery is associated with an increased risk of reinterventions within one year and urinary retention after surgery. It also found that risks differed depending on whether the women were over or under 65, although both groups were prone to some adverse reaction to the procedure. The authors point out that the use of surgical mesh is still on the rise despite warnings released by the US Food and Drug Administration relating to safety events and complications from mesh use.
Tinuke Bernard is an assistant production editor, The BMJ.